So, the inter­net at our build­ing is bro­ken, so here I am at the local library enjoy­ing free inter­net. Anoth­er rea­son to love the library :D
I've had a rather action-packed week­end, and one of the high­lights was vis­it­ing the new Michaels craft store just 3 sub­way stops away from my house! :D And because they were hav­ing a grand-open­ing sale, I thought it would be a great oppor­tu­ni­ty to buy a 16mm cro­chet hook — for $3!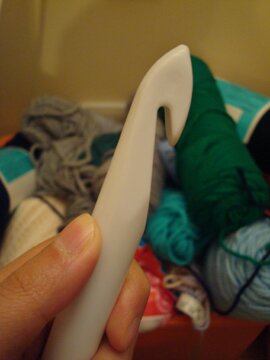 Aside from it being on sale, I also thought it would be good to buy it because I want to try mak­ing the felt­ed buck­et hat from my last post. And also learn to make broom­stick lace, which requires the use of , well, a broom­stick. But peo­ple also use large knit­ting nee­dles. And I thought a large cro­chet hook would suffice.
I excit­ed­ly showed my friend who was vis­it­ing us for the week­end and her com­ment was, "it actu­al­ly looks rather com­i­cal!" (or some­thing along that line.)
Last night I tried cro­chet­ing with it. It takes a bit of get­ting use to, wield­ing such a thick cro­chet hook. I tried cro­chet­ing with 6 strands of yarn together.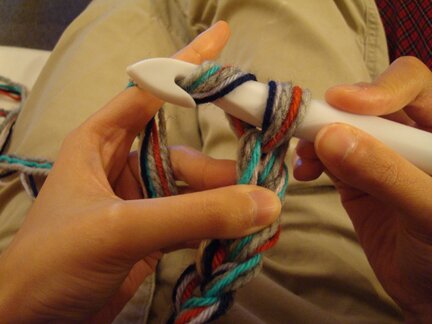 And it even­tu­al­ly turned into a neck warmer.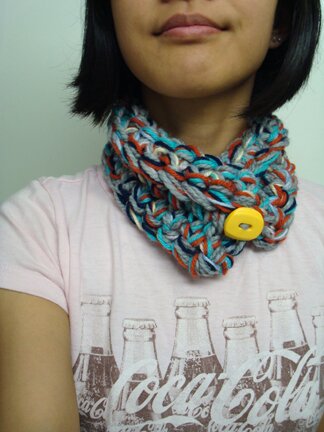 I'm rather pleased with it :D
It took about half an hour to make and did­n't use a lot of yarn. If one has a 16mm cro­chet hook and wants to try mak­ing this, here's what I did:
Mate­ri­als:
5–6 dif­fer­ent balls of yarn. I used 2 balls of chunky, 3 balls of worsted, and 1 ball of DK.
A 16mm cro­chet hook.
A large button.
A tapes­try needle.
Row 1: I made a chain with all 6 strands of yarn held togeth­er until the chain is long enough to wrap around my neck loose­ly, then I made 4 more chains.
Row 2: In back loop only, sc in 2nd ch from hook, sc in each ch across, ch 1, turn.
Row 3–4: In back loop only, sc in each st across. Fas­ten off. Weave in ends.
Sew on but­ton on one end. The gaps between stitch­es act as but­ton holes, so one can adjust how much the two ends overlap.
It would be inter­est­ing to see it made wider and with dif­fer­ent colour and tex­ture com­bi­na­tion too!
Well, I hope the inter­net at home gets fixed soon. Or the library will be see­ing a lot of me this week…
Hap­py Tues­day every­one! :D