Today is our last day in Hong Kong. Time flew by so quick­ly. It seems like only yes­ter­day that we were busy pack­ing to leave for the trip. Today we're busy pack­ing again to return home.
In the past week we tried to squeeze in as many sights as we could. We went to the Hong Kong muse­um of his­to­ry on free Wednes­day. There were tons to see, and even on reg­u­lar days the admis­sion is only $10 HKD. I was most fas­ci­nat­ed by the exhib­it about the boat-dwellers.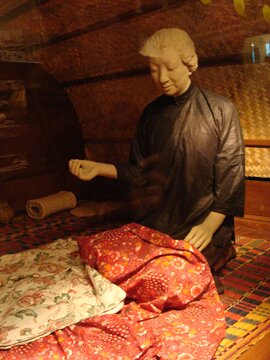 This tea­house look strange­ly famil­iar…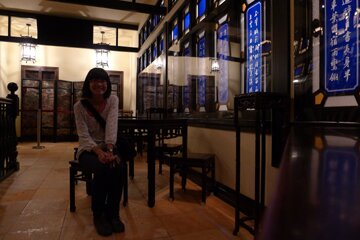 After the muse­um my sis­ter took us to a 13-sto­ry mall, where we scram­bled down some ramp along with Pep­per­mint Pat­ty and the gang.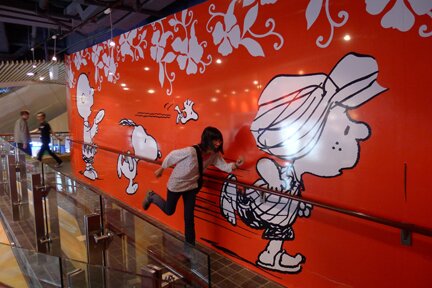 The next day we went to the Kowloon Walled City Park. It was a place we real­ly want­ed to vis­it­ed because we heard a lot about the Walled City from a friend who used to work with the peo­ple liv­ing there before it was demol­ished and con­vert­ed into a park. Zumi took some pic­tures of the parts that were pre­served, like the bureau­crat's office…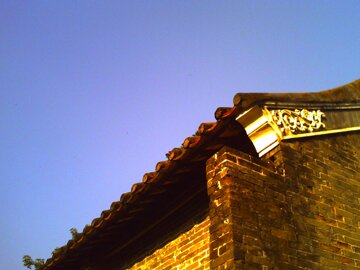 … and rem­nants of the south gate.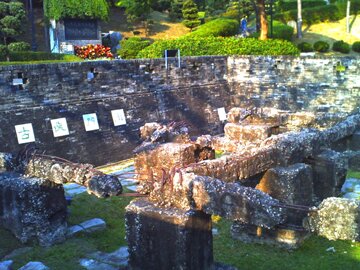 The Walled City looks noth­ing like the way it was, when peo­ple used to live there. There was a bronze sculp­ture in the park cap­tur­ing the state of the area moments before it was demolished.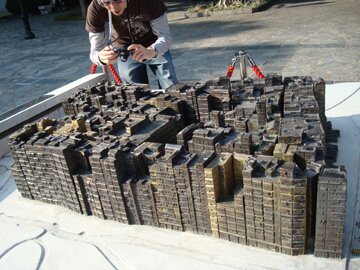 I've actu­al­ly nev­er seen the Walled City in per­son while grow­ing up in Hong Kong. I would nev­er be able to ful­ly com­pre­hend what it was like to have only 3 run­ning taps and 3 ele­va­tors serv­ing thou­sands of peo­ple liv­ing in small quar­ters. It feels a bit iron­ic to walk through art­ful­ly designed court­yards with mini water­falls and arti­fi­cial ponds while think­ing about the strug­gles of the peo­ple who once walked these grounds.  Thought I do believe that the park is def­i­nite­ly a pos­i­tive trans­for­ma­tion. I won­dered what the for­mer res­i­dents think about the park and whether their lives were a bit eas­i­er now.
Yes­ter­day we vis­it­ed my uncle's fish farm, which could only be reached by boat. My lack of swim­ming abil­i­ties and poor sense of bal­ance made the boat ride and even time on the fish farm a bit nerve-wreck­ing (as you can see, there's no rail­ing or rope or any­thing to hang on to while walk­ing on those planks! :Â S), but we had good fun nonetheless.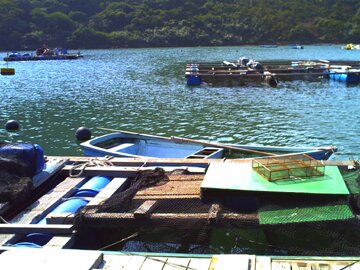 Under­neath the planks were nets inside which the fish live. It feels a bit sur­re­al, just because it was qui­et and not a high-rise in view — it's hard to believe such a place exists with­in the city!
After the fish farm we went to the local fish mar­ket, where peo­ple where sell­ing seafood and such from their boats off the pier.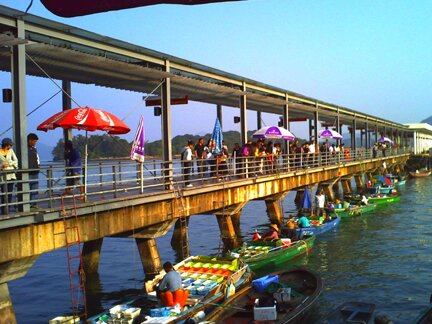 From one of these boats I bought some suc­cu­lent dried cut­tle­fish floss :D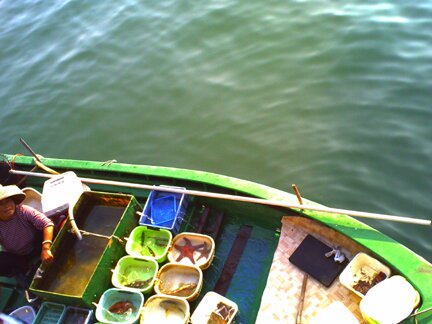 This lady was sell­ing some starfish. Not for eat­ing, I hope. For aquar­i­ums, per­haps? While walk­ing around the pier I over­heard that some­one bought hun­dreds of dol­lars worth of live fish and oth­er sea life to set them free.
And so that was pret­ty much the end of our adven­ture. We're now get­ting ready for anoth­er 15-hour plane ride home, where real life awaits. While feel­ing sad, I'm remind­ed of a Calvin & Hobbes com­ic strip Mike once gave me, in which Calvin laments the end of fall and play­ing in the leaves and Hobbes said, if spe­cial things last for­ev­er then they would­n't be spe­cial anymore.
I wish I could find that com­ic strip online and post it here because it's so fit­ting. The 20°C Hong Kong autumn is indeed end­ing for us and we're about to return to that sub-zero Cana­di­an win­ter. But if I were to stay liv­ing in Hong Kong I prob­a­bly would­n't appre­ci­ate it as much as I do now. Life is always more fun as a tourist. Real life in Hong Kong is def­i­nite­ly not peachy keen all the time, and snow can be fun some of the time. If only the TTC can be half as effi­cient as the MTR. Seri­ous­ly, I've tak­en the MTR dozens of times while here and haven't expe­ri­enced one sin­gle delay, where I run into at least one delay per day while tak­ing the TTC. Sheesh.
Any­way. I digress. Will write again when I'm on Cana­di­an soil! Take care!