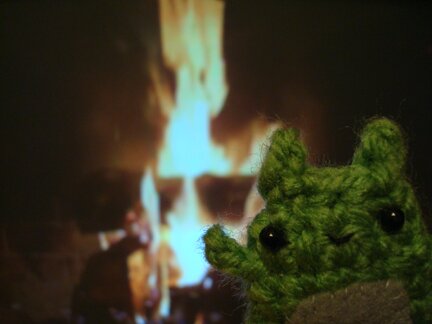 Hey Jorge! Where's the tree and what's with the fire?
Well… we'll get to that in a moment. But now, the ornaments! :D
A yellow fabric star that Mike made when he was 5 makes the tree topper every year.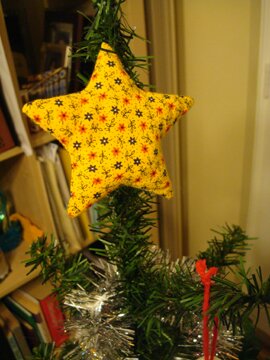 Meet Snow Bear! I made him at school 2 Christmases ago. We were supposed to make a sculpture for a role play exercise, and he's made of a Styrofoam cone and some corn and seeds, but I can't bear to toss him away.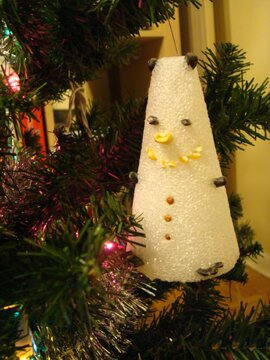 And next we have my favourite chipmunk in the tree. (Jorge: but isn't there only one chipmunk in the tree…?) I saw him at Pottery Barn and just had to bring him home. I'm not one who shops at Pottery Barn ever, but I had a gift card! :D So it was meant to be. Actually, I originally bought him for a secret Santa gift but I mean, who could ever give away a chipmunk with ears made of pistachio shells?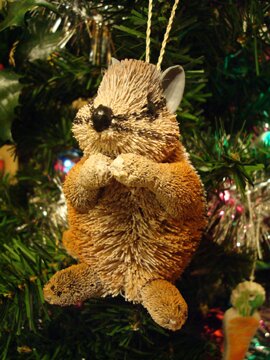 And here's my Model Magic snowman, made from leftover Model Magic I saved from school. (With a grinning Bob the Tomato talking toy.)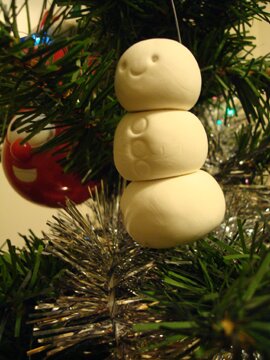 One year I made many of these ornaments with shards of glass from jars and bottles, which I smashed with a hammer :D I then soldered the edges and painted on it with glass paint. I sold and gave away all the ones that I made throughout the years, and haven't started making them again because it involves so much time and work. But I still think it was a really good idea. I really like the organic shape of the glass and the idea that it came from a broken bottle.
Last year I took a workshop in felting. It was an ornament workshop and we made a Santa, a snowman, and a penguin. I gave away the Santa and the snowman and kept Mr. Penguin. Mike quickly pointed out how he bears a striking resemblance to the Linux Penguin.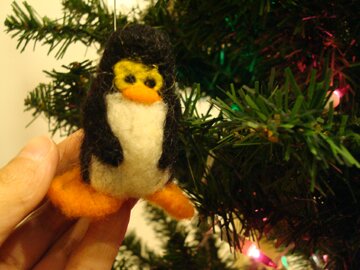 The workshop instructor kindly offered us extra felt to take home to practice, so with the extra felt I made this mushroom. There are also an assortment of pine cones and plastic hollies in the tree from floral arrangements that Mike's office received. I'm thankful for his co-workers who asked him to take those home for me before throwing out the arrangements :D They make excellent tree decorations because they come with a long wire stem, which are very easy to insert into the mass of plastic tree needles and make the decorations look like part of the tree.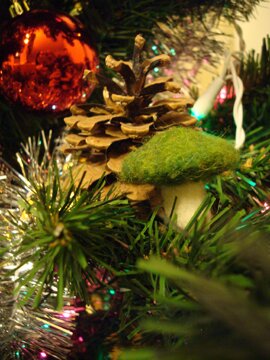 Here's my first attempt to make a crocheted acorn. He has a removable cap too. (Jorge: and we came from the same ball of yarn!)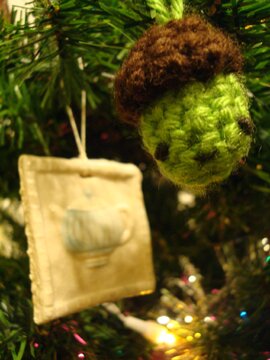 New to the tree this year are my ornaments from the dough adventures. Here's the teapot one made from the cookie mold my friend kindly passed on to me.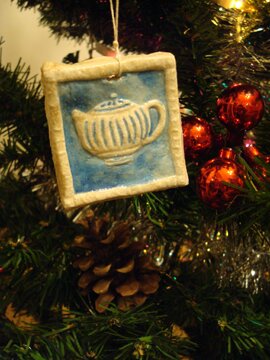 And here comes the crazed rabbit and his carrot! :D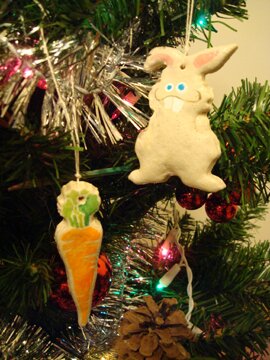 But the most special thing about the tree this year is the fireplace under the tree. Yes, a fireplace in an apartment!
TA-DA!!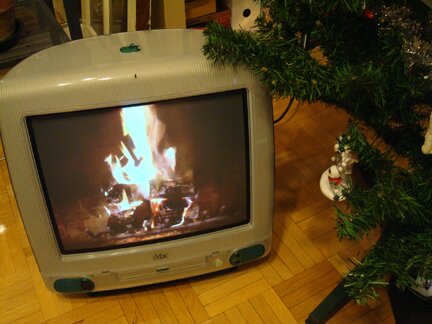 Mike built this fireplace by running this video on a gumdrop Mac he got for free on Craigslist. Isn't he the most brilliant? :D
It is a fireplace one can hug! (And it's quite warm!)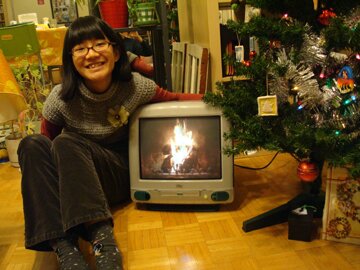 Just so everyone can fully appreciate this lovely Mac fire with us I took a video with the Zumi! If you listen carefully you'll hear it crackle like a real fireplace! :D
Warm wishes to you and your family!