Ever watched Pocoyo?
I caught it once while babysitting a few years back. I love the claymation-like animation and the characters and stories are so incredibly cute! (He has a blog too but it's in Spanish.)
Anyway, I wanted to make hats for my friends' children and decided to use this quick and easy pattern to make them. After two days of madly crocheting here they are, on a make-shift snowy background that is the back of my table cloth :D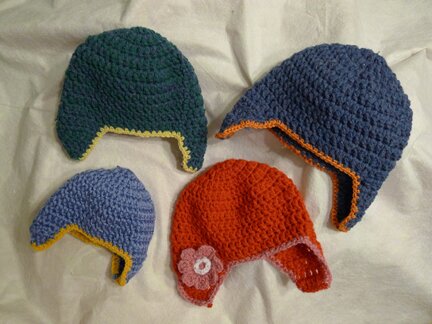 The pattern was indeed quick and easy as it promised. I actually made the infant one from start to finish on a 1 hr. subway ride. I also skipped the ties at the end of the earflaps because in my experience the ties always get caught in the zipper of my coat. And without the ties they remind me of Pocoyo's hat. See?
So, I had to make myself one too :D With an additional row or two it fits me perfectly. Plus, recently I left my hat and mitts at a friend's and won't get them back till the new year, so I need a new hat. I also left my trusty pink camera at my parents' (what's with me leaving my stuff behind these days?) so I used Mike's webcam. (The group of hats picture was taken with his super camera too! It captures the red very nicely.)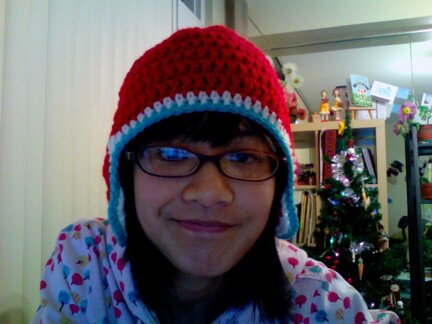 Thank you for visiting genuine mudpie this year! Wishing everyone a joyous, warm and peaceful holiday!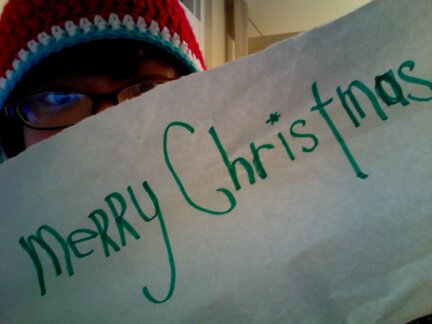 ¡Feliz Navidad!