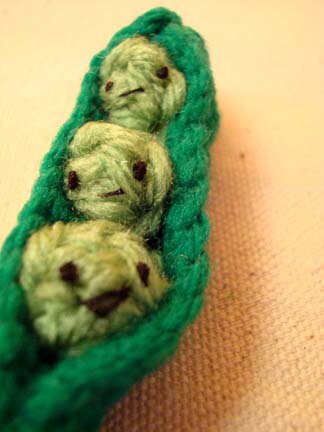 I was working on a custom order (which I will share with you very soon! :D) and it involves making a set of peas in a pod. It was a small part of a rather extensive project and I still had a lot more to do besides the peas, so I didn't really want to make the individual peas and stuff them. So I thought of using the popcorn stitch, and here's what I did…
(Here's a great video about how to make the crochet popcorn stitch just in case you want to get an idea of what it's like.)
I used:
A bit of worsted weight yarn in two different shades of green
3.5mm crochet hook
Black sewing thread
Sewing needle
Yarn needle
For the peas:
The first pea: ch 4, 4 dc in 4th st from hook.
Then I did what I like to call the popcorn maneuver: drop loop from hook, insert hook from front to back between the beginning ch and first dc, reinsert hook into dropped loop, yo, pull through loop and space between beginning ch and first dc, ch 1.
The second pea: Repeat instruction for the first pea.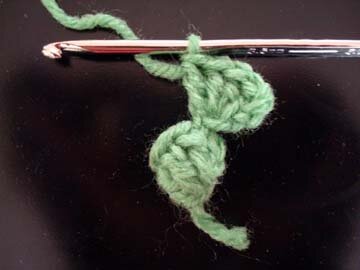 You can make as many peas as you wish, repeating the instruction for the first pea, and fastening off after the last pea. I made three.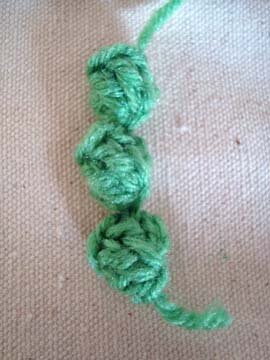 Next, I embroidered faces onto the peas with doubled black sewing thread, and then stuffed them slightly with some yarn-ends.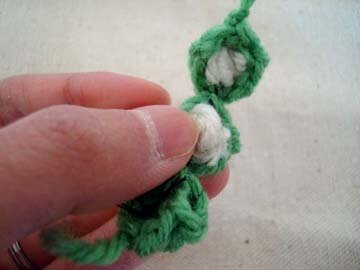 For the pod:
(The stitch count is for a pod with 3 peas. If there are more peas I would just eye-ball it and add more stitches to the beginning ch to fit.)
Row 1: ch 16, sc in 2nd st from hook, sc in each ch across.
Row 2: ch 1, 1 sc in each st across.
Rows 3–7: repeat Row 2.
Leave a 12″ tail, fasten off.
Fold pod in half length-wise. Using the 12″ tail and yarn needle, sew one end together, like so…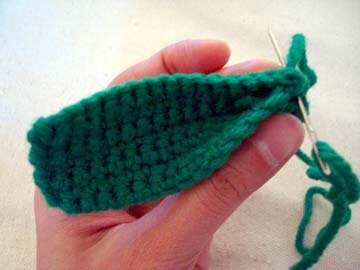 Then, place the string of peas inside the pod, and sew through the sides of the pod and the peas, zig-zagging across the length of the pod to the other end, like so…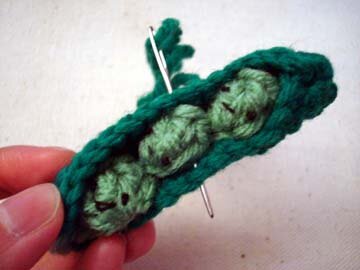 Finally, sew the other end together, like so…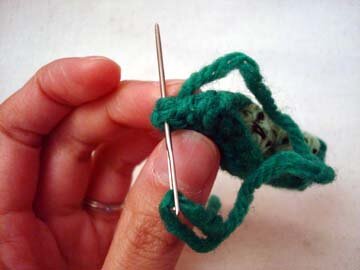 And here you have it, peas in a pod! :D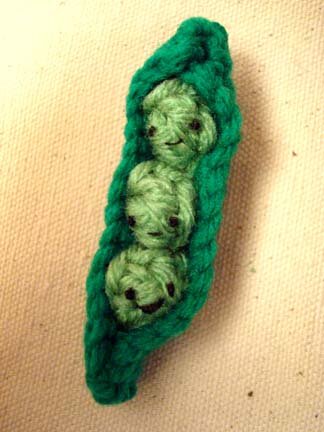 These peas think that they'll make a great fridge magnet, or a pin, or an ornament, or a zipper pull, or a cellphone charm, reminding you to give peace a chance in this brand new year.
But if you need some ideas about how you can give peas a chance, here's a fabulous mushy peas recipe — it's my favourite way to eat peas! :D
Have a lovely evening and a wonderful Friday!