Valentine's Day is just around the corner. I've always seen this holiday as an opportunity to tell those around me how special they are to me and how much I love them. So I thought it would be fun to round up some quick craft projects for anyone who's looking for last minute gifts or decorations to make this weekend :D And, of course, involving materials one can usually find around the house.
Watercolour window hangings! All you need is some coffee filter, washable markers and spritz of water. How fun! Use them to make bouquets of flowers too!
From Aunt Peaches.
A clever, quick, and easy printmaking technique involving masking tape, paint and Q‑tips.
From Sactrippers.
I, too, would like a heart doily t‑shirt.
From The Artful Parent.
I've always liked the patterns on tissue boxes.
Tissue box photo hearts from Michele Made Me.
A yule log for Valentine's Day? Yes please! :D
Tutorial on Pretty Little Things.
Some dainty, elegant lace hearts (and scented too!) made from paper doily and candle stubs.
Instruction by Aunt Peaches.
Cold days in February are perfect for these lovely ice sun catchers. Great if one has a collection of pressed leaves from the fall!
From Twig and Toadstool.
These are so amazingly simple to make and so fashionable-looking. Not something I have around the house, but I recall seeing these rose cabochon at my favourite bead store — will have to make a trip there soon!
From The Craft Nest.
Now rick racks might be easier to find in craft drawers.
See how to turn rick racks to roses on Maize in Montana.
Very, very simple heart garlands, your choice of paper or felt.
From Craftzine.
And of course, a crochet heart! I'm going to make one of these to wear as a pin on the weekend :D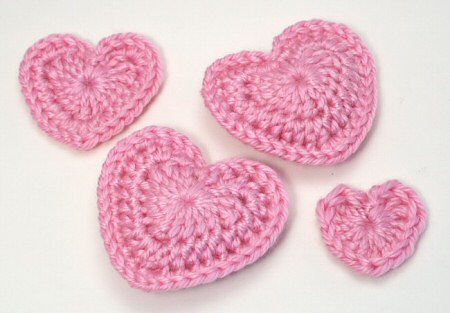 Pattern generously shared by June Gilbank of Planet June.
Last but not least, some red velvet pancakes to start the day, anyone?
Check out the super easy recipe on Cafe Zupas!
Have a lovely weekend everyone!