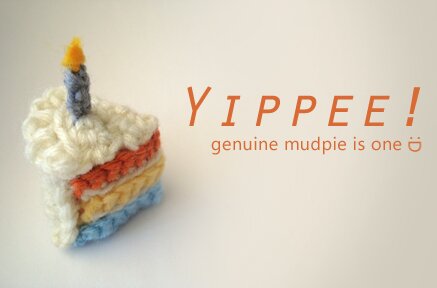 That's right! Gen­uine mud­pie will be turn­ing ONE on Mon­day March 28!
And to mark the occa­sion this blog will be mov­ing to a new address! The new site does­n't look very dif­fer­ent from what it is now, but with the flex­i­bil­i­ty of self-host­ing (and with big help from Mike!) I'm hop­ing to make it more orga­nized and its infor­ma­tion more eas­i­ly accessible.
We're still work­ing on the new site, so it's not live yet. But it will be up and run­ning in a cou­ple of days and I will post the new URL here once it's ready :D
I will be post­ing there start­ing Mon­day, and a cou­ple of cel­e­bra­to­ry pat­terns to share over next week!
Stay tuned for more excit­ing news!