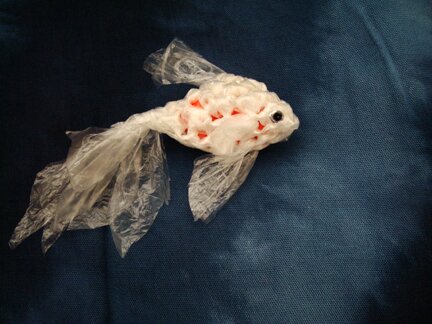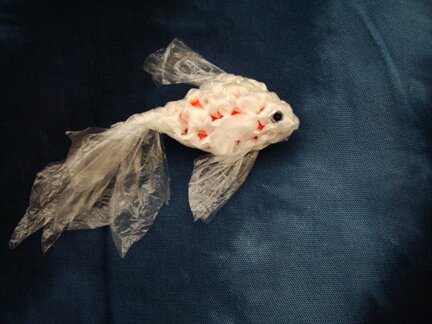 This really isn't a "pattern", per se. The only "pattern" part about it is the crocheting of the body. Even that is pretty free-formed. After the body is made you can form the fins and tails to make it into any fish you like.
I originally made the plarn betta as a tribute to Sushi the betta fish (you can read more about Sushi here, if you like), and to try my hands on plastic bag yarn (aka plarn).
I made the plarn out of the thin plastic bags found in the produce section in the grocery store, mainly because we don't get free plastic bags from stores in Toronto and the produce bags are the only plastic bags I have on hand. But I think the produce plastic bags work really well for the fish because of its translucent and delicate quality; its softness gives the fins and tails a nice drape. The regular plastic bags would work too, it would just be a tad more stiff.
And of course, one could make it out of yarn of the woolly and fuzzy variety. It might be neat to make the fins and tail out of patterned fabric, you think?
If you need instruction on how to make plarn, here's a fantastic one on gooseflesh.
I used a 3.5mm crochet hook, plarn, another plastic bag for stuffing, some shiny silver material for eyes, and white glue.
Here comes the "pattern"!
ch 3, 6 sc in third ch from hook, 2 sc in first sc, sc in next sc, [2 sc in next sc, sc in next sc] around and around until piece measures about 2″ in diameter, end with a sl st in next sc. Don't fasten off.
You'll get a shallow cup shape.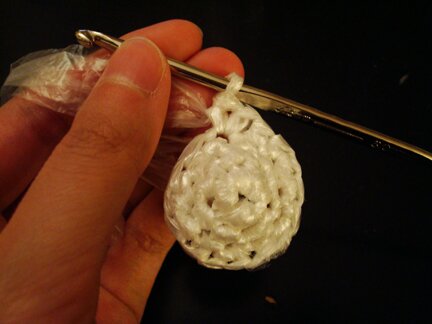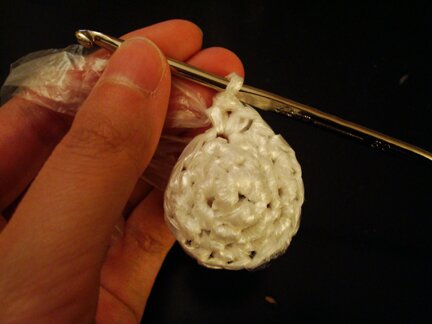 Fold piece in half, with the stitch on hook on one end of the fold line, like so…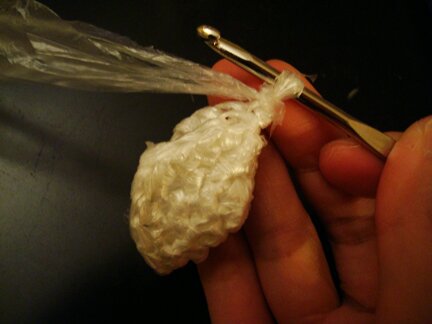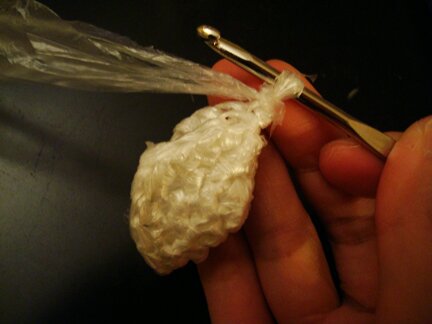 Here comes the last bit of crocheting: ch 1, crochet together the top edges with slip stitch through back loops only, like so…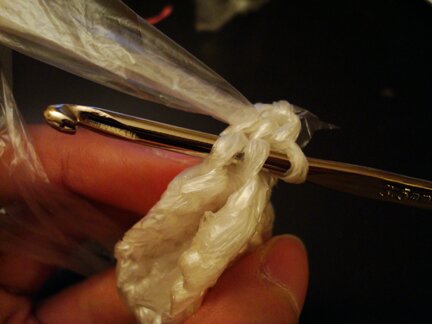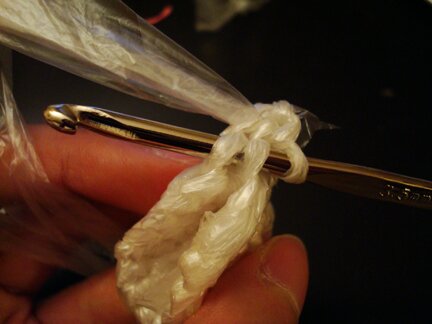 When half way across, stuff with bits of a plastic bag, then continue crocheting edges together.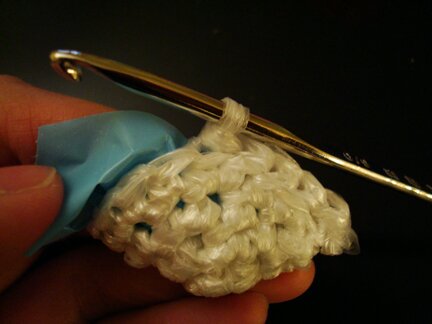 Finally, leave a 2″ tail and fasten off.
I made this one with seam side up, but I think I like the shape better when it's seam side down, like the first orange/white one I made.
For fins, cut a 4″ length of plarn, hook it halfway through a stitch on the body where you'd like to position the fin, then glue the 2 halves together with a dot of white glue in between. Before the glue dries one could shape the fin a bit and trim it.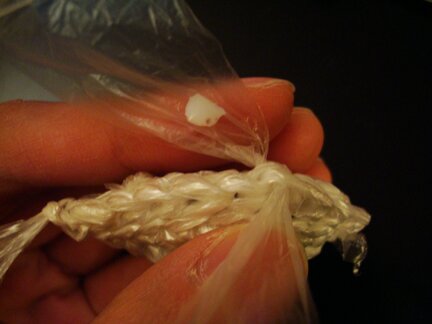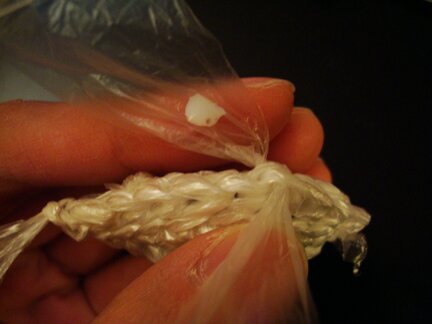 Repeat for all the fins. One could also add more plarn to the tail to make it look fuller, using the same method.
For the eyes, I looked for shiny silver materials, like this Tootsie Roll wrapper here. I then cut a tiny circle out of it and drew the eye with permanent marker, and attached it to the fish with white glue.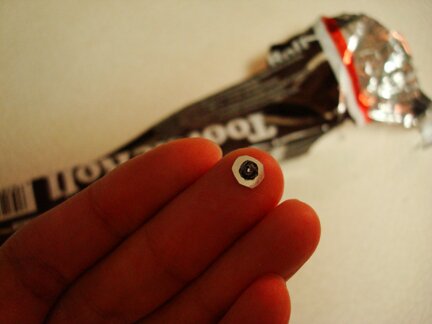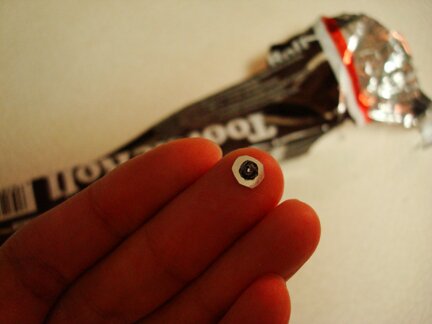 C'est fini!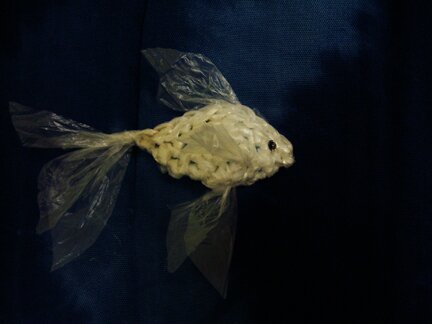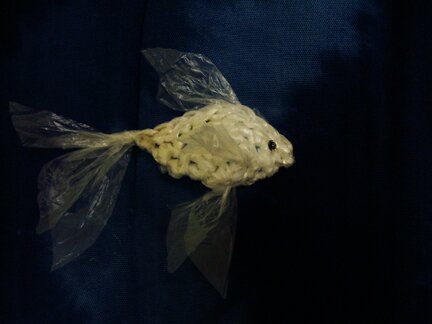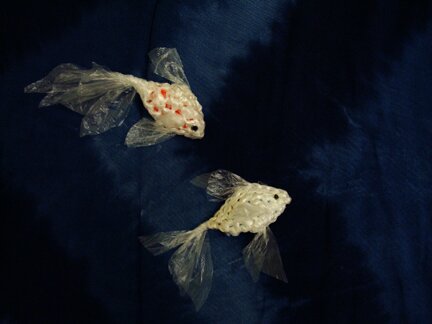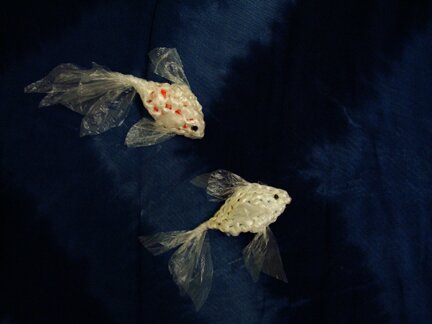 Have a fantastic day, friends!
What do you call a fish worshipped by other synthetic fish?
The one true cod!
- Mike