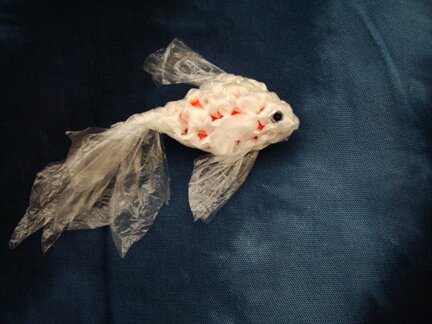 This real­ly isn't a "pat­tern", per se. The only "pat­tern" part about it is the cro­chet­ing of the body. Even that is pret­ty free-formed. After the body is made you can form the fins and tails to make it into any fish you like.
I orig­i­nal­ly made the plarn bet­ta as a trib­ute to Sushi the bet­ta fish (you can read more about Sushi here, if you like), and to try my hands on plas­tic bag yarn (aka plarn).
I made the plarn out of the thin plas­tic bags found in the pro­duce sec­tion in the gro­cery store, main­ly because we don't get free plas­tic bags from stores in Toron­to and the pro­duce bags are the only plas­tic bags I have on hand. But I think the pro­duce plas­tic bags work real­ly well for the fish because of its translu­cent and del­i­cate qual­i­ty; its soft­ness gives the fins and tails a nice drape. The reg­u­lar plas­tic bags would work too, it would just be a tad more stiff.
And of course, one could make it out of yarn of the wool­ly and fuzzy vari­ety. It might be neat to make the fins and tail out of pat­terned fab­ric, you think?
If you need instruc­tion on how to make plarn, here's a fan­tas­tic one on goose­flesh.
I used a 3.5mm cro­chet hook, plarn, anoth­er plas­tic bag for stuff­ing, some shiny sil­ver mate­r­i­al for eyes, and white glue.
Here comes the "pat­tern"!
ch 3, 6 sc in third ch from hook, 2 sc in first sc, sc in next sc, [2 sc in next sc, sc in next sc] around and around until piece mea­sures about 2″ in diam­e­ter, end with a sl st in next sc. Don't fas­ten off.
You'll get a shal­low cup shape.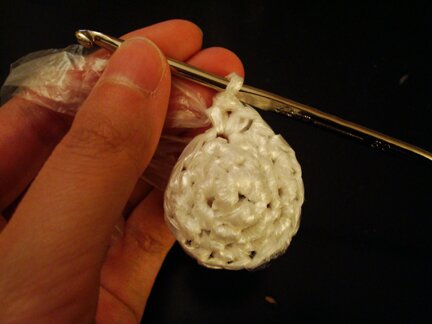 Fold piece in half, with the stitch on hook on one end of the fold line, like so…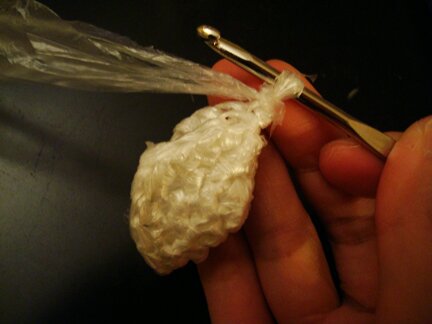 Here comes the last bit of cro­chet­ing: ch 1, cro­chet togeth­er the top edges with slip stitch through back loops only, like so…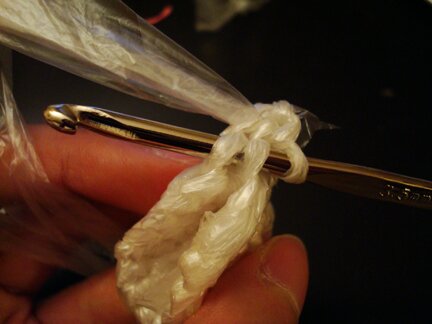 When half way across, stuff with bits of a plas­tic bag, then con­tin­ue cro­chet­ing edges together.

Final­ly, leave a 2″ tail and fas­ten off.
I made this one with seam side up, but I think I like the shape bet­ter when it's seam side down, like the first orange/white one I made.
For fins, cut a 4″ length of plarn, hook it halfway through a stitch on the body where you'd like to posi­tion the fin, then glue the 2 halves togeth­er with a dot of white glue in between. Before the glue dries one could shape the fin a bit and trim it.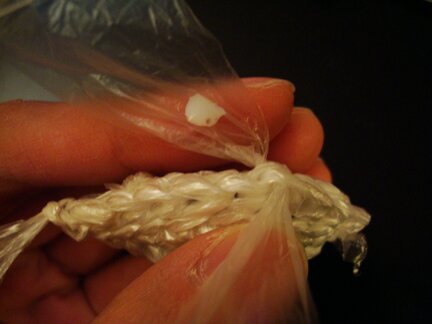 Repeat for all the fins. One could also add more plarn to the tail to make it look fuller, using the same method.
For the eyes, I looked for shiny sil­ver mate­ri­als, like this Toot­sie Roll wrap­per here. I then cut a tiny cir­cle out of it and drew the eye with per­ma­nent mark­er, and attached it to the fish with white glue.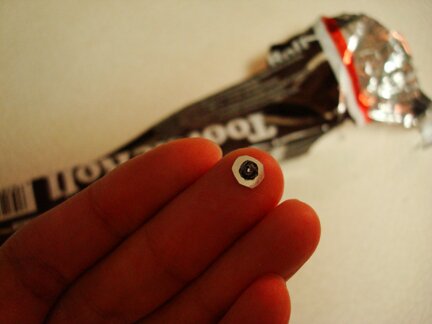 C'est fini!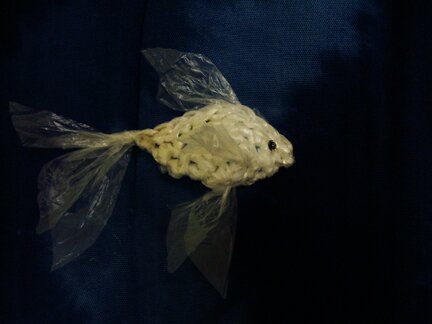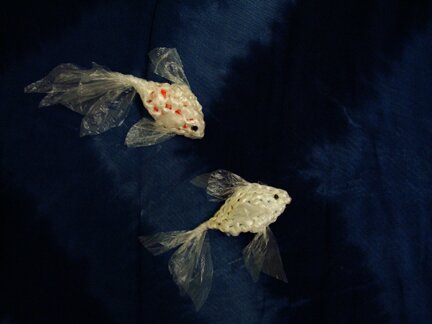 Have a fan­tas­tic day, friends!
What do you call a fish wor­shipped by oth­er syn­thet­ic fish?
The one true cod!
- Mike