Lots of Mother's Day ideas this week! But of course, one does not need to wait until Mother's Day to express appreciation. Here are some crafty gifts that would be wonderful to give to mothers (or other special women in our lives) any time of the year :D
Brilliantly simple, charming, and practical — a magnetic reusable to-do list from Frugal Family Fun Blog. Also great for making grocery lists, notes to self, and motivational messages! A wonderful project to make with kids, too!
Aren't these so cute? Makes a lovely key ring or a brooch! I love their ribbon-trimmed tails. Tutorial and templates on Paper-and-String.
Spring daffodils that keep blooming all year long :D How-to on While She Naps.
This one doesn't only bloom all year long, it's also wearable! Tutorial and templates for a gorgeous flower headband by Bugs and Fishes — I will have to make one for myself :D
No need to spend a fortune at the flower shop. Find some old magazines and take a trip to a nearby patch of grass where the wild flowers grow, and you've got a perfect gift! :D Tutorial for magazine flower basket from Made by Joel.
Now this requires more work, but will be absolutely worth the effort. Planters made out of old books for succulents! How-to on Apartment Therapy.
These certainly make delightful potholders, but I think smaller versions of them would also make great brooches! Free pattern from Delights-Gems.
Make some stylish wall art or table decoration (which doubles as a potholder) using the humble sisal or jute rope! How-to on Design Sponge.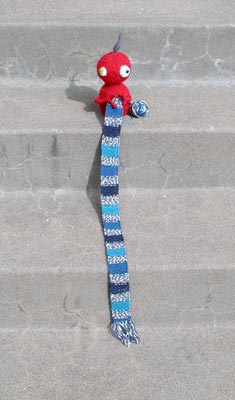 For the public knitter — make a public knitting critter! :D Pattern by The Thrifty Knitter.
For the subway reader — page corner bookmarks! Brilliantly simple but so awesome! How-to on I Could Make That.
For the tea lover — Tea Diver by Yanko Design. I love the tiny oxygen tank! (via Inspire me now)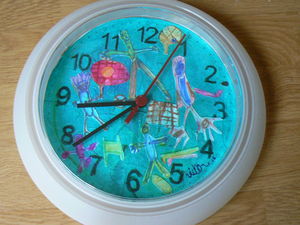 Customize a plain ol' clock! The face of the clock is cleverly covered in tissue paper so one could trace the numbers through it (i.e. none of that divide-the-pie-in-12-equal-parts math). Tutorial at Leon, pas sur les murs! (Blog is in French, I don't know much French, but the photos are pretty self-explanatory. Plus I use Google Chrome and it translates it for me :D)
This was made to be a strawberry party favour, topped with a strawberry plant, but I think it would make a nice kitchen planter, topped with herbs and stuck on the fridge! Instruction on One Charming Party.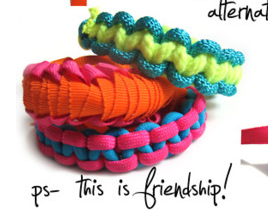 Made with the same knotting method as the traditional friendship bracelet, but I think I much prefer these bright, bold, and stylish ones made with thick ropes and ribbons. Plus, they don't take forever to make like the traditional friendship bracelets. Perfect for children's attention span — oooh, a squirrel! — from p.s. I made this.
And sometimes a gift doesn't have to be something that one can keep forever. It could be a gesture, like making food for someone, or offering someone a simple fruit drink on a hot summer day, like agua fresca, made with fresh fruit, water and ice all blended together into a refreshing goodness. Read further on Make and Takes for more ideas and recipes! (If we go strawberry-picking again this summer I'm definitely making some strawberry agua fresca!)
And I just have to post this — not only because he's so very adorable, but because there's actually a sushi place called Ninja Sushi in my parents' neighbourhood, and they make excellent sashimi! You can find this ninja sushi at twistyfishies' Etsy shop! :D
Have a lovely Friday, everyone!