This week we have a wide assortment of favourite things from bokeh to unnecessary quotation marks — great fun! :D

I've seen cupcake gift boxes being sold in the bookstores, but here's how to make your own! It even comes in three lovely flavours: ruffled, twisted, and shaved chocolate. Very pretty tutorial at Little Birdie Secret.
This is so cool! A thumb-controlled watering device (water stops streaming out when one places thumb over the hole on the lid) made with a recycled jug. According to the maker, 'the original earthenware "thumb pots" were used in 17th and 18th century English gardens'. I would so make one if I have a yard. How-to on Fun in the Making.
Filing is no longer a chore with this vintage-book-turn-expanding-file! Can it spark motivation to finally sort those recipes / receipts / renderings of a time traveling machine? Very detailed instruction on Just Something I Made.
For those back-of-the-napkin sketches and scribbles that are too brilliant to simply file away (it's true, the most brilliant compositions are almost always done on scrap papers), or those precious drawings from the kid who thinks you're the coolest aunt/uncle/teacher on earth, here's a simple yet stylish way to make them part of your decor and everyday inspiration. From Creative Jewish Mom.
Craft meets office! Great for when one needs a break from the 2056-page document, or when one wants to leave a thank-you note on someone's desk, or when one's cubicle is in need of some decoration. Simple origami flowers made of post-it notes, how-to on Sensible Living.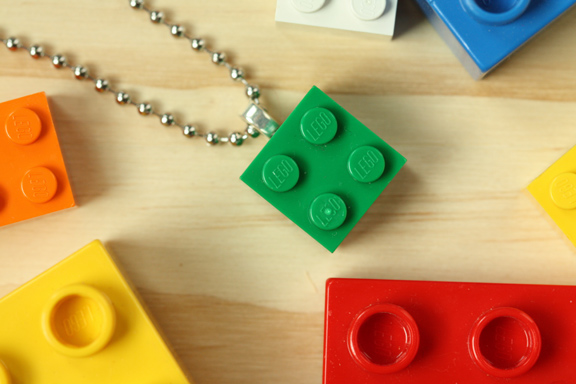 I was never really a Lego fan, but I like to wear necklaces and I love the bright colour and simplicity of this Lego necklace. I wonder if my parents still have the bucket of Legos in the basement… how-to on The Long Thread. (Speaking of jewelry made out of game pieces, I also like the idea of a Scrabble tile necklace — also very simple to make, and personalized!)
It's like my Hong Kong pendant, but on canvas! Make wall art with fun fabric and places we love — tutorial on Crafterhour.
We don't have an SLR, but maybe it will work on Mike's super camera… Tutorial to make your own bokeh shapes (to fit on a camera lens and turn out-of-focus points of light into shapes, like the flowers above) on How About Orange.
I never knew that plastic buttons can be dyed! Apparently with this particular kind of dye it works wonderfully. How to on Rit Dyes.
Sew a terrarium! I love the quaint mason jar, but the sculptural quality of this clear vinyl version is also interesting. Tutorial on DesignSponge.
This is genius — a wallet, that can also turn into a tote! (the zipper on the top is the wallet part, and the tote is folded and closed into the side zipper) Perfect for grocery shopping, trips to the park (to collect leaves and wild flowers for pressing!), or trips to the beach (to collect beach glass and fossil-embedded rocks!) A very clear and detailed tutorial on Sew Mama Sew.
More sewing transformation — turn a sweater into an infinity scarf! (also called a circle scarf, which is essentially a long cowl) I prefer circle scarf to regular scarf because the ends of regular scarf tend to get caught in my coat zipper. Wouldn't it be cool to make this with t‑shirts for the summer, with patches of different colours and graphics? Hmmm… How-to on Adventures in Dressmaking.
Kathreen of Whip Up shares a recipe for making tea ice cream, which can be substituted with one's favourite kind of tea, plus a great list of other tea ice cream recipes. It looks so lovely in the dainty tea cup, perfect for a summer tea party.
And finally, Mike suggested one of his favourites — the blog of "unnecessary" quotation marks! It is one of "those" blogs that I visit "periodically" for some "good" laughs. (Here is another "example" of one of "those" blogs) He also borrowed the book from the library, which we read together over dinner and I tell you, it was definitely a choking hazard. So please, if you do check out this blog or book, put away the food and drinks first. (Another example of this kind of books is Chinglish — my sister, Mike and I read it together in a bookstore in Hong Kong and we fell over each other LOL-ing. But I think it's especially funny if one were Chinese or if one knew Chinese people really well.)
On this note, I will end with a favourite quote of the week:
The creative adult is the child who survived.
— U. LeGuin
Happy Friday, friends! :D