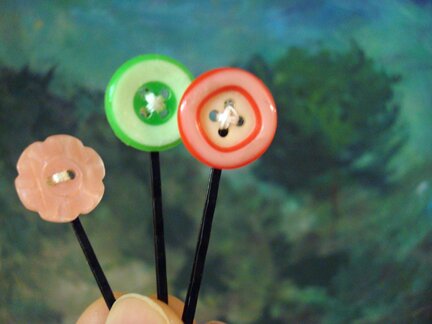 Buttons!
My mom gave me a box of craft supplies that someone else gave to her, and in the large box of supplies there was a small box of buttons. I just tucked the box of buttons into my craft drawer for the longest time and only today did I look through it. There were these delicious-looking green and pink buttons just begging to be made into something, but I didn't know what… and then I went browsing on Pinterest and guess what I found? This post on Homemaker's Journal about making buttoned bobby pins! It's such a simple idea but it's absolutely perfect.
I'm in the process of trying to grow out my bangs so I use bobby pins to keep my hair out of my face, and having a nice buttoned bobby pin rather than a plain old bobby pin really brightened my day. It's the small things, you know? :D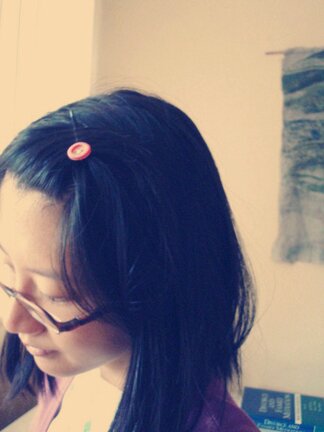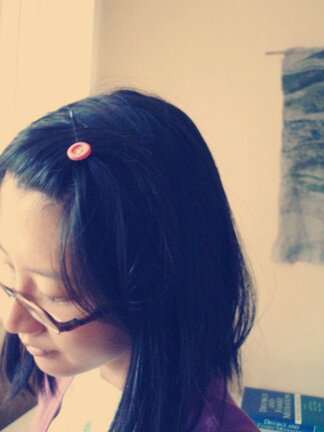 Also in the box of buttons was this antique Hong Kong $5 coin, from 1976!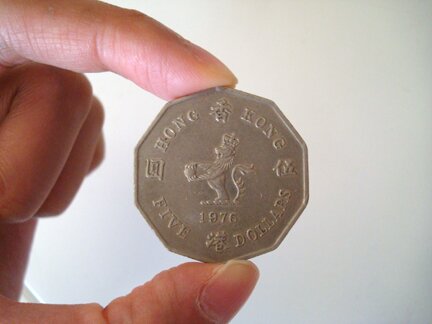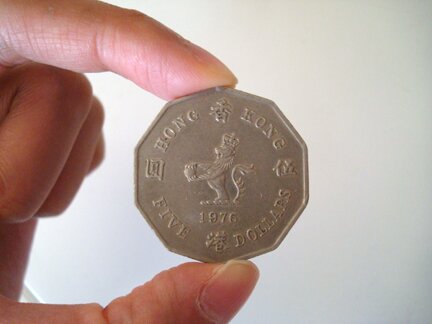 It's a decagon! (new word I learned today thanks to Google :D) Nowadays $5 are round, I've never seen a 10-sided $5 coin! And here's the queen on the flip side, of course.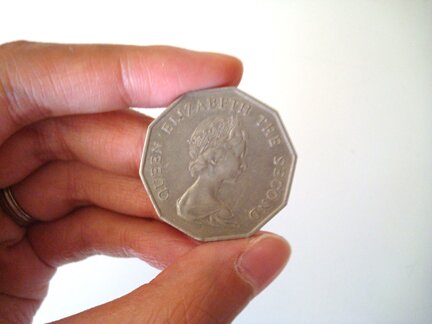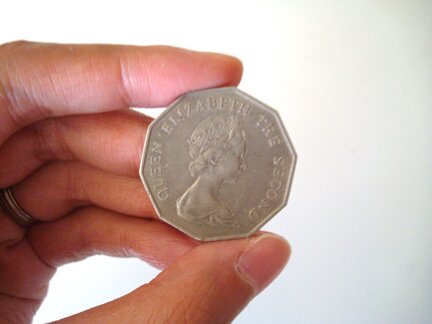 That was in the morning. So then I thought, I must wear one of these pretty button bobby pins out somewhere. I planned to visit the thrift store sometimes this week for some back-to-school clothing. I was debating whether I should just take it easy at home or venture out. The bobby pin gave me the motivation to go out (it's the small things, really).
And guess what?
The thrift store was having a one-day 50% off clothing sale!
So with under $20 I got 4 dress shirts and a cardigan. I was really happy with the dress shirts, which aren't all that exciting but something I need for work-related occasions (I've learned that adding a cardigan doesn't really make a graphic tee look more professional). But the cardigan needed some work, because it was too big. (I wish I had taken a "before" photo with me wearing it).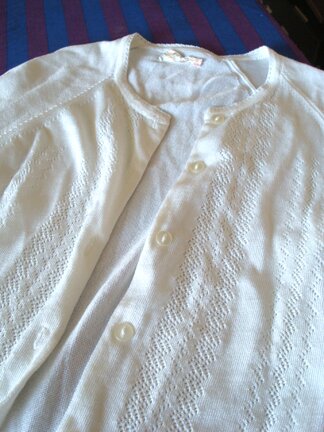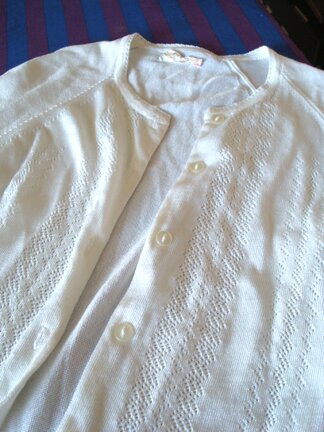 I wanted a neutral colour cardigan for a couple of upcoming weddings, and I do like this one because of its lace pattern and the delicate-looking collar. It was a size-large.
So I took in the sides and the sleeves…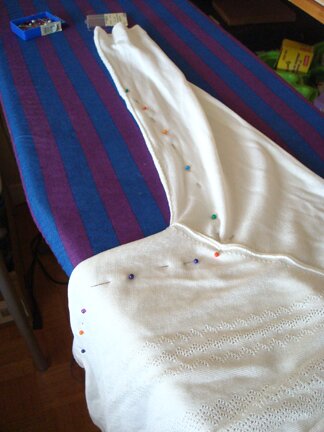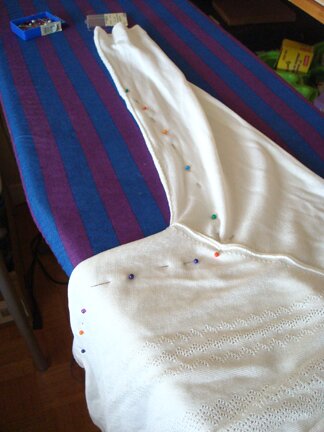 … and cut 5.5″ off the hem, and then re-hemmed it…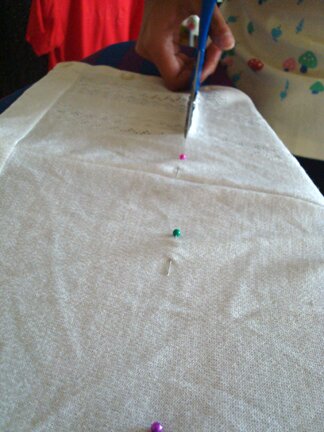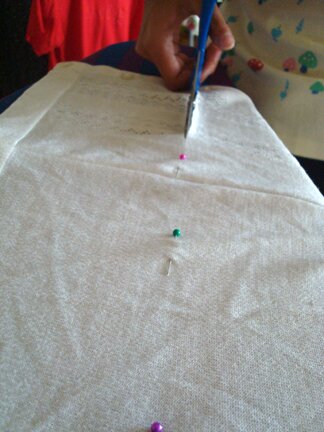 … and TA-DA! A cropped cardigan! :D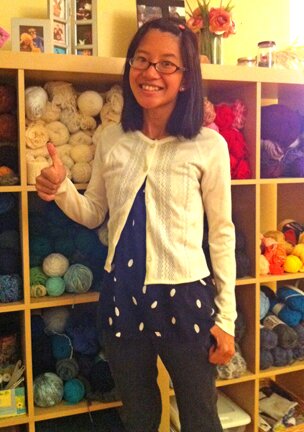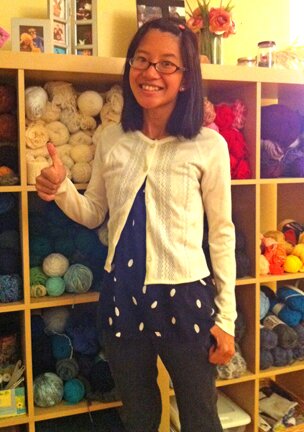 I'm quite happy with it, though I didn't know how it was going to turn out because I've never sewn sweaters with the sewing machine before. I was a bit concerned that it would all stretch out. But over all it didn't stretch much. The cardigan was just kind of shaped funny… it was kind of twisting (you might be able to see that a bit in the picture) and wouldn't lie flat when I tried to line up the seams. But I think it looks alright! :D
Oooh, and check this out…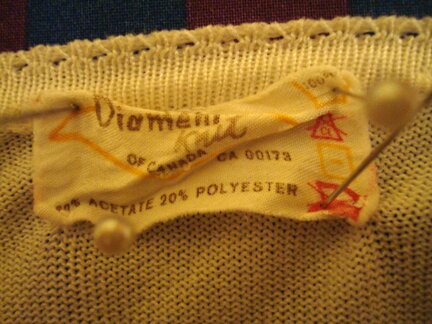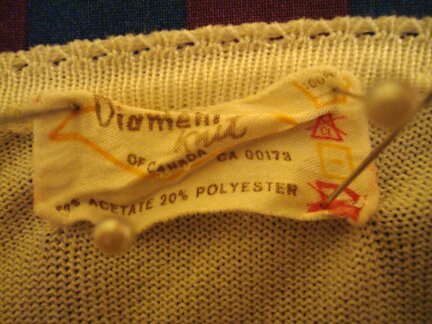 The tag on the cardigan was all bunched up so I had to stretch it out and pin it like a butterfly specimen to take a photo (because the tag says "no ironing", I think). But can you see that it says it's made of 20% polyester and 80% acetate?
I did not know that one could make clothing out of acetate. By acetate does it mean acrylic? Hmm. I wonder how old this sweater is…
Other awesome find today that's not pictured: tikka masala chips! Mmm curry.
Have a wonderful day, friends!