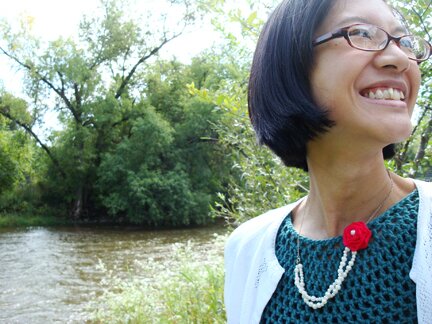 Went to a friend's wed­ding on the week­end :D and I made a pearls and rose neck­lace to go with this cro­chet dress and this refash­ioned cardi­gan.Â
(I actu­al­ly real­ly like this pho­to, if I must say so myself. I was try­ing to take a pic­ture of myself look­ing all styl­ish but fail­ing, so this pic­ture is actu­al­ly one of me laugh­ing at my sil­ly attempts. These shots of me laugh­ing at myself often turn out well.)
I've been fas­ci­nat­ed by those off-cen­tered flower neck­laces for a while, so I thought I'd try to make one with stuff I have at home. In case you're inter­est­ed, here's how I made it.
This is how it looks on the back, which kind of explains how it's pieced together.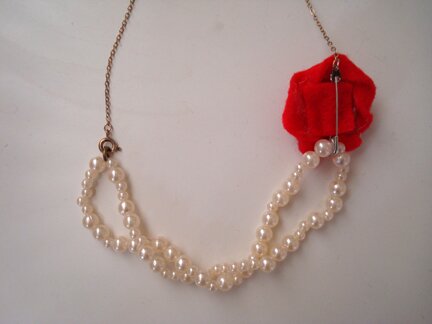 I used:
A bit of red felt
Some pearl beads
Some thread and nee­dle for string­ing the beads
1 jump ring
1 large safe­ty pin
1 small safe­ty pin
1 neck­lace chain with clasps
Hot glue gun
1. I strung some plas­tic pearl beads on a piece of thread. It's about 11″ long alto­geth­er, but it's not because I have a spe­cif­ic mea­sure­ment in mind. It has to be that length because I ran out of beads. I tied the ends togeth­er and then secured the knot with some white glue and set it aside to dry.
2. I made a rose with a 1/4″ strip of red felt, using a method sim­i­lar to this tuto­r­i­al (scroll down to "no-sew rib­bon rosette tuto­r­i­al"), hot glu­ing it as I rolled, and hot glued a pearl bead in the cen­ter. I then attached the larg­er safe­ty pin (mak­ing sure the open­ing is fac­ing away from the rose) to the back of the rose by hot glu­ing a small piece of felt on it.
3. I fold­ed the string of pearl beads in half, then attached a jump ring to one end, and attached the safe­ty pin with the rose to the oth­er end.
4. I put the one end of the neck­lace chain on the safe­ty pin attached to the rose (the end with­out the spring open­ing). I then hook the end with the spring open­ing onto the jump ring that I placed on the string of pearl beads in step 3. (It sounds more com­plex than it actu­al­ly is… hope­ful­ly this will make sense if you refer to the pho­to above.)
5. And then the neck­lace was too long, so I put a safe­ty pin through the chain to make it short­er (the pin actu­al­ly goes through two indi­vid­ual links on oppo­site sides), like so…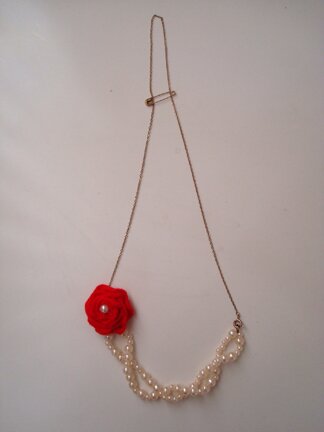 So, to put it on, I just unclasp the chain from the jump ring on the string of pearls.
More week­end pho­tos to fol­low! Hope your week­end was re-ener­giz­ing with the crisp air of fall!