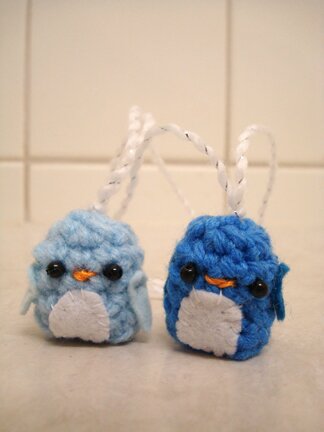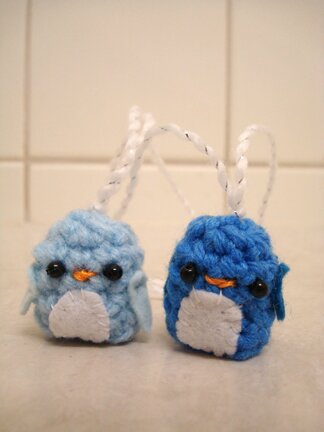 Inspired by a dear friend of mine who loves penguins :D
Remember the tater tot pattern? It's just adding a few things to the tots to make them look like penguins.
Super quick to make and hardly uses any yarn!
You'll need:
A bit of yarn in penguin colours (blue, black, teal?)
A bit of felt in penguin colours
A bit of felt in white
A 3.5 or 3.75mm hook
Small round black beads for eyes
Sewing / embroidery needles
White, black, and penguin colour sewing thread
Orange embroider floss
Stuffing (I use yarn ends)
Jingle bells (optional)
Sorry for some of the blurry photos due to low light conditions. It's been difficult trying to take photos in full day light since daylight saving time with the sun going down at 4pm :( If you need clarification please feel free to leave a comment or send me a message!
First, follow pattern for tater tots up to row 5 (before decreasing). Remove hook but don't fasten off.
With white felt, cut a small rounded trapezoid-like shape for belly and sew it onto the penguin body. Then sew on the eyes with the black beads and embroider the beak with orange embroidery floss. (Now that I look at it, it might look even cuter with some rosy cheeks with pink embroidery floss!)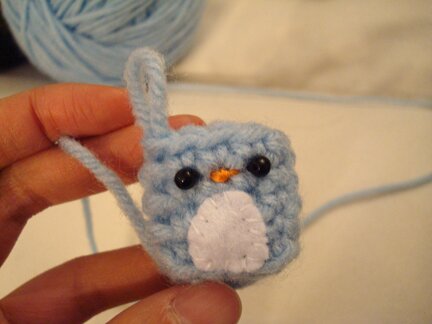 After all sewing/embroidering is done stuff the penguin. I also threw in a jingle bell. The jingling is muffled by the stuffing but it still makes a fun noise.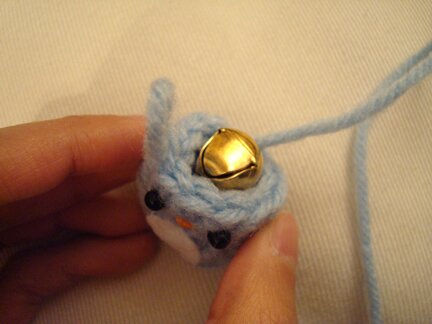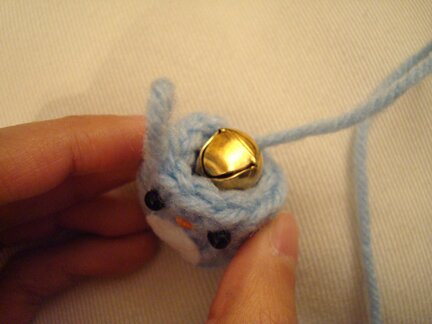 Continue onto row 6 and the rest of the tater tot pattern.
Then, using the penguin colour felt, cut out two small teardrop shapes for wings, and sew them onto the sides of the penguin.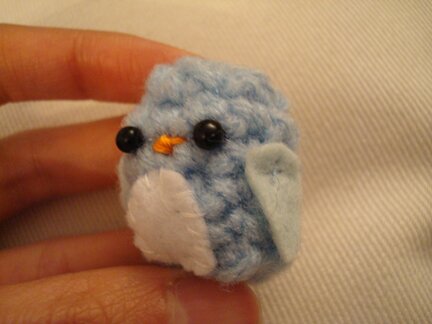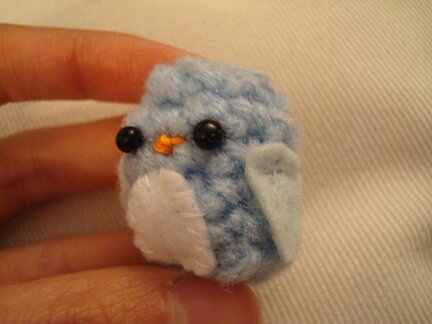 And guess what? Now you have a penguin! *jingle jingle jingle*
To make it into an ornament, I didn't want to just attach the yarn to the top of the penguin because it might pull it out of shape. So instead I hooked a piece of silvery yarn right through the length of the body. This might be a bit tricky with the jingle bell in it, but it's possible to maneuver through.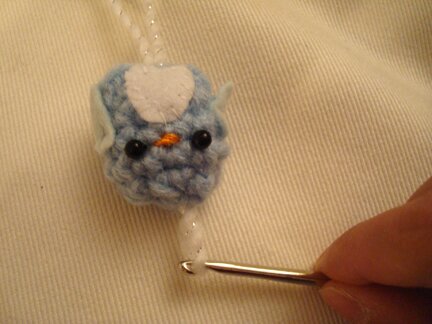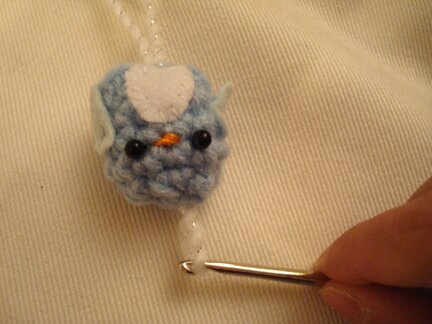 Pull the piece of yarn from the bottom of the penguin and out through the top. Then pull the one end back down through a different stitch from the top and out through a different stitch at the bottom. This diagram here may make it easier to understand…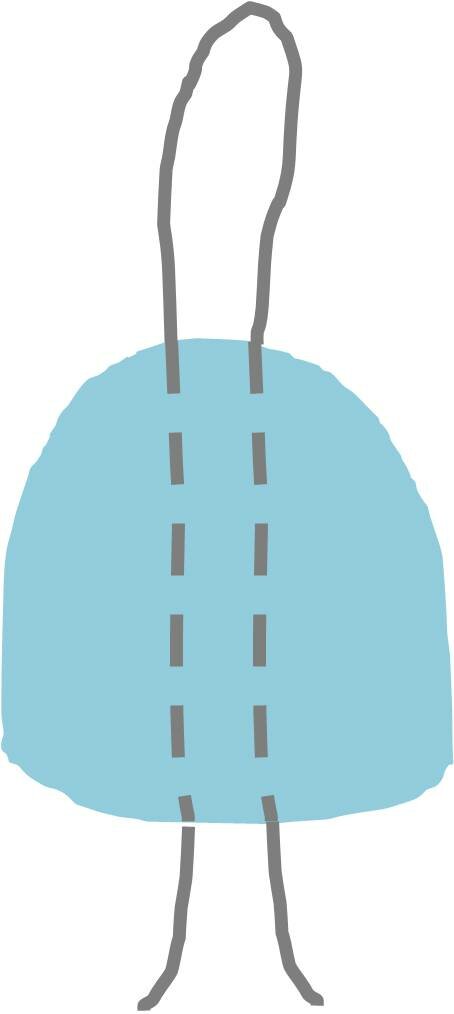 Through different stitches at the top…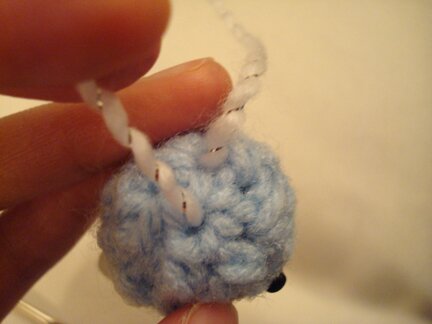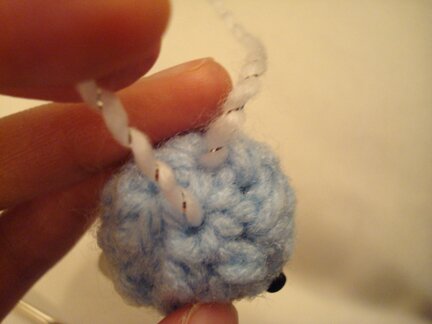 Through different stitches at the bottom…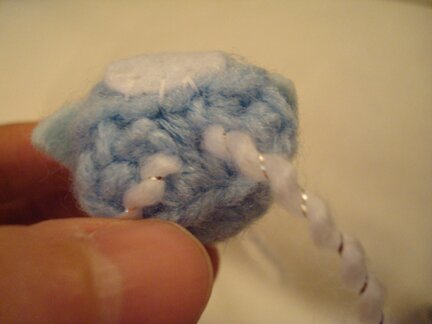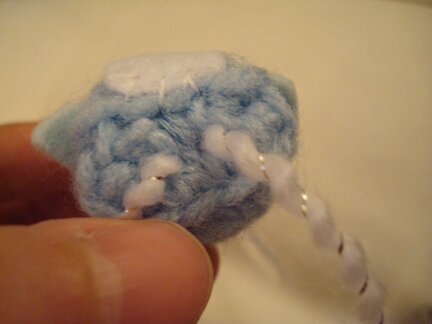 Now make a knot at the top…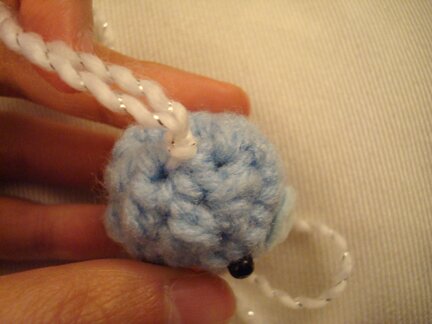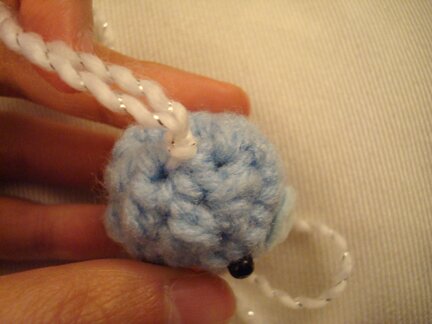 And tie the two ends together at the bottom…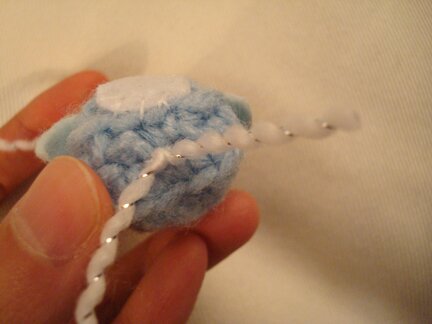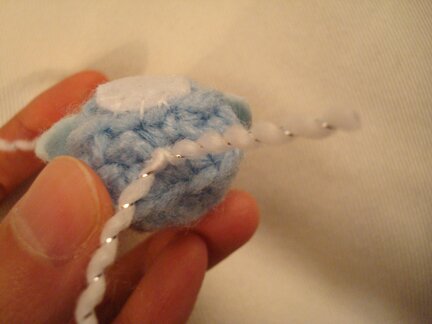 Then weave the ends into the body.
And our penguin is ready to dangle!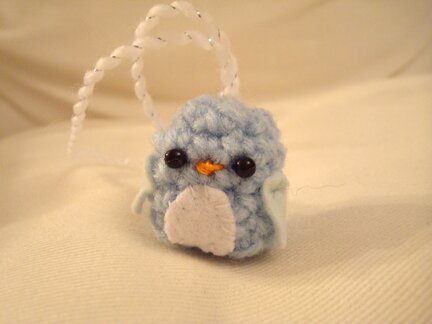 Cheers!