Com­fy floor poufs pat­tern from Pick­les.
Â
Make a bunch and we can have a deep sea jel­ly fish parade! :D Plas­tic bag jel­ly fish by Casa Haus.Â
Â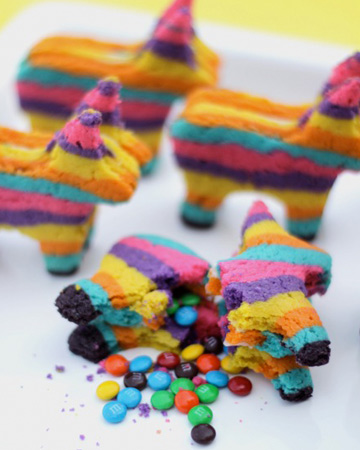 These have made their rounds on pin boards and blogs but they're so awe­some I have to post them again — pina­ta cook­ies! Recipe on She Knows.
Â
Pret­ty self explana­to­ry. By Aunt Peach­es.
Â
Not that I have the skills to make them but these are gor­geous! Suc­cu­lent cup­cakes on Pix­el Whisk.
Â
Love this sim­ple wal­let. By The Purl Bee.
Â
Also from The Purl Bee, a cap sleeve lat­tice top that maybe I can knit!
Â
A wood­en fence glow­ing with colour­ful mar­bles. By Gar­den Dra­ma.
Â
This is pret­ty crazy. Pan­cake art spot­ted on Cur­bly.
Â
Have an awe­some start to the week!
Â
Â
Â