I was browsing on Pinterest the other day and saw someone pinned a "graduation dress". I thought it was such a great idea, to make a special dress for one's graduation. I had a graduation coming up and a nice piece of fabric lying around, enough to make a dress. So I started searching for "easy dressing sewing pattern" and came upon this pattern from Burda Style.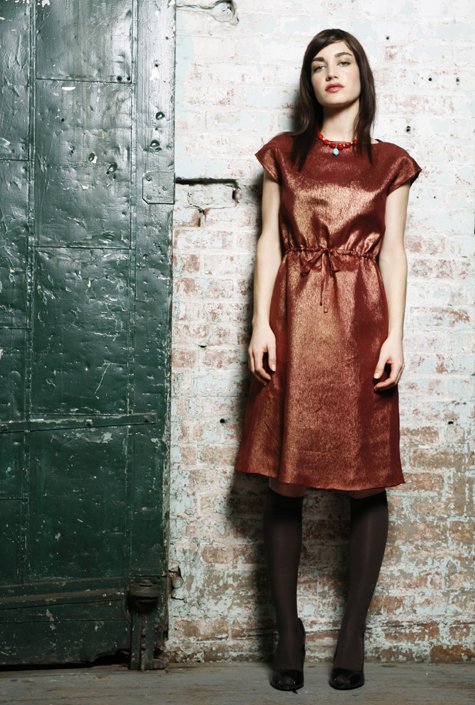 Hey, that looks like something I could make without a pattern. Because it looks just like an extended square blouse.
So, it's not as neat, but here's my version of it :D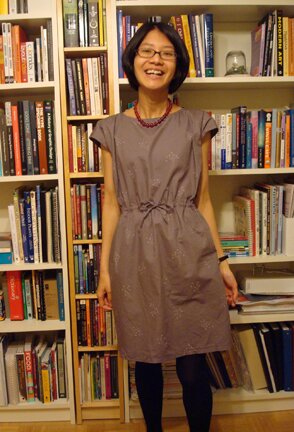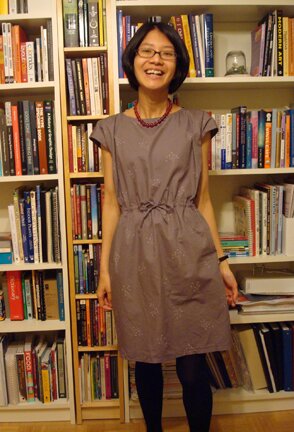 Look! I was even wearing black tights and a red glass bead necklace. That photo from Burda Style really inspired this outfit.
I did tweak my usual square blouse pattern a bit. The shoulders are tilted a bit downward toward the arms, the waist is taken in to give it more shape.
And I did wear it to my graduation :D
The director was very thoughtful and had corsages for all the graduates. And you can see the faint floral pattern on my dress a bit better in this photo.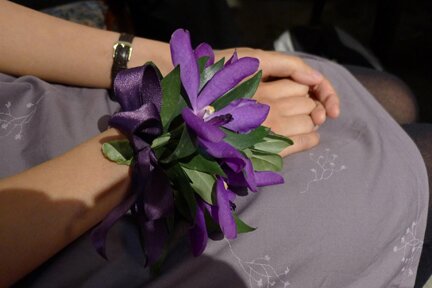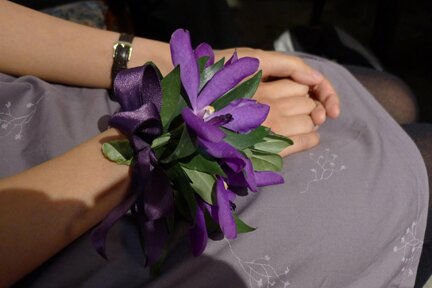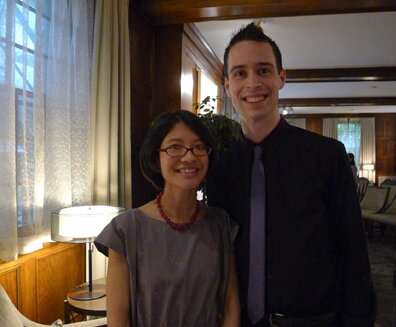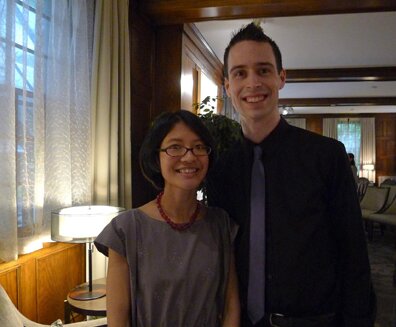 Mike was wearing a matching tie! :D In fact, I made him that skinny tie following this tutorial.
The graduation was for the art therapy diploma that I technically completed two years ago. But because it's such a small school and small program, it takes a while to get a large enough group of graduates to have a graduation ceremony.
But it's still a really exciting time! :D
So happy that my sister is back from her studies in Hong Kong so she could come to the graduation :D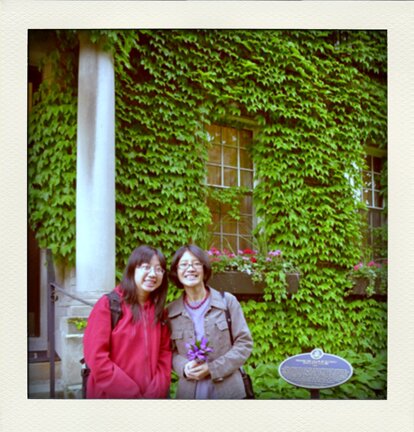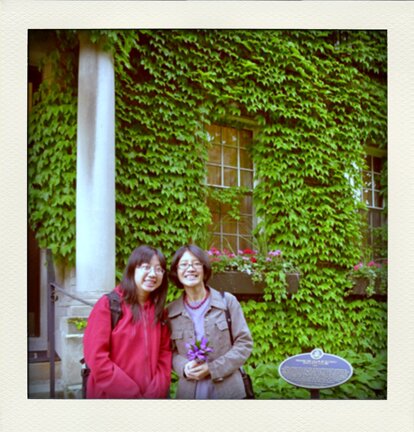 It was in a building covered in vines (not our school building. The school rented a space in this building for the ceremony).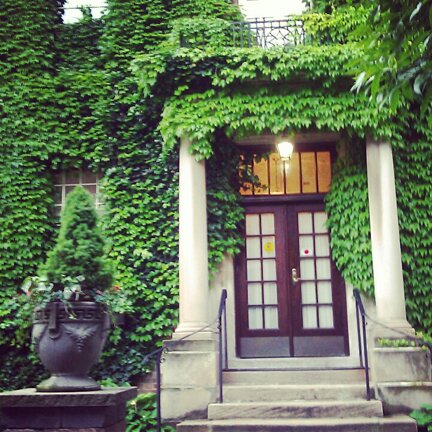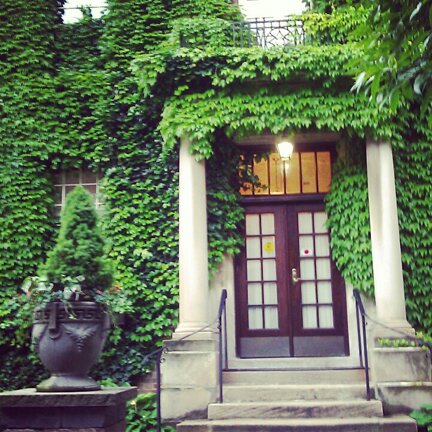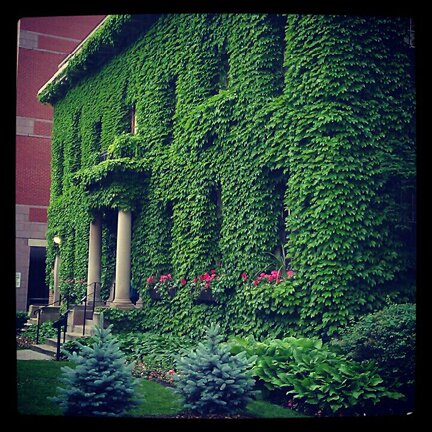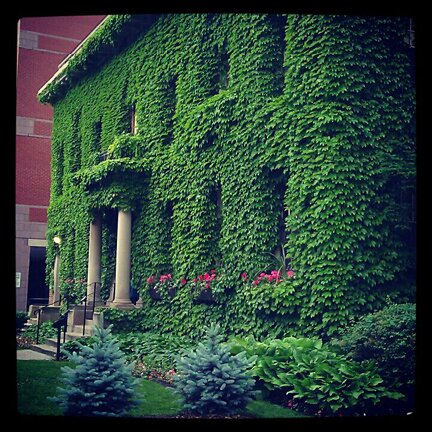 Works as a casual dress on a different day. Found this awesome tree in a nearby park with a nice strong branch that makes a natural seat.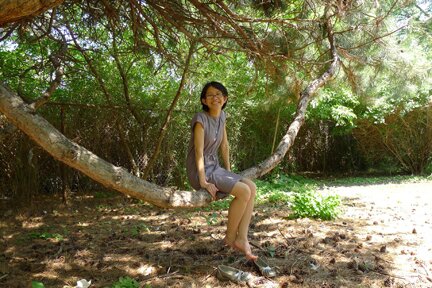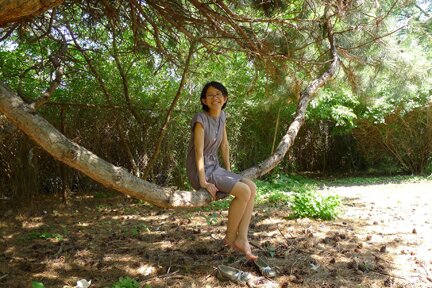 And this whole graduation experience just made me think about how important it is to know that other people believe in me, to hear people say to me that "I know you can do it", even though I don't believe that I can at times. More importantly, it makes me think about how important it is for me to say to others that I believe in them. To have faith that they are able to do the things that they want to do, overcome the challenges they face, reach new heights in their life journeys. And to interact with people in a way that express this faith.
I forget sometimes, but something I'm trying to be more conscious of.
Have an awesome Tuesday!