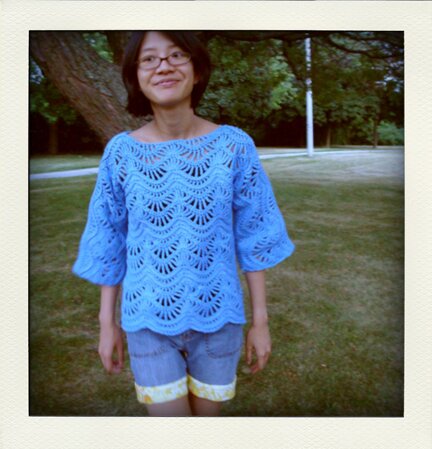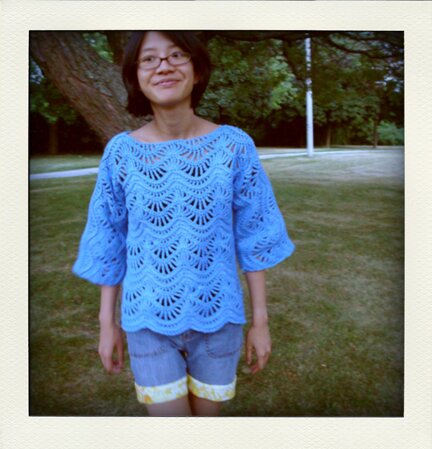 This sweater took a really long time, but it's finally done :D
It's from the latest Vogue crochet edition. I thought I had enough of a sport weight yarn to make it, but half way through I realize there was no way. The pattern just uses up so much yarn so quickly. And I couldn't get more of the same yarn because it was likely a 1 kg mystery fiber bag I got a long time ago from Walmart or Zellers.
But wait! I have this ginormous ball of blue worsted acrylic that I got for Christmas last year (no joke, the ball of yarn was bigger than my head), I thought I'd give it a shot.
Because the yarn is now much thicker, I had to modify the pattern a bit. But that also means I can get it done quicker! :D
Still, it took weeks. And I still didn't have enough yarn, so I had to shorten everything. Good thing I'm short.
And of course it turned out really stiff. The sleeves were especially puffy. So I tried to "block" it by ironing it at low-medium heat under a wet towel. At one point I accidentally rested the iron on a spot for too long and it looked like the acrylic nearly melted :S but it made the fiber much softer. So I tried to do the same to the entire sweater. Not sure if that's a proper way of treating acrylic yarn (hope it doesn't fall apart in the wash :S — can anyone tell me if I've just killed my new sweater?), but the drape is now much better.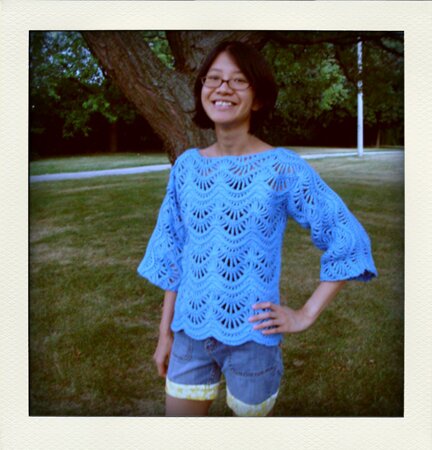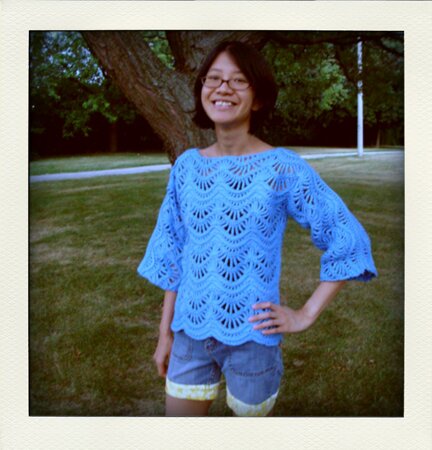 Perfect day to take photos of it because it's unseasonably cool today. But it's a bit sad that I'll have to wait until fall to wear it. I'll just have to start on a summer project :D
Have a happy Wednesday!