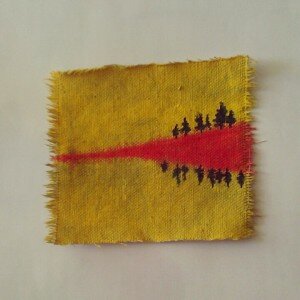 Day 25, portal.
Â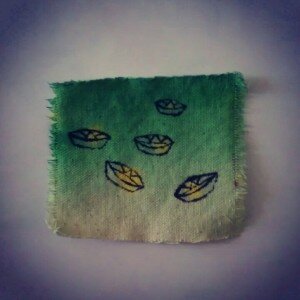 Day 26, hope floats.
Â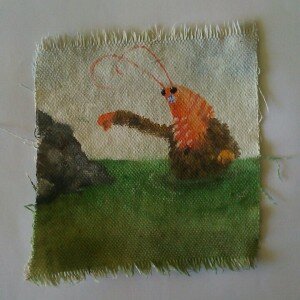 Day 27, leg­end of the shrim­panzee — half shrimp, half chimp, all sea mon­ster! "rawr, get out of my lagoon!" *bats at rocks* Inspired by these awe­some paint­ings.
Â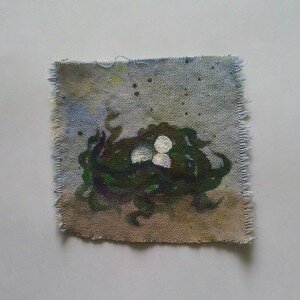 Day 28, sea­weed nest and pearls of wisdom.
Â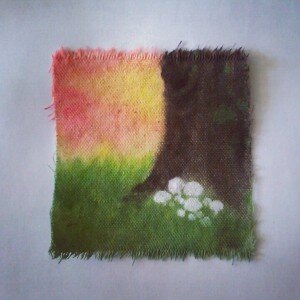 Day 29, shrooms. Was writ­ing a guest post that day and I men­tioned mush­rooms at the foot of a tree.
Â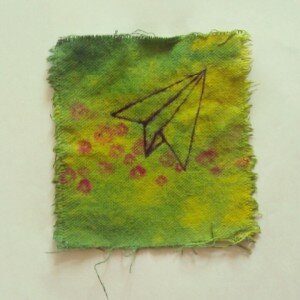 Day 30, over a field of pop­pies. I paint­ed this at my par­ents', as I was spend­ing the week­end there. I brought my most used brush­es and used the paints from my sis­ter's old paint-by-num­ber kit.Â
Hur­ray! Project com­plete! :D
Â
Here's how they look alto­geth­er. I've been hang­ing one up every­day on a string, like a bunting. (Please excuse the clut­tered back­ground. Our apart­ment comes with a mir­ror-cov­ered wall and we put all sorts of posters on it.) You can click on the pho­to to see a larg­er image.

Â
Kind of hard to believe that I actu­al­ly stuck with it, paint­ed a square a day for 30 days. It was a lot of fun. Often I just paint­ed what­ev­er came to mind but some­times it offered such a great oppor­tu­ni­ty to work through the thoughts and feel­ings that were both­er­ing me.
Also, I did­n't men­tioned that all of the paint­ings, except the 30th one, were done with dol­lar store paint! Not the great­est qual­i­ty, but does a good job actually.Â
I'm going to have to take bet­ter pic­tures of them. The Insta­gram ones are fun but some of the colours and details don't show up very well. And then I'm going to have a first ever gen­uine mud­pie give­away! :D To thank every­one for trav­el­ling with me on this jour­ney of redis­cov­er­ing the joy of paint­ing. Still have to fig­ure out the logis­tics of it, but will post details soon!Â
I'll def­i­nite­ly do this again, maybe a square a week or some­thing. But for now I'm going to fin­ish the pat­tern I've been work­ing on (eeep!) and a mys­tery project! With mys­tery posts! Stay tuned! :D
Â
Wish­ing you a fun-filled day!
Â
Pre­vi­ous square-a-day posts:
First post
Update 1
Update 2
Update 3Â
Â
Â