First, a few inter­est­ing sky pho­tos from the past few weeks :D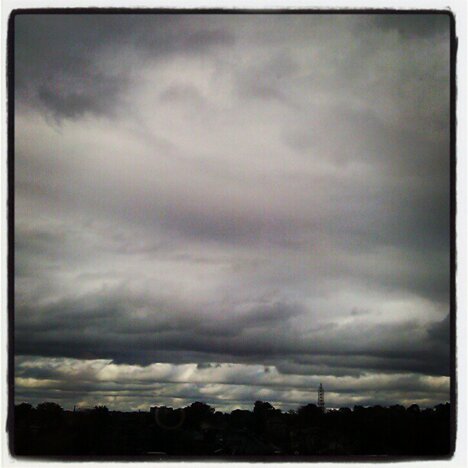 Def­i­nite­ly a grey stripe that day.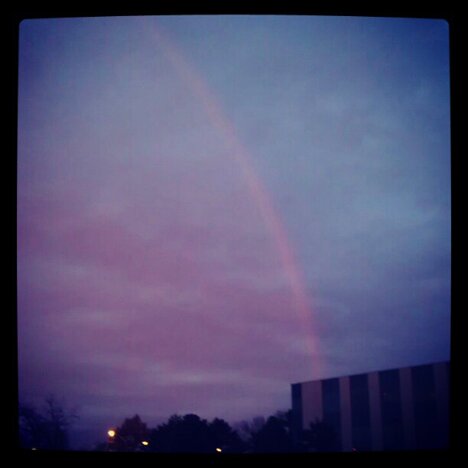 Caught the rain­bow right when I was com­ing out of class that day. It was just fad­ing. And quite a few peo­ple were tak­ing pho­tos of it with their phones with a smile on their faces. Joy was in the atmosphere.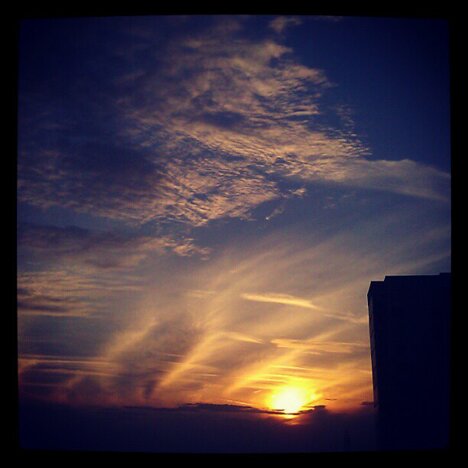 Bril­liant sun­set with a cross­hatch­ing pattern.
And an update pho­to for the sky sweater tak­en a few days ago. I divid­ed the front and back with the neck open­ing, so it's over half way done :D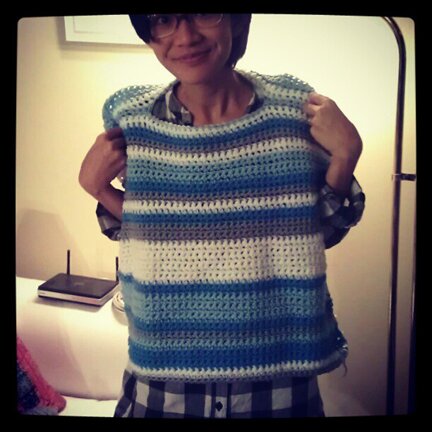 And now, an idea, inspired by all of you :D
After I wrote the weave par­ty post and read all the encour­ag­ing com­ments I real­ized how fun it would be if we have a craft­ing par­ty. It remind­ed me of a make-along I par­tic­i­pat­ed in two years ago and the year before, host­ed by the awe­some Leethal.
In the make-along's every­one who par­tic­i­pat­ed made some­thing (crafts, cook­ing, gar­den­ing, etc.) with­in the same 24-hour peri­od, dur­ing which peo­ple also post­ed their progress on Twit­ter and a Face­book page. After­wards peo­ple shared what they've made either on their blogs, linked on Leethal's blog, or in a Flickr pool. Â
So I thought, why don't we have a craft-along par­ty? :D
I don't use Twit­ter and set­ting up anoth­er Face­book account or Flickr pool seems like a bit too much to han­dle, but craft­ing togeth­er can be very simple.
My idea is just to set a 24-hour peri­od in which we all make some­thing — maybe a craft that we've been want­i­ng to try for a while, maybe start­ing on some Christ­mas gifts, maybe craft­ing some­thing for our­selves, maybe con­tin­u­ing on a project that has been hiber­nat­ing, maybe just set­ting aside an hour to be spon­ta­neous and make some­thing unplanned and free-formed, maybe bak­ing a cake for the sake of bak­ing a cake, maybe writ­ing a poem/haiku/song… just spend­ing some time with our cre­ativ­i­ty :D
And then, with­in a week, if peo­ple can send me a pho­to or any doc­u­men­ta­tion of what's been made and, if peo­ple wish, a description/statement about it, I can post them right here on the good ol' blog and it can be a like mini gallery exhi­bi­tion! :D
(I might even be able to ask Mike to help me install a fan­cy wid­get for the gallery viewing!)Â
Maybe some­times in the sec­ond week of Novem­ber… (that's just because I have midterms until then :S)
What do you think about this idea? Would you be inter­est­ed in join­ing the craft-along party?
Have a hap­py weekend!