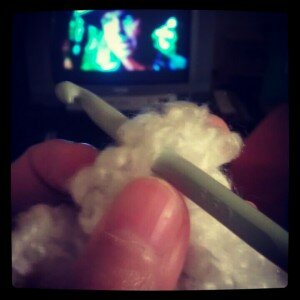 Had some school work to catch up on today but happy to be setting aside some time for crafting in the evening :D Making something white and fuzzy while watching the Jurassic Park 3 DVD I borrowed from my friend :D I saw the first two when I was a kid but didn't even know that there was a third one. I heard there's a fourth one coming out in 2014… whoa.
It is now storming and pouring rain outside, just like one of the scenes in the movie. And the thunder kind of sounds like the dinosaurs roaring. Roarrr.
Still not too late to join the party if you haven't heard about it earlier! :D
Can't wait to show you what I've made (will post about that mid-week) and to see the awesome projects you've worked on! :D
Have a fantastic Sunday!