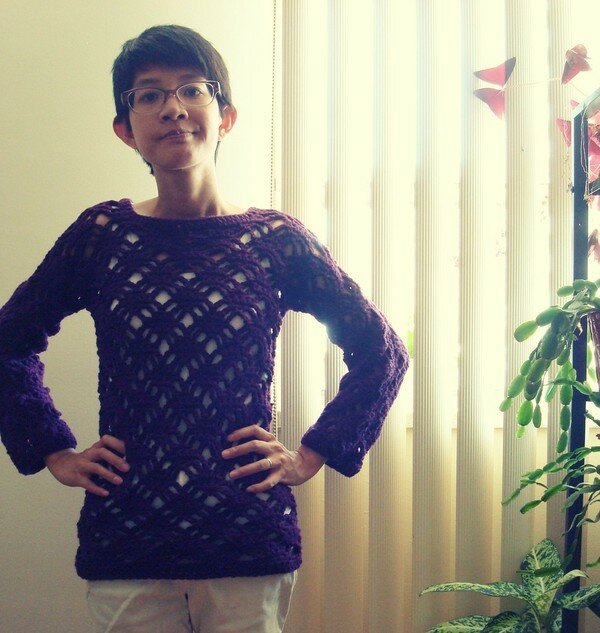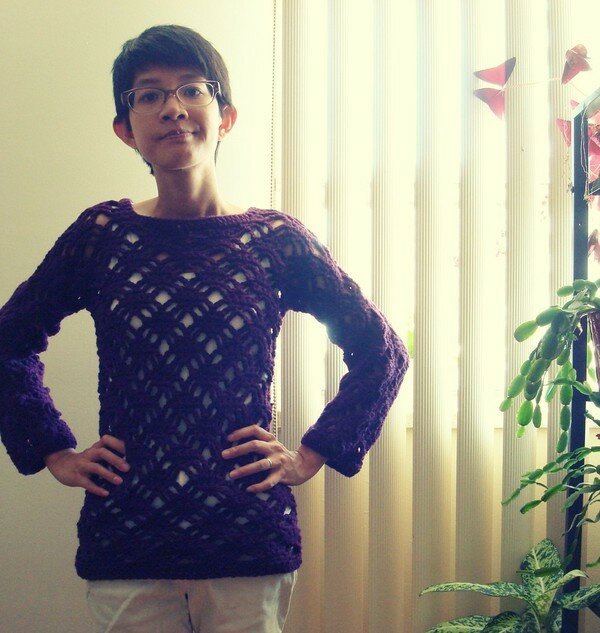 The Weather Network says it feels like 38°C. And all week I've been working on this very cozy sweater. I had an idea and I just had to make it. I couldn't help myself. Oh, how I love crocheting.
Wearing it to take a photo is a different story. The exasperation is evident on my face. It was like the 4th take or something. Definitely not the best photo of the sweater or of me, but it would have to do.
I'm going to have to put it away until fall. But I've come to love wearing this kind of openwork sweaters. I had to stop myself from wearing this sweater everyday after I made it in early spring. So comfortable. Not too warm for indoors but warm enough for walking to the subway and such when layered.
I also like simple geometrical patterns. With certain crochet lace garment patterns one can risk looking like one is wearing a giant doily. I thought geometrical patterns look a bit more fashionable.
The inspiration for this sweater comes from this marshmallow lace sweater. It's a knitting pattern. There's no way I can understand the pattern, but I love how it looks! How I wish I could knit better. I thought figuring out a crochet version of it is probably the next best thing. I found a diamond grid pattern for a cowl in this book by Doris Chan and basically adapted the pattern to make two "T" shapes with some neck shaping. I then sewed together the shoulder, underarm and side seams to make a sweater.
I used some cheap and cheerful purple acrylic yarn that I bought a long time ago, and ironed on low-medium heat under a wet towel to soften the yarn. Kind of like blocking but not really. I think it works well though.
Just wanted to share this last project post before Mike and I head to Chicago for almost a week! :D Summer trip! :D Will see you when we get back! :D
Until then, keep cool and take care, friends!