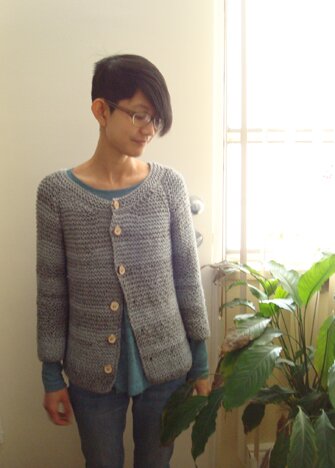 Have been work­ing on this cardi­gan over Jan­u­ary. I have two piles of left­over grey yarn, nei­ther is enough to knit a whole sweater so I thought I would com­bine them in a ran­dom strip­ing pat­tern. The rip­ply tex­ture of garter stitch and the dif­fer­ent tones of grey remind me of the lichens I saw on a road trip to Bruce Penin­su­la two sum­mers ago.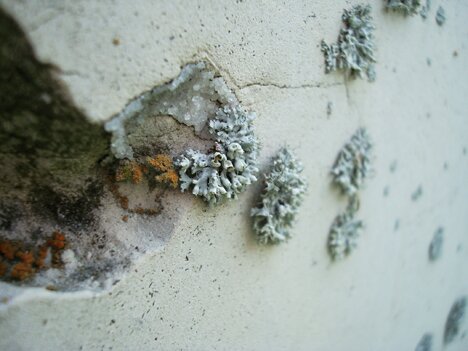 I fol­lowed this cardi­gan pat­tern from Pier­rot. It's has a nice chart that I learned to read with the help of this won­der­ful doc­u­ment. I fol­lowed all the instruc­tions for stitch count, increas­es and decreas­es in the chart, but I used a larg­er nee­dle (7.5mm), made but­ton holes all the way down the front (though they're not quite spaced even­ly despite my best efforts. Oh well) and knit­ted every­thing in garter stitch, which I think has a sim­ple, rus­tic look to it that I real­ly love. Like lichens.
Here's the back view…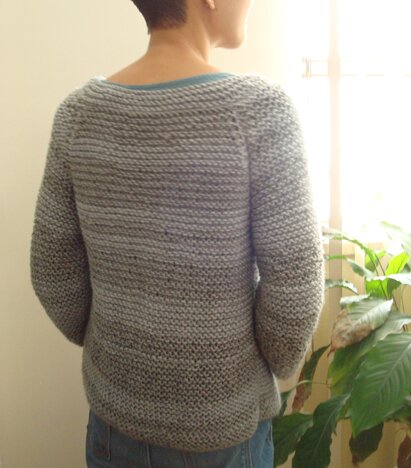 And I thought some nice unpol­ished wood but­tons would go well with the sim­ple garter stitch.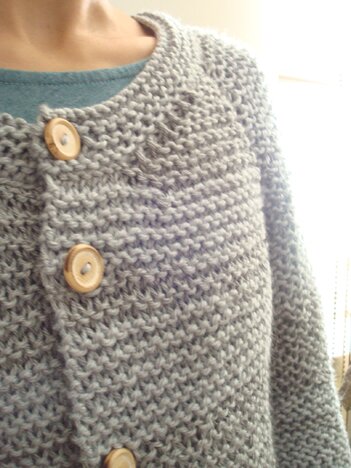 I've been want­i­ng to make a ver­sa­tile grey cardi­gan for a while and I think this is it! I'm very hap­py with it. And I think I'm start­ing to appre­ci­ate the slow­er pace of knit­ting. I still avoid cir­cu­lar nee­dles as much as pos­si­ble (I chose this pat­tern main­ly because it's knit­ted flat and seamed), but maybe one day I'll start to appre­ci­ate them too. And because it's knit­ted quite loose­ly with the rel­a­tive­ly large nee­dles I cro­cheted all the seams togeth­er with a 6.5mm hook.
On a slight­ly sep­a­rate note, I men­tioned a cou­ple of times that I've cro­cheted the Mason­ry Jack­et, but it turned out real­ly rather stiff and does­n't look all that good on me. So I'm pret­ty sure I'm going to take it apart to make some­thing else. I'm think­ing of knit­ting a basic sweater in garter or moss stitch. Would be nice to wear over col­lared shirt. Will keep you posted!Â
Have an awe­some week, everyone!