Today we're going to make tiny nigiri :D
Here is my hand in the picture for scale…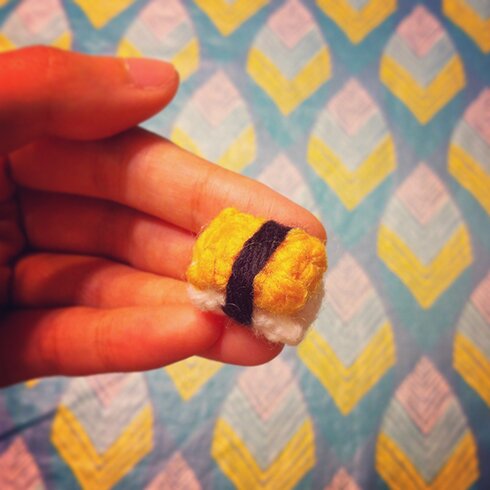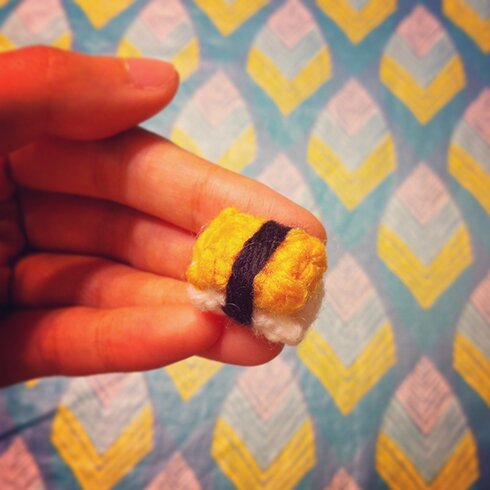 It only consists of 8 rows altogether, so it's a super quick make. The assembly instruction sounds more complicated than it actually is. I will be using some origami terms in hopes that it will make it a bit easier to understand, but as always please feel free to drop me a note if you want clarifications :)
I used:
A bit of light worsted weight yarn in white and other nigiri colours (I was using a variegated orange for salmon and yellow for egg)
3mm hook
A bit of black yarn (optional — if adding seaweed wrapping)
What I did:
*turning ch does not count as a stitch.
Row 1: with white, leaving 12″ tail for sewing in the beginning, ch 3, sc in second ch from hook, sc in next ch, turn.
Rows 2–4: ch 1, sc in each of next 2 sc, turn.
Rows 5 (this will be the right side): fasten off white, switch to nigiri colour, ch 1, sc in each of next 2 sc in back loop only, turn.
Rows 6–8: ch 1, sc in each of next 2 sc, turn. Fasten off at the end of row 8, leaving long tail for sewing.
Assembly:
Here's where some origami moves might be handy… we're just going to need valley fold and mountain fold:


(source)
So, we've crocheted a narrow strip. With right side facing, valley fold one of the short ends to the middle of the strip. The middle of the strip is marked by the "ridge" created by stitches crocheted in the back loops only (row 5). Using long yarn end, secure the fold by sewing the end to the middle and sewing the side seams together. Repeat with the other short end. Fasten off and cut the colour yarn tail, but don't cut off the white yarn tail.
Then, still with right side facing, mountain fold the strip in half along the middle "ridge". Secure the fold with a few stitches through all the layers of the nigiri with the white yarn tail, being careful not to let the stitches show on the egg/salmon side. Fasten off, weave in ends.
If desired, wrap and tie black yarn around the nigiri to imitate seaweed.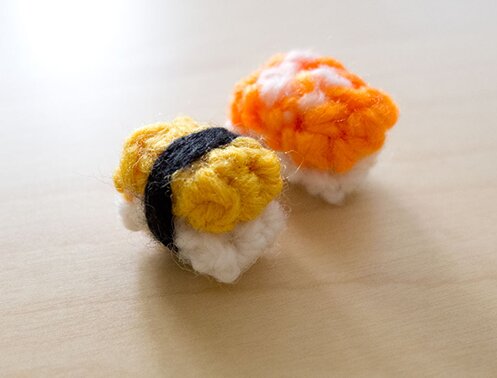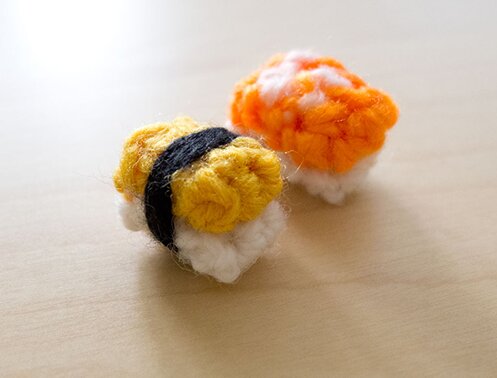 They make great earrings and magnet, and maybe miniature dollhouse food?
Have an awesome week, everyone!