Today we're going to make tiny nigiri :D
Here is my hand in the pic­ture for scale…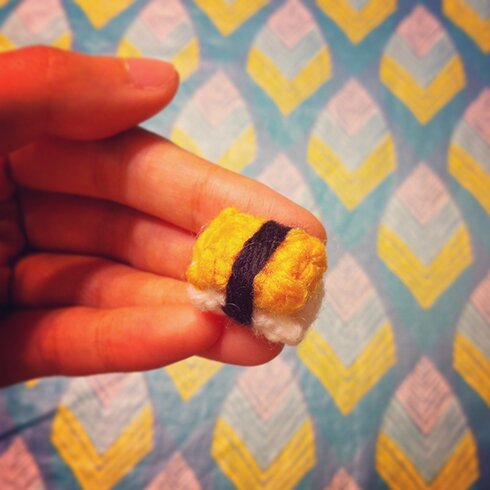 It only con­sists of 8 rows alto­geth­er, so it's a super quick make. The assem­bly instruc­tion sounds more com­pli­cat­ed than it actu­al­ly is. I will be using some origa­mi terms in hopes that it will make it a bit eas­i­er to under­stand, but as always please feel free to drop me a note if you want clarifications :)
I used:
A bit of light worsted weight yarn in white and oth­er nigiri colours (I was using a var­ie­gat­ed orange for salmon and yel­low for egg)
3mm hook
A bit of black yarn (option­al — if adding sea­weed wrapping)
What I did:
*turn­ing ch does not count as a stitch.
Row 1: with white, leav­ing 12″ tail for sewing in the begin­ning, ch 3, sc in sec­ond ch from hook, sc in next ch, turn.
Rows 2–4: ch 1, sc in each of next 2 sc, turn.
Rows 5 (this will be the right side): fas­ten off white, switch to nigiri colour, ch 1, sc in each of next 2 sc in back loop only, turn.
Rows 6–8: ch 1, sc in each of next 2 sc, turn. Fas­ten off at the end of row 8, leav­ing long tail for sewing.
Assem­bly:
Here's where some origa­mi moves might be handy… we're just going to need val­ley fold and moun­tain fold:


(source)
So, we've cro­cheted a nar­row strip. With right side fac­ing, val­ley fold one of the short ends to the mid­dle of the strip. The mid­dle of the strip is marked by the "ridge" cre­at­ed by stitch­es cro­cheted in the back loops only (row 5). Using long yarn end, secure the fold by sewing the end to the mid­dle and sewing the side seams togeth­er. Repeat with the oth­er short end. Fas­ten off and cut the colour yarn tail, but don't cut off the white yarn tail.
Then, still with right side fac­ing, moun­tain fold the strip in half along the mid­dle "ridge". Secure the fold with a few stitch­es through all the lay­ers of the nigiri with the white yarn tail, being care­ful not to let the stitch­es show on the egg/salmon side. Fas­ten off, weave in ends.
If desired, wrap and tie black yarn around the nigiri to imi­tate seaweed.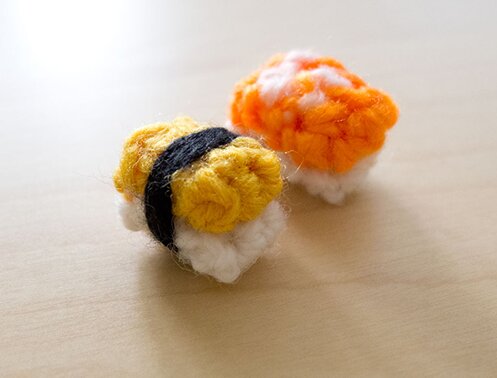 They make great ear­rings and mag­net, and maybe minia­ture doll­house food?
Have an awe­some week, everyone!