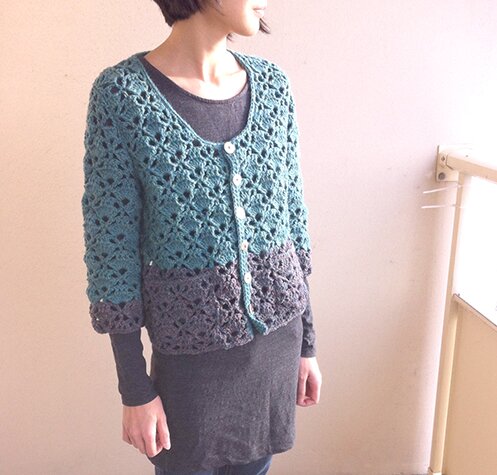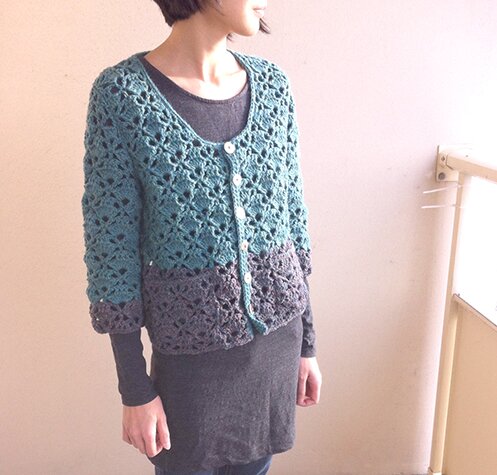 Recently bought a new crochet book, Learn to Crochet Love to Crochet. I loved the simple style of the patterns so much I just had to buy it. In the book there is this lovely fan lace cardigan that I especially wanted to make. It seems to go well with everything, and of course one can never have too many cardigans. Especially cardigans with pockets. So handy. Yup. Must make the cardigan.
But I felt bad about buying more yarn when I've already got so much of it. Particularly, I have been wanting to use the skein of wool I bought from Lismore Sheep Farm when we were in Halifax. It's a really lovely dark green mixed with specks of grey and red. I also have a skein of Cascade Eco Wool in green/teal that's been sitting on the shelf for months waiting to be made into something. Problem is, I've only got 200 yards of the Lismore wool and about 450 yards of the Cascade wool. Neither is enough to make the fan lace cardigan.
So I thought I'd use both :D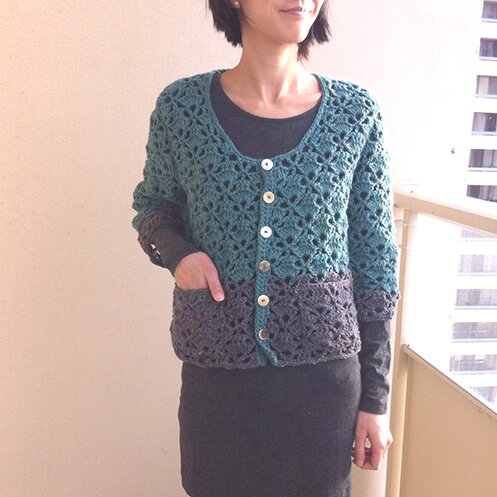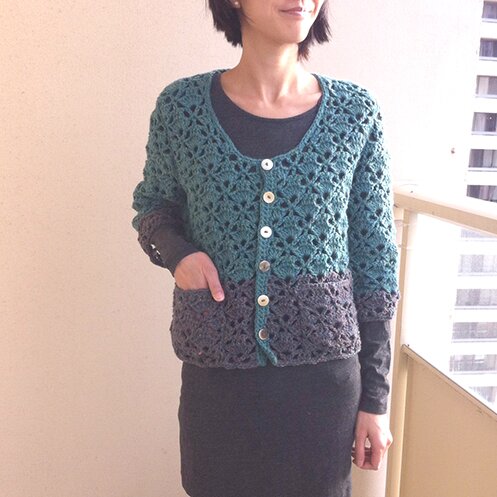 The colours ended up going quite well together, I thought. They remind me of algae and the sea. I did have to make the cardigan a bit shorter because even with both skeins combined I didn't have enough yarn (good thing I'm short). I used every last bit of the Lismore yarn. I was able to add a row of single crochet to the bottom edge of the cardigan, sleeve cuffs and top edge of the pockets, with enough left for sewing. Also modified the front trims a bit (3 rows of sc), so they're narrower than what the pattern instructed.
For the buttons, I found enough buttons of the same size in my collection that also remind me of the seaside. It's hard to show you with my phone photos, but one reminds me of the full moon, one is iridescent like the inside of an oyster shell, others are colours of driftwood and seashells.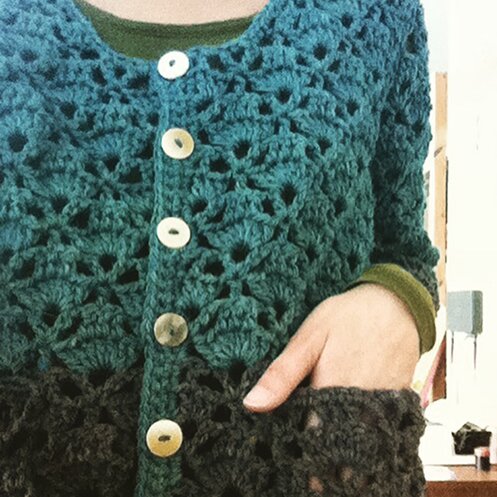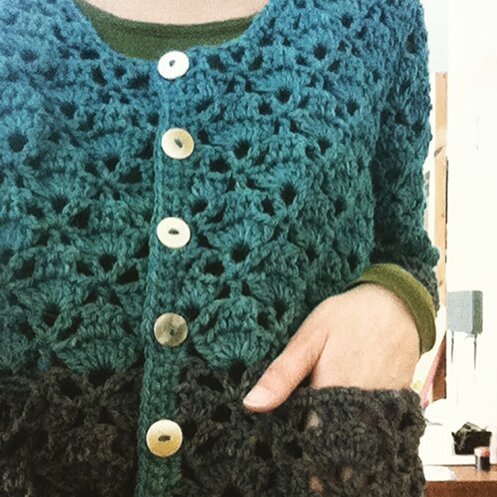 I don't have enough space in our apartment to block the cardigan, so I gently pressed it with an iron under a wet towel to open up and straighten the lace pattern a bit.
I think it turned out quite well! I'm glad I used the yarn for this project, to commemorate the trip we took to the faraway province that I so love and will be sure to visit again one day.
Have a wonderful weekend, friends! :D