Hello from Seoul! :D
We are here for a few days to do some sightseeing before heading to Hong Kong. And in the week before I left I scrambled to finish 3 shawls and a hat for my grandparents and aunts. Didn't have time to take a picture of them before I left, so here I am doing a make-shift photo shoot of the shawls and writing this at the guesthouse where we're staying :D
The shawl in the picture above is made following the Lion Brand Yarn South Bay shawlette pattern, using Red Heart Unforgettabe yarn.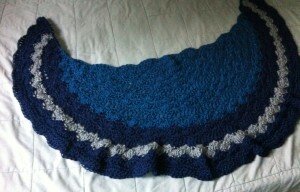 This one is made using the Lion Brand Dorathea Wraplet pattern, with quite a few extra rows, using Caron Simply Soft. Kind of looks like wings :)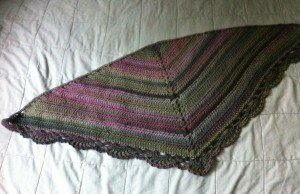 And this was from the Tangier Wildflowers Shawl on Ravelry, also using Red Heart Unforgettable.
I think I will save the blogging till I get home, or keep it very brief, because Worldpress is very wonky on my phone. This is why I can't even link to the pattern pages, and the pictures are tiny :S But the patterns should be pretty easy to find if you do a search on google or Ravelry, if you're interested in checking them out :)
Hope everyone is having a good weekend!