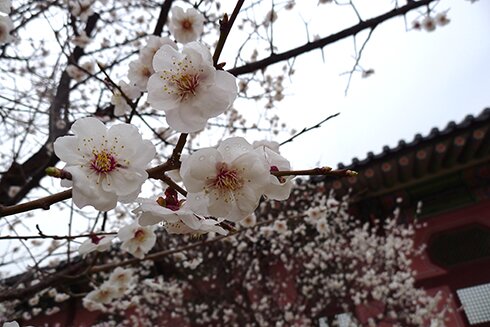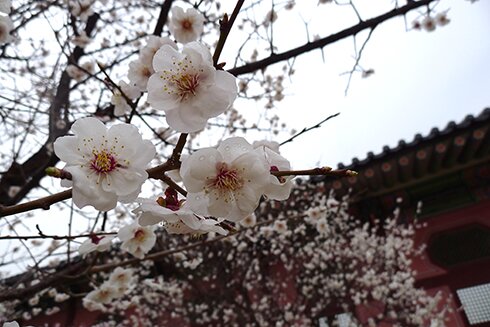 Long time no see everybody!! :D
Mike, my sister and I went on a trip to Seoul and Hong Kong earlier in the month :D We're now home and feeling dizzy with jet lag, but we had such a good time! Thought I'd share some pictures of places we've been and loved, in case you're thinking about visiting these cities as well and looking for ideas!
We caught the cherry blossoms while in Seoul, the picture above was taken at Gyeongbokgung Palace, largest of the five palaces in Seoul. The architecture at the palace is absolutely spectacular. It feels as though every tile, every beam, every brick is thoughtfully and meaningfully made and placed.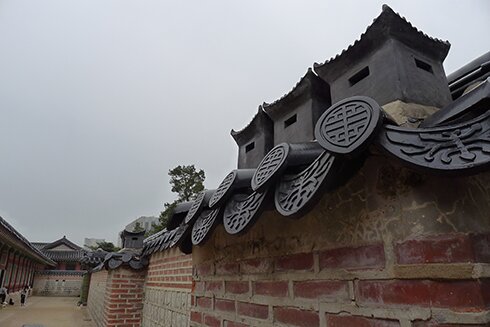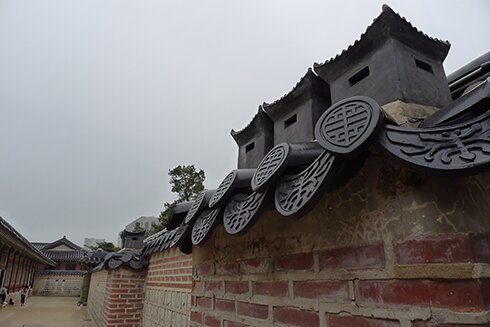 The palace grounds also has some lovely ponds. We didn't have time to visit all 5 palaces, and the ponds were the reason why I chose to go to this palace. It's difficult to not get beautiful photos here.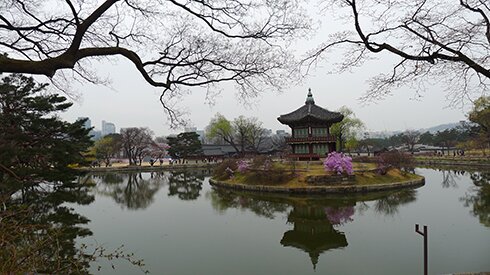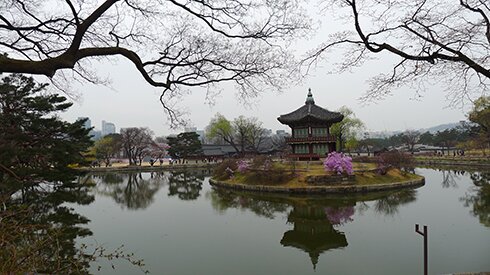 There were many people wearing hanbok (traditional Korean clothing) strolling about :)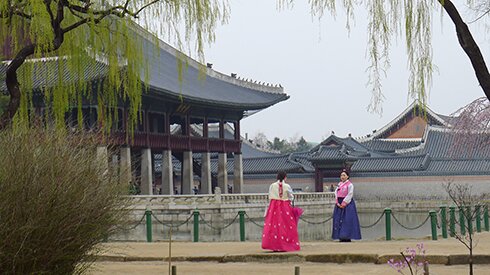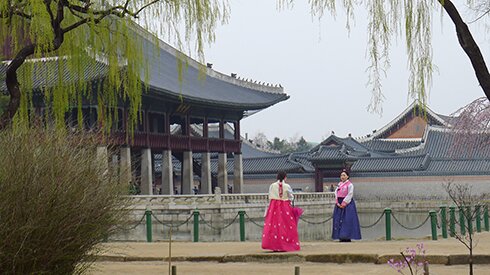 We also visited the Namsangol Hanok Village, Hanok meaning traditional Korean houses. The architecture of civilian houses is no less stunning than that of the palace. I love the neat, clean, simple aesthetic.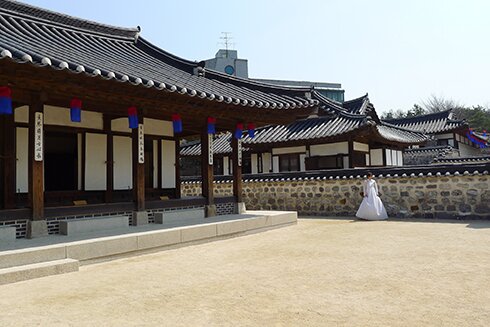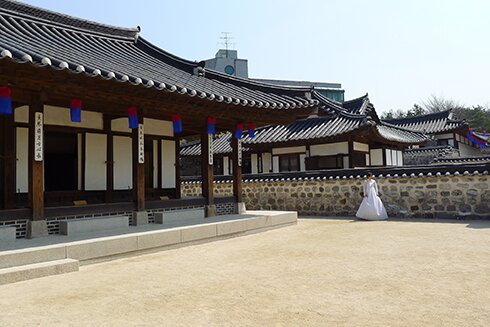 At the Hanok Village we participated in a tea ceremony activity. We were served traditional Korean sweets as well :D They're made of crispy rice. In the picture the museum docent is pouring the tea from the teapot to a tea bowl for the tea to cool down a bit, before pouring it into the teacups.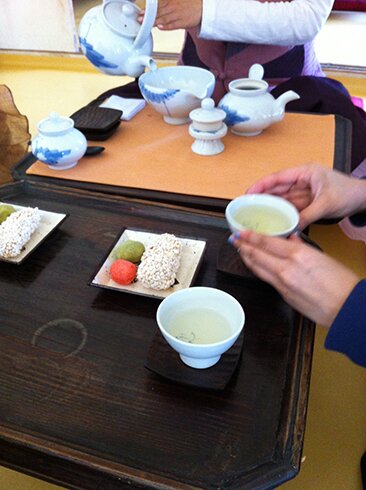 We thought we didn't have time to visit other palaces, because we were only there for 4 days, and palaces are huge! But found out that there is a relatively small palace in the centre of the city, which we would pass by anyway on our way to other attractions, so we went in. This is the Deoksugung Palace. It has newer additions with western influences, like the light fixture and wall decorations in the picture.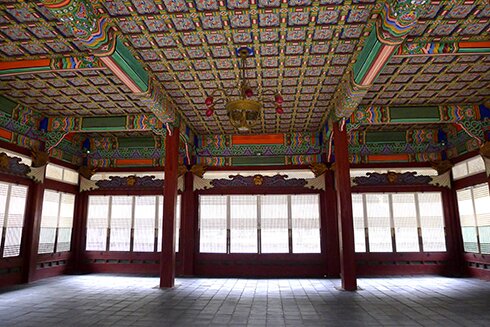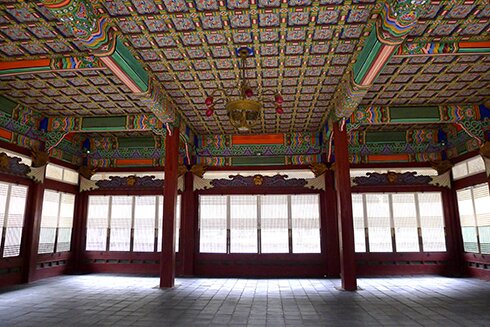 It also has a couple of western style buildings, which I certainly did not expect to see in a Korean palace.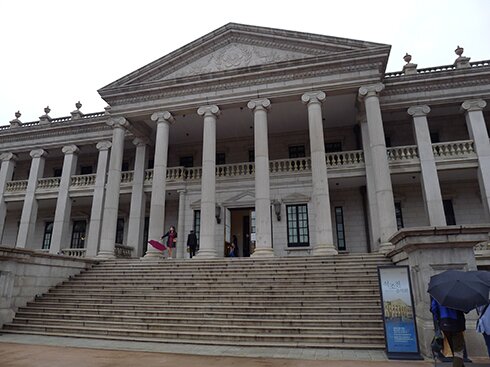 Speaking of architecture, we visited the Dongdaemun Design Plaza, which houses some shops and exhibitions, as well as a museum of an excavation site of a number of dwellings that were built in the 1300s. This spaceship-like building is just incredible to look at, and to walk around and underneath.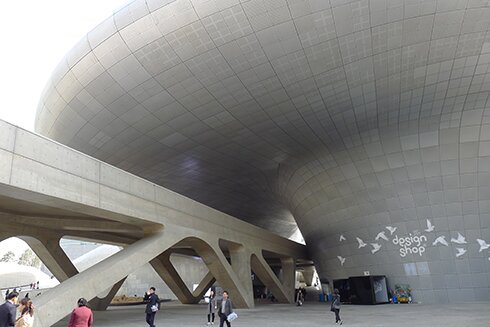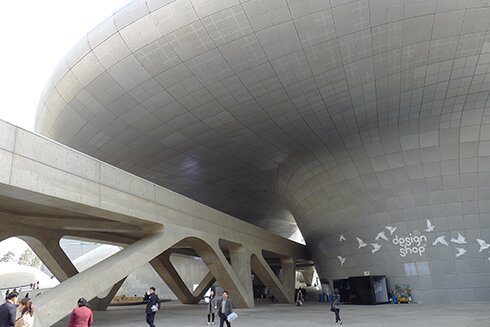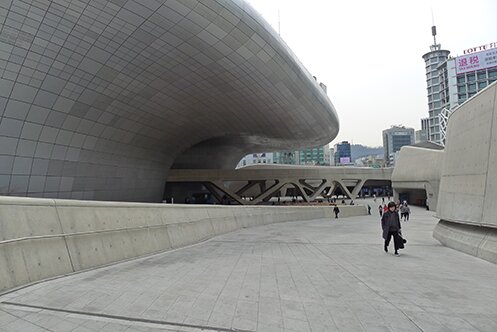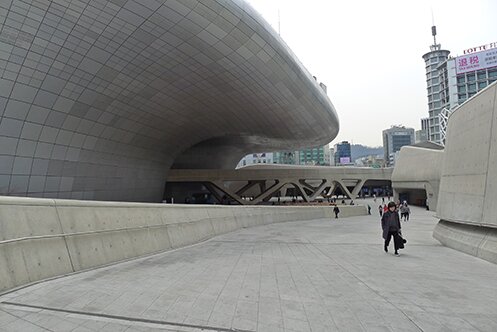 There is this beautiful stream that runs through the city called the Cheonggyecheon. It was a creek that got covered by transportation infrastructure in the 1950s, and then was uncovered and restored as a city green space in the 2000s.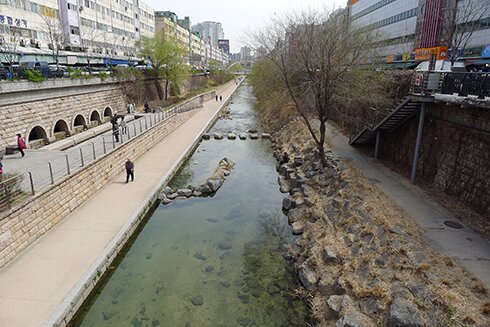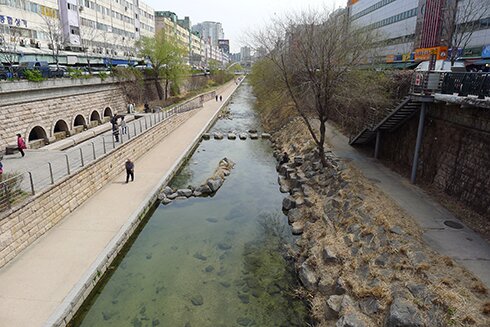 It was lovely to take a stroll along the stream. A bit of a resting spot from the busy streets on either side above. A lot of local residents sat on the rocks and ate lunch, hung out.
One of the staff at the hostel we stayed at recommended going to a market for traditional Korean snacks. So we went, but I can't remember what the market is called >_<… it looks like it could have been the Gwangjang Market. Once stepped into the market I was at once amazed and overwhelmed, because it reminds me of Spirited Away with the people sitting at stalls and the light bulbs above head, and because I'm not so great with crowds.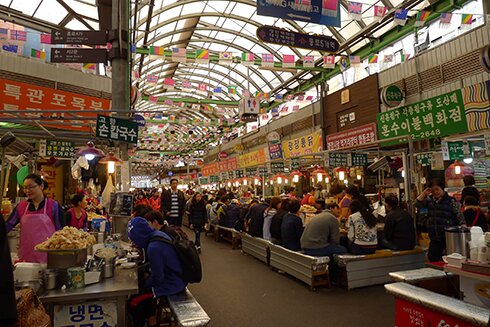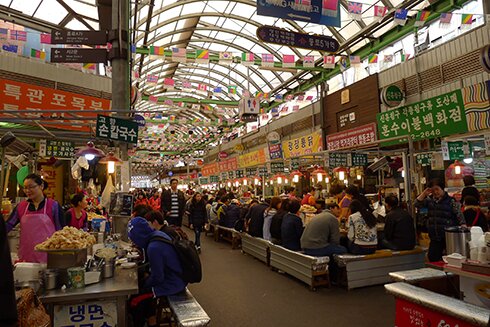 The staff recommended Korean fried pancakes, which we got, it was indeed delicious :D
And then through recommendations from a friend we went to the Insadong neighbourhood, where one could find arts and crafts of all kinds, and a kimchi museum! :D There are videos about how different kinds of kimchi are made, interactive displays where one could experience making kimchi Cooking Mama style, and very informative displays about the benefits of kimchi.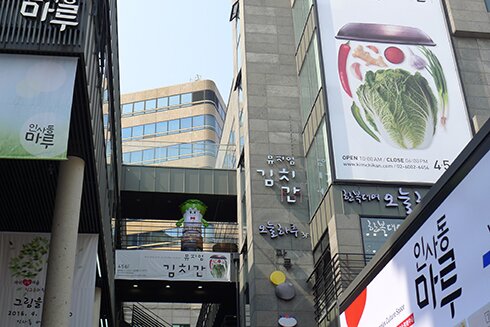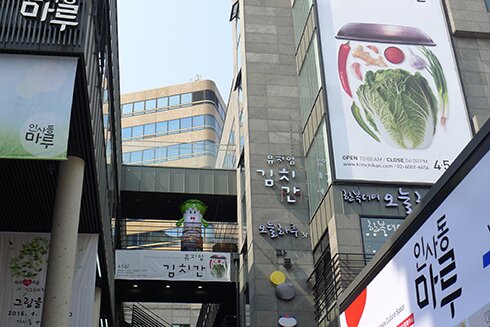 In and around Insadong there are also a number of traditional Korean tea houses. We visited one with a beautiful courtyard.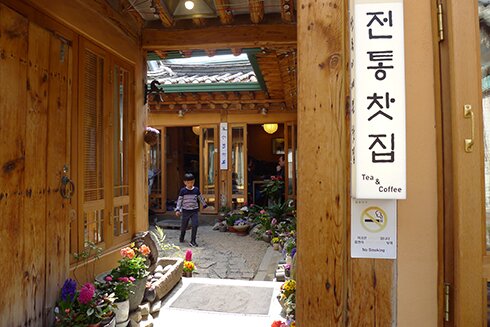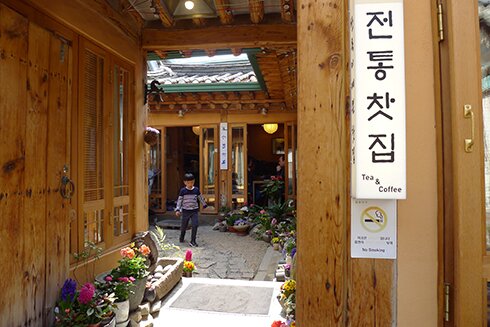 And got ourselves some green plum tea and shaved ice, with dried persimmons, dried red dates and red beans. We drink the tea with a spoon.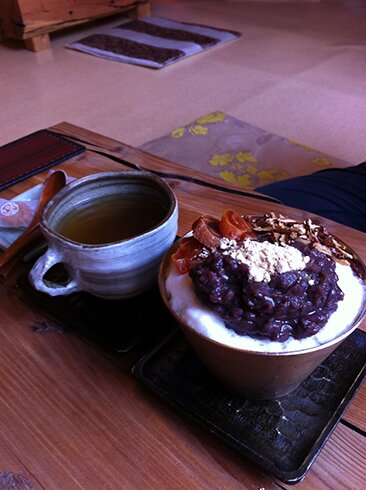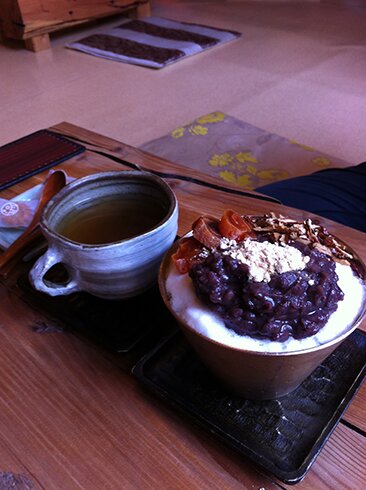 We stayed at a lovely hostel called the Twin Rabbit. The staff are very friendly and helpful, the room is very clean, the rate is quite reasonable, and the breakfast area has a giant artificial tree which is super cute. It's located in a university neighbourhood with lots of affordable eateries and hip shops and cafes, and some street arts and music too. Highly recommend it!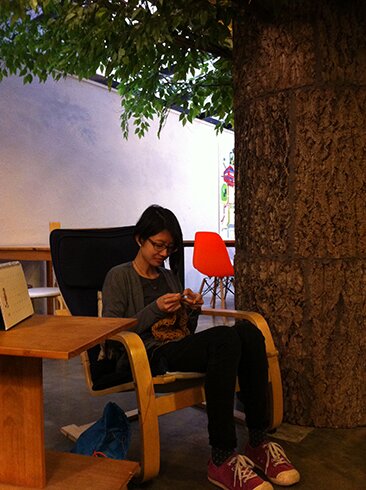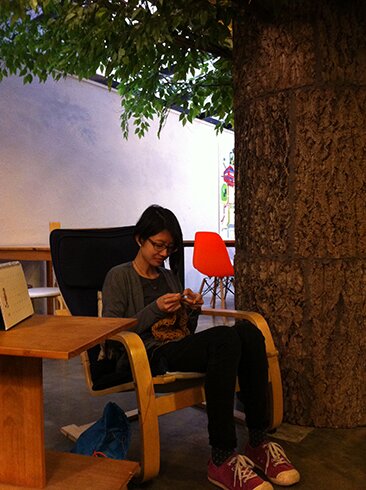 Here I was trying to work on the crochet project I brought with me under the tree. I'm a bit sad to say that my project is not complete by the end of our trip, and I may have to take apart what I've done so far because the yarn isn't working out the way I want… but that's a different story for another time. Next stop, Hong Kong! Stay tuned for more photos! :D