I have such odd­ly shaped feet, it's quite dif­fi­cult to buy shoes that are com­fort­able. Shoe-shop­ping is always a time-con­sum­ing ordeal. So I thought, maybe I'd cro­chet my own shoes! That way I could make them cus­tom fit and comfortable!
I have no idea how to make shoes, but I thought for sure there'd be pat­terns on Etsy, so I looked, and came across a pat­tern by Wild­flower and Sage. I love that it includes instruc­tion for mak­ing the shoes out­doors ready. There actu­al­ly aren't very many like this one out there.
Was very excit­ed, went out and bought all the mate­ri­als right after I down­loaded the pat­tern :D I could­n't find hemp (which is what the pat­tern called for) at the local Michaels and Home Depot, so I bought #48 jute, and start­ed on the soles…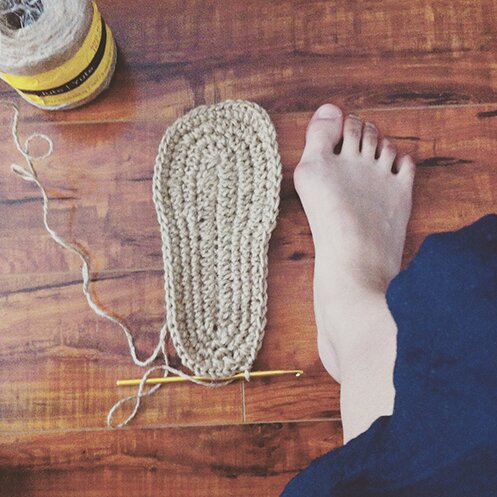 Jute is actu­al­ly kind of hard to cro­chet with, and I had to use a larg­er hook than called for. No won­der the pat­tern called for hemp. Oh well. I just took lots of breaks in between so my wrists don't get too sore.
So final­ly I fin­ished mak­ing the two soles. If I make them again I prob­a­bly will fol­low the pat­tern for reg­u­lar width rather than instruc­tion for wide, since I had to use a larg­er hook. I think wide was too wide. But it's still ok! There I am water­proof­ing the soles by lath­er­ing them in sil­i­con caulk. The fume was stronger than I thought. Ven­ti­la­tion is imperative.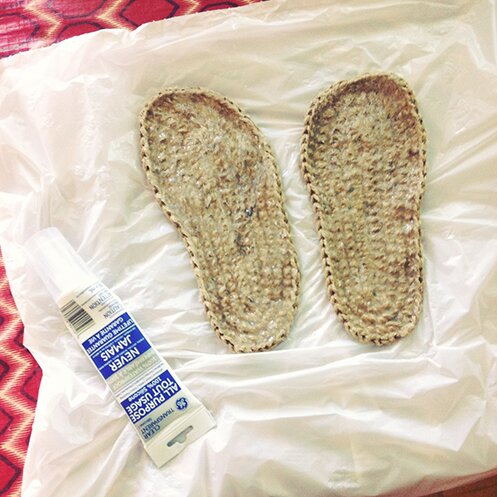 Slow­ly work­ing on the straps, try­ing them on as I go so the strap place­ments feel right :D I made the insoles with Bernat Mak­er Home Decor, which feels kind of like a t‑shirt yarn.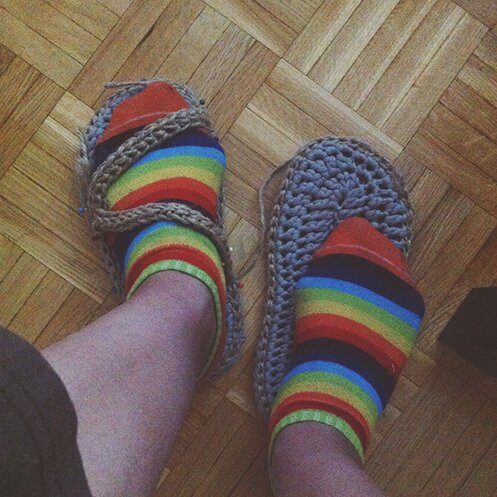 And here they're, fin­ished :D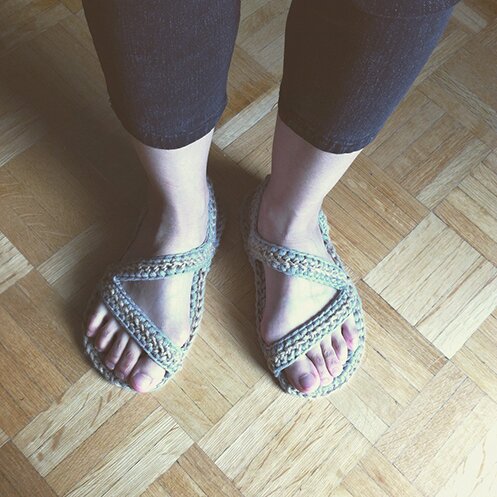 They're actu­al­ly real­ly quite com­fort­able! I think I made the straps on the right shoe too tight though, they keep push­ing my foot for­ward out of the san­dals. But maybe as I keep wear­ing them and the straps stretch the prob­lem will cor­rect itself.
Side view…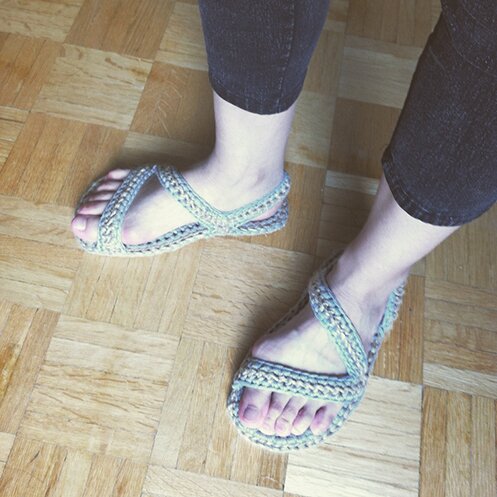 I'm quite hap­py with them! Will find an oppor­tu­ni­ty to test them out out­side sometimes!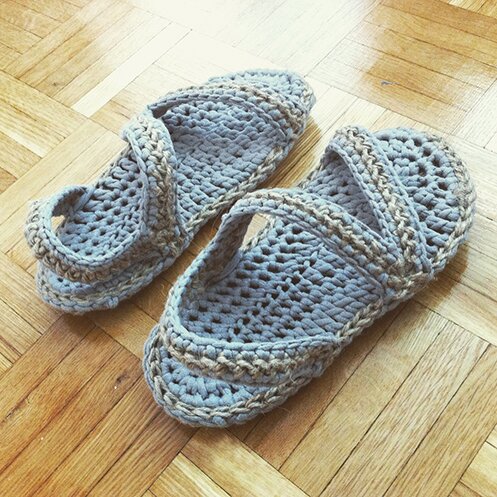 It's real­ly an excel­lent pat­tern, high­ly rec­om­mend it! :D
Hope every­one have a hap­py rest of the week!