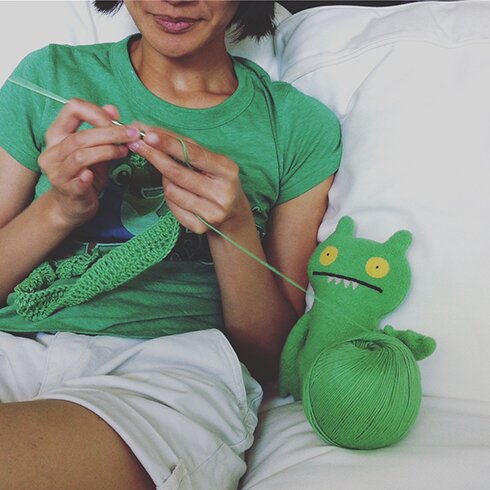 It's actu­al­ly a real­ly easy pat­tern, it just reminds me of Ker­mit's song :D
I spot­ted the Kawasa­ki pat­tern by Crafty Queens on Rav­el­ry, and I loved the geo­met­ric fil­let cro­chet eye­lets around the sleeves and the edge of the sweater. It's a sim­ple and bril­liant design, and a very quick make.
I used the "leaf green" of Pre­mier Cot­ton Fair, because it's the only DK weight cot­ton yarn that's avail­able at my local Michaels and it's rel­a­tive­ly afford­able. It turns out to be very soft and smooth, and the fin­ished gar­ment quite breath­able, just a bit split­ty while work­ing with it, but will def­i­nite­ly use it again.
I wore it to a fam­i­ly func­tion in which I was entrust­ed with the task of tak­ing pic­tures of the guests at the pho­to booth and through­out the event, so I did­n't have a chance to take a pic­ture with the new sweater except in the bath­room. Nev­er have I thought I'd take a bath­room self­ie, but this bath­room's got some retro wall­pa­per that goes real­ly well with my retro out­fit. And if I did­n't tell you that this was a bath­room, you would've nev­er guessed, would you? :P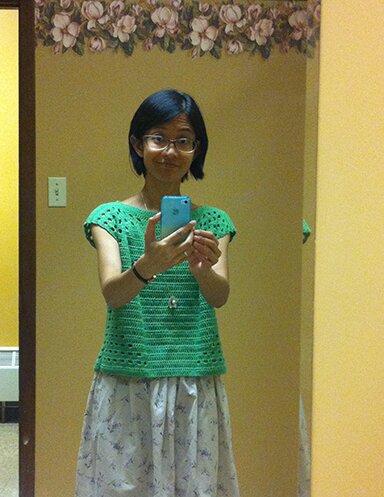 (I also made the skirt a cou­ple of years ago :D)
Close­up of the eye­lets on the sweater. Mike's awe­some cousin took this pic­ture of us at the pho­to booth :D (We made the crepe paper background!)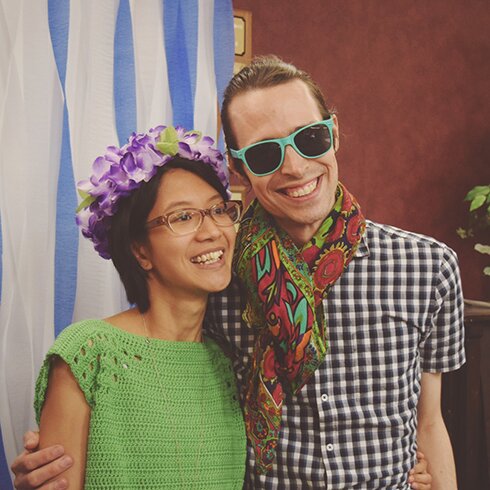 Have a good week every­body! :D