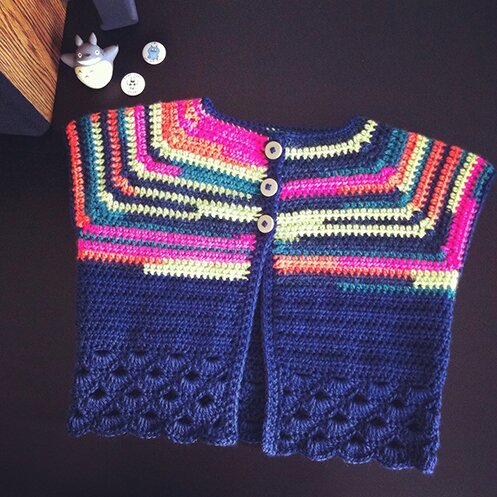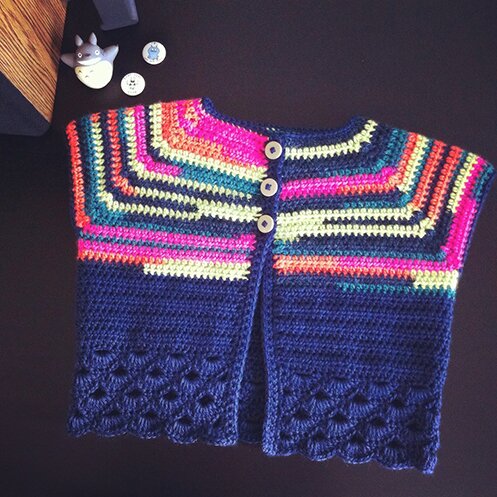 There was this buy one get one free deal for Caron Simply Soft yarn one day at Michaels. I was working on a project that needed dark blue at the time and thought I only needed one skein. So I picked up this fun self-striping fiesta colour for the free skein because I love the neon yellow in it. One of my nieces birthday was coming up soon, so I thought I'd make her a fun vest with it :D (pictured above) The pattern is from issue 88 of Inside Crochet, the Imogen cardigan. I added the arcade stitch to the bottom third of it for more fun :)
And then I ended up needing more of this blue yarn, so I had to get another skein, and had the chance to pick up yet another free skein of fun self-striping yarn!
(One might even suspect that I did this on purpose so I could get more free skeins to grow my stash rather than just getting the 2 skeins of blue that I needed in my first round of shopping. But I promise I really thought I only needed one skein of that blue. Who would want to grow their stash? That's ridiculous.)
What do I do with this delicious mixed berry colour? Turned out that one of my best friends was visiting from out of town with her most adorable daughter. So I made another vest, plus a matching bias scarf for mum! :D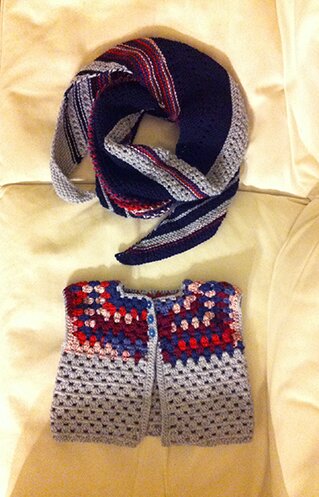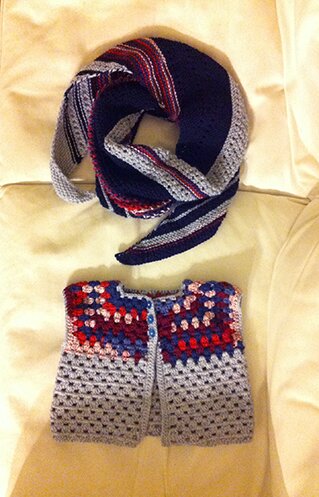 I used the Chasing Blizzard pattern for the scarf, but only followed it loosely, because my gauge is different. It was a lot of fun to knit. Here I am kind of modelling it so you can see the stitch patterns a bit better.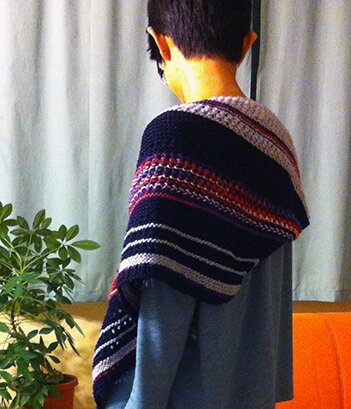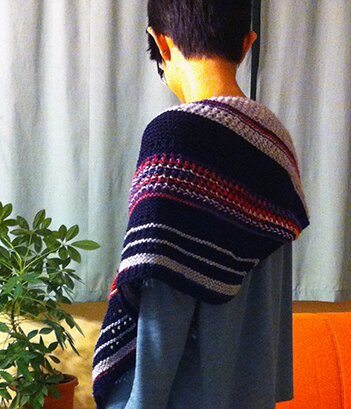 And the bunny rocking the vest :D It was part of a cardigan pattern from a very old issue of Crochet Today magazine.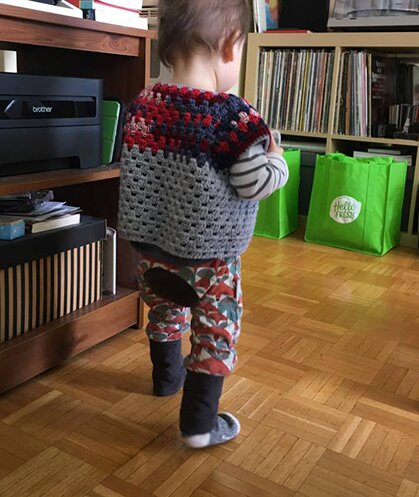 She insisted on playing with the rice cooker measuring cups at the juncture of kitchen and dining room. (that was how her mum was able to get a picture of the front of the cardigan)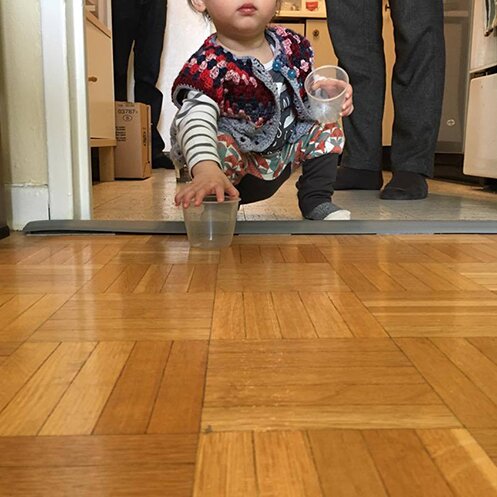 And spring is the perfect time to go on a knitting/crocheting/yarn crafting adventure! Two years ago I participated in the TTC knitalong, it was a great deal of fun visiting different local yarn shops, meeting other yarn crafters and knitting in public! (you can see my pictures here!). I even got a few exclusive patterns and won a sweater-quantity of handspun from one of the shops!
This year the knitalong is going to be on Saturday July 15! It's been a hugely popular event that's entirely run by volunteers, so this year I'm helping to organize the event and we need a few more yarn-loving folks to help out! So if Toronto is your neighbourhood and if you love yarn I think you should absolutely join me :D
It's really a fantastic event that brings people together, draws business to independent yarn shops and benefits Sistering, a local drop-in and support centre for women. So! The next planning meeting is Saturday May 20 at 1pm, and we can even get ice cream afterwards! :D For more information and updates, check out the event's Facebook page here.
Hope everyone's enjoying the sun!