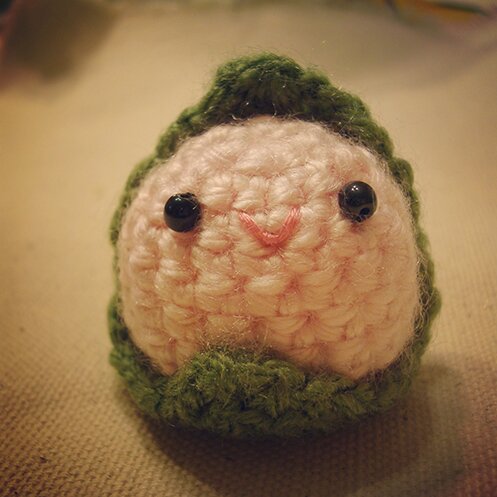 Remember sakura mochi? :D
He's the first ever posted pattern on this blog!! Feels like ages ago. It is ages ago. It was in March 2010 that I started this blog, and today it is home to over 40 tiny plush patterns, almost 20 wearable patterns, and over 30 other craft tutorials.
When I came up with the numbers I was quite blown away myself! Actually I was more blown away by the fact that I never counted or took stock of what has been created on this blog until now. Really because I have two days off, with nothing planned, but only had to use up the vacation hours that would otherwise be lost by the end of the year.
So I did a tutorial overhaul! :D
I realized that even when I was scrolling through my own tutorials it was tedious to have to scroll forever back and forth to find what I need. So I categorized them!
If you go to the Tutorials page now, you'll see a list of categories, from tiny plush to non-yarn crafts!
I don't know how to do this just yet but in the future I hope to layout the tutorials in a grid rather than a list, like I see on other nice modern looking blogs :) But I hope at least the categories make things easier to find.
In the beginning this blog was more for me as a way to feel motivated to create, and record patterns and how-to's that I come up with so I can go back to them later if I need to remake something. I really only expected about a dozen people reading it, mostly my family and friends. It's never intended to make profit. I welcome yarn and related products and promote yarn-related businesses by writing review posts, but I always turn down offers for ads. I have not yet written a pattern for sale. I'm lazy about the blog's appearance (hence the long overdue tutorial overhaul and the early 2000's look, kind of like my everyday appearance :S). But it's a comfortable place that I always go back to, a virtual home, updating and writing posts even when I'm swamped, even when I don't feel like it, even when I thought it's not amounting to anything, even when WordPress tells me that my readership is dwindling. Somehow, I want to keep it alive.
Since then I've met many great people through this blog, sharing such kind comments and crafting along, letting me know that they're trying out my patterns, exchanging notes so we can figure out modifications together, communicating in different languages across the continents (me using Google Translate), actually exchanging snail mail and hoping to one day meet in person… I'm so grateful for the connections and for the kindness you've shown me and genuine mudpie. Perhaps it is not really the blog that I want to keep alive, but the connections and creativity that sustain this blog.
So cheers to you! Let's craft forward! :D