I worked with the best team of peo­ple in the world. And over the past few years I prob­a­bly spent more time with them than with my fam­i­ly. Which was part­ly why I was leav­ing (not the peo­ple, just the type of work), but also makes it hard to leave.
The only way I know how to mark a tran­si­tion in rela­tion­ships (because it's not good­bye, it's just… we won't see each oth­er every­day and won't share the same things when we do see each oth­er again), and to say how much I love them, is to make peo­ple things. I observe what peo­ple like to wear and I make the things that I think they'll like.
So, I made all these scarves and read­ing socks in about a month. All loom knitted :)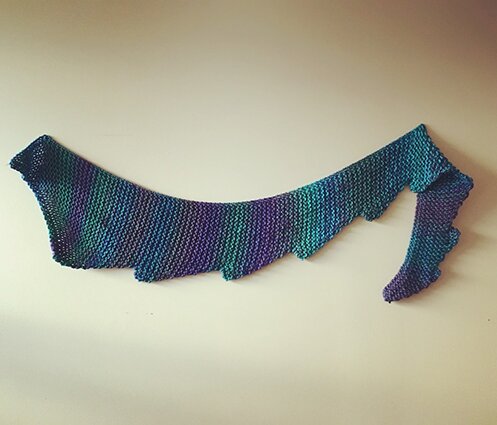 I fol­lowed a YouTube tuto­r­i­al for this one, the pat­tern is called Drag­on Tail, and I used Red Heart Unfor­get­table in Drag­on­fly, with two strands held togeth­er, and the 41-peg loom.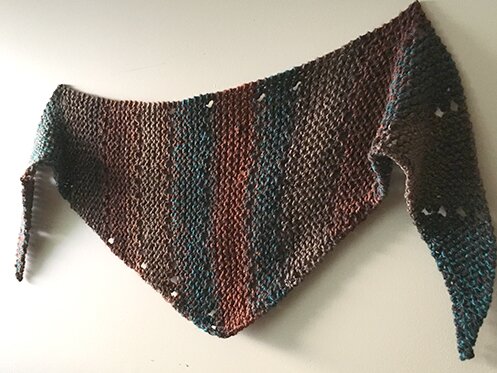 I used Loops & Threads Barcelona for all the oth­er scarves. It was on huge sale at Michaels, it's got great colour vari­a­tions and the weight works with the gauge of my looms. This one I fol­lowed the tuto­r­i­al for a tri­an­gu­lar scarf, but when­ev­er there is a colour change I work an eye­let row. If I were to give this scarf a name, I would name it "going with the flow". It was fun to make.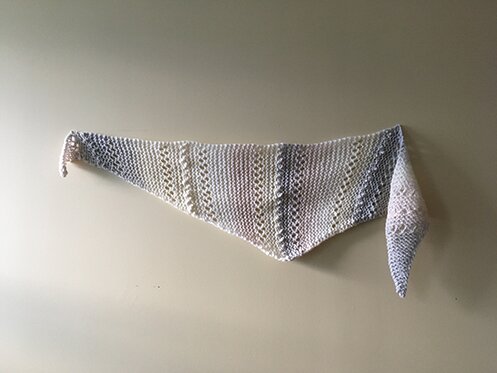 For this one I worked [2 eye­let rows, a few garter rows, a 2 pop­corn rows, a few garter rows, and 2 eye­let rows] with a few inch­es apart.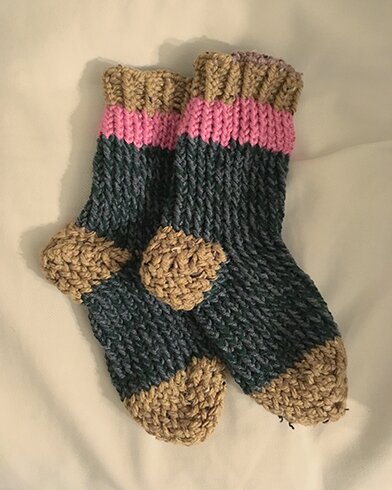 And fun read­ing socks! It was made with Caron Chunky Cakes (toes, heels and cuffs), two strands of worsted yarn held togeth­er (green part) and a super bulky pink yarn for a fun con­trast. I fol­lowed a toe-up socks tuto­r­i­al.
And in the midst of this mak­ing fren­zy for my cowork­ers, I was invit­ed to a baby show­er of a good friend from high school. So I thought, of course I can fin­ish a baby blan­ket in a week! (I did­n't, I was one pan­el shy of fin­ish­ing it the night of the show­er, so I'll have to wait to give it to the baby when he's born.)
I fol­lowed the ten-stitch blan­ket tuto­r­i­al and used the reg­u­lar Caron Cakes, with a 24-peg loom. It's amaz­ing how it works! And I real­ly like how the colours turned out, very mod­ern-look­ing, I think.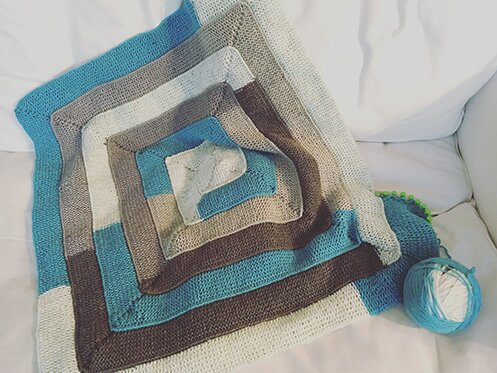 And here it is finished :)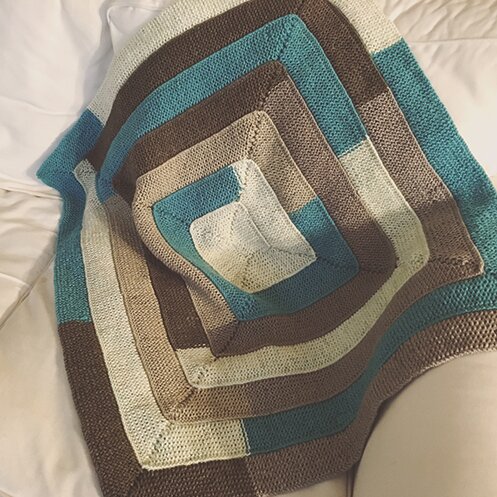 I find loom knit­ting very med­i­ta­tive. Per­haps over the sum­mer I'll make anoth­er blan­ket with var­ie­gat­ed yarn.
Have a good start to the week, everyone!