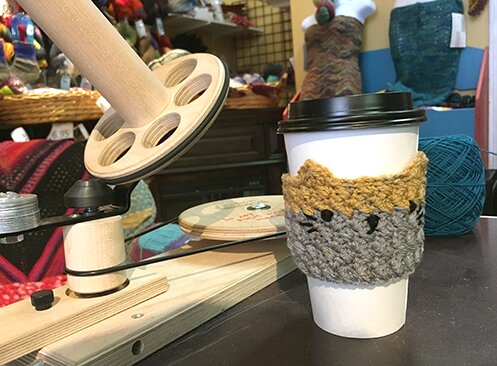 Today IS the day! The annu­al Toron­to Yarn Hop! Catur­day the cup cozy is chill­ing out at my neigh­bour­hood LYS Yarn­som­ni­acs, one of the many excit­ing stops on our grand tour of Toron­to LYS's today!
A bunch of us (over 120 peo­ple, to be more pre­cise! :D) are yarn-craft­ing in pub­lic tran­sit and going around to dif­fer­ent inde­pen­dent yarn shops today while rais­ing funds for Sis­ter­ing, a 24/7 drop-in/­sup­port cen­tre for women who are home­less or pre­car­i­ous­ly housed. Last year we raised around $2700, which went toward much need­ed ser­vices such as pri­ma­ry health­care, coun­selling, sup­port groups and meal pro­gram (learn more about the event by read­ing my pre­vi­ous post here).
If you're not able to phys­i­cal­ly come to the yarn hop this year, you can still join us (and help us reach our fundrais­ing goal of $3000!) by donat­ing to Sis­ter­ing through this link here, and in return I will send you the pat­tern for the Catur­day cup cozy (more pho­tos here), which is a pat­tern that I wrote for yarn hop par­tic­i­pants to cro­chet along. You can donate any amount and you don't have to tell me how much or send me proof, just sim­ply make a dona­tion then email me at genuinemudpie@gmail.com to let me know, and I will send you the pat­tern in appreciation :)
Hap­py weekend!