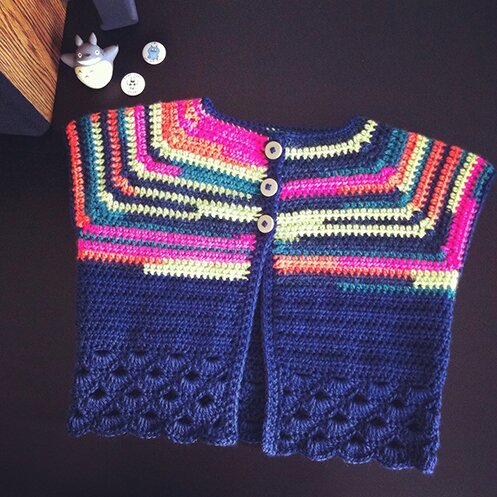 There was this buy one get one free deal for Caron Sim­ply Soft yarn one day at Michaels. I was work­ing on a project that need­ed dark blue at the time and thought I only need­ed one skein. So I picked up this fun self-strip­ing fies­ta colour for the free skein because I love the neon yel­low in it. One of my nieces birth­day was com­ing up soon, so I thought I'd make her a fun vest with it :D (pic­tured above) The pat­tern is from issue 88 of Inside Cro­chet, the Imo­gen cardi­gan. I added the arcade stitch to the bot­tom third of it for more fun :)
And then I end­ed up need­ing more of this blue yarn, so I had to get anoth­er skein, and had the chance to pick up yet anoth­er free skein of fun self-strip­ing yarn!
(One might even sus­pect that I did this on pur­pose so I could get more free skeins to grow my stash rather than just get­ting the 2 skeins of blue that I need­ed in my first round of shop­ping. But I promise I real­ly thought I only need­ed one skein of that blue. Who would want to grow their stash? That's ridiculous.)
What do I do with this deli­cious mixed berry colour? Turned out that one of my best friends was vis­it­ing from out of town with her most adorable daugh­ter. So I made anoth­er vest, plus a match­ing bias scarf for mum! :D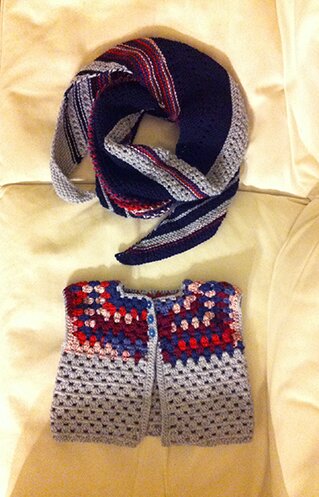 I used the Chas­ing Bliz­zard pat­tern for the scarf, but only fol­lowed it loose­ly, because my gauge is dif­fer­ent. It was a lot of fun to knit. Here I am kind of mod­el­ling it so you can see the stitch pat­terns a bit better.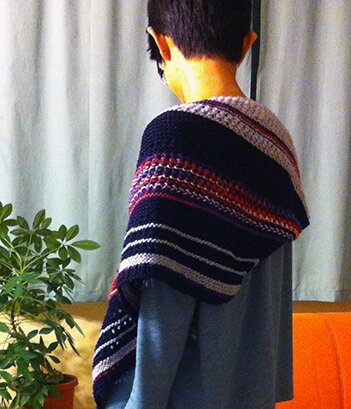 And the bun­ny rock­ing the vest :D It was part of a cardi­gan pat­tern from a very old issue of Cro­chet Today magazine.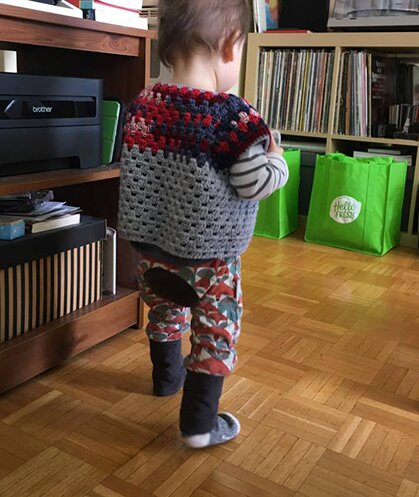 She insist­ed on play­ing with the rice cook­er mea­sur­ing cups at the junc­ture of kitchen and din­ing room. (that was how her mum was able to get a pic­ture of the front of the cardigan)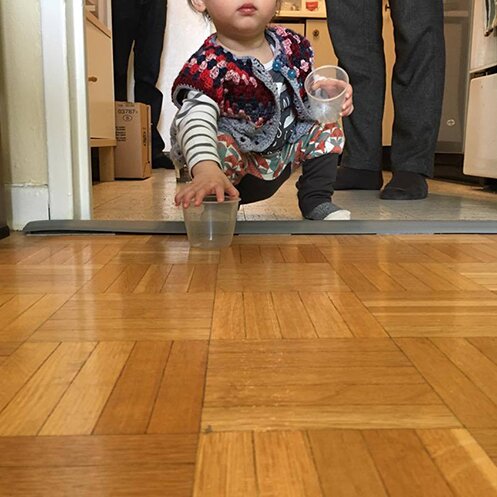 And spring is the per­fect time to go on a knitting/crocheting/yarn craft­ing adven­ture! Two years ago I par­tic­i­pat­ed in the TTC kni­ta­long, it was a great deal of fun vis­it­ing dif­fer­ent local yarn shops, meet­ing oth­er yarn crafters and knit­ting in pub­lic! (you can see my pic­tures here!). I even got a few exclu­sive pat­terns and won a sweater-quan­ti­ty of hand­spun from one of the shops!
This year the kni­ta­long is going to be on Sat­ur­day July 15! It's been a huge­ly pop­u­lar event that's entire­ly run by vol­un­teers, so this year I'm help­ing to orga­nize the event and we need a few more yarn-lov­ing folks to help out! So if Toron­to is your neigh­bour­hood and if you love yarn I think you should absolute­ly join me :D
It's real­ly a fan­tas­tic event that brings peo­ple togeth­er, draws busi­ness to inde­pen­dent yarn shops and ben­e­fits Sis­ter­ing, a local drop-in and sup­port cen­tre for women. So! The next plan­ning meet­ing is Sat­ur­day May 20 at 1pm, and we can even get ice cream after­wards! :D For more infor­ma­tion and updates, check out the even­t's Face­book page here.
Hope every­one's enjoy­ing the sun!