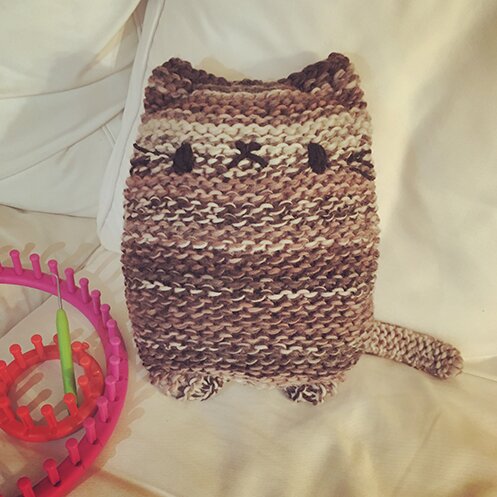 I bought some very chunky, very fluffy wool in Cape Bre­ton a few years ago. It knits up in var­ie­gat­ed stripes and I thought it would make a won­der­ful cat pil­low. And the yarn weight is great for the large gauge of loom knitting.
I named the cat Tchotchke, because I like the sound of the word :D and because I have a lot of cat tchotchkes.
It's basi­cal­ly a tube shape with­out any shap­ing, it's the sewing togeth­er that makes the feet nub­by feet and the ears. It's a very begin­ner-friend­ly project :)
Reg­u­lar knit­ting: Alter­na­tive­ly, if one isn't into loom knit­ting, I imag­ine that this cat pil­low can also eas­i­ly be made with a 10 mm cir­cu­lar nee­dle and super chunky yarn. Just cast on 41 stitch­es, then knit one round and purl one round (garter stitch) until it's 14 inch­es in length, then pro­ceed with the sewing instruc­tions. (I haven't tried it though, so I don't know if it might knit up small­er using reg­u­lar nee­dles, and one would there­fore make the cat shorter.)
I used:
41-peg loom, from this Loops & Threads set
12-peg loom (option­al, just eas­i­er when mak­ing the tail)
Loom knit­ting pick
Super chunky weight yarn about 200 m / 150 g (I sug­gest using the chunki­est fluffi­est yarn you can find so less stuff­ing show through)
Poly­ester stuffing
Tapes­try needle
Black yarn (I used worsted weight dou­bled up)
Body:
With draw­string cast-on (instruc­tion video here), cast on all the pegs of the 41-peg loom using the super chunky yarn.
Knit one row (knit stitch instruc­tion video here, ignore the cast-on part in the beginning).
Purl one row (purl stitch instruc­tion video here, again ignore the cast-on part).
Repeat the pre­vi­ous two rows (thus work­ing the garter stitch) until the piece is about 14 inch­es in length.
Bind off (bind off instruc­tion video here).
Tail:
Cast on 7 pegs on the small­er loom or the same loom.
Knit one row and purl one row. Repeat these two rows until the piece is 12 inch­es long.
Leav­ing a very long yarn tail, weave the tail through the stitch­es on the pegs, then remove the stitch­es from the pegs and cinch to gath­er the stitch­es. Fold the tail in half length-wise and sew togeth­er using mat­tress stitch. Stop sewing and tie off 2 inch­es away from the end.
New we sew it togeth­er and make a cat shape!
With the draw­string cast-on on the body, pull on the yarn tail and cinch it close, but not too tight­ly. It will form a sort of curve. Tie off, then sew the open­ing close by sewing through both lay­ers of fab­ric using whip stitch. (pic­ture below)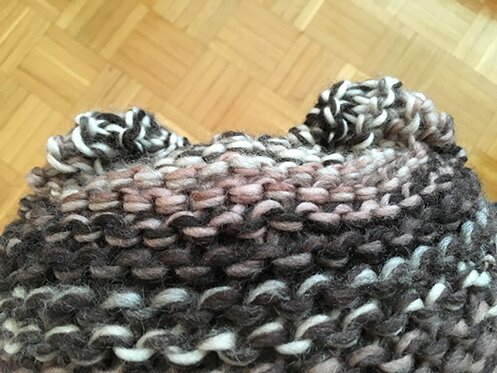 With the oth­er end of the tube (the ears and head), using whip stitch again, and sewing both lay­ers of fab­ric togeth­er, sew from the edge in about 2 inch­es toward the cen­tre. Repeat from the oth­er edge. It will leave an open­ing in the cen­tre of the head.
Stuff with stuff­ing, but not too firmly.
Weave a piece of yarn around each stitch in the cen­tre open­ing, cinch it tight­ly closed, and tie off secure­ly. (pic­ture below shows what the top of the head looks like after it's all sewn together.)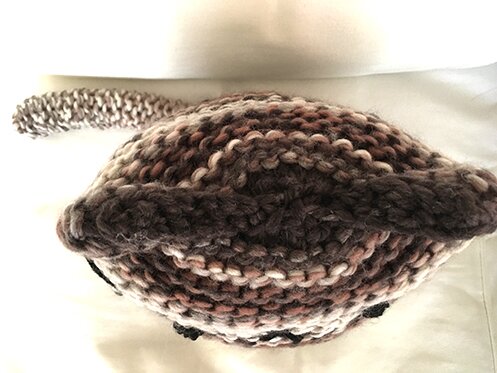 With the tail, spread open the end of the tail and sew around its edges while attach­ing it to the body using whip stitch. It will look like this: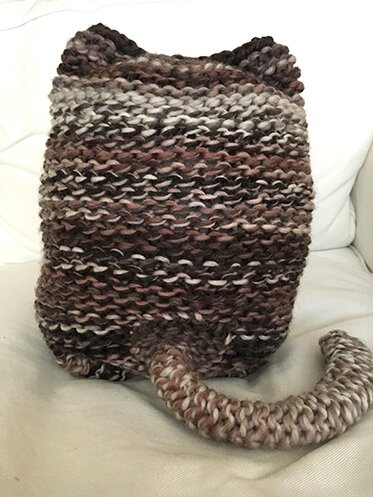 Final­ly, sew on eyes, nose/mouth and whiskers with the black yarn.
A new friend to watch TV and hang out with! :D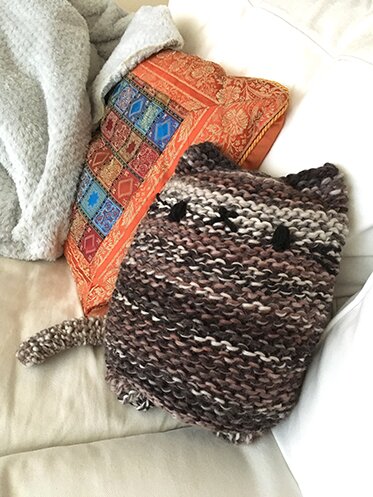 Have a good week everyone!