The weath­er is get­ting a bit too warm for my thick, cro­cheted-with-two-strands-of-yarn-held-togeth­er hat. Even my cro­cheted slouch hat feels like a bit of an overkill. Per­haps it's best to leave cro­cheted head­gear for the win­ter. So I just stopped wear­ing hats when­ev­er I go out.
But one grey, sun­less day, after stand­ing in a windy play­ground for half an hour, and real­iz­ing that there are still 20 more min­utes to go before the end of my recess duty, I wished I were one of the kids run­ny around and around the sand­box. Yes, I may look sil­ly, but at least I'd be warm. Or, bet­ter yet, I wish I had a hat. Then I'd look warm and styl­ish. Plus, they say we lose heat through the top of our heads (but appar­ent­ly that's a myth).
Los­ing heat or not, a lighter hat is need­ed for the rainy, grey, spring sea­son (OK, I'll be hon­est. I just like hats). Then one day, we were at a tea shop and I saw a guy work­ing behind the counter wear­ing a green hat, like a reg­u­lar toque, with just a bit of slouch to make it look styl­ish. I loved the sim­plic­i­ty of it. That was the per­fect hat.
And if I see some­thing I like, I've got to make it.
There was a prob­lem, how­ev­er: I don't know how to knit in rounds with dou­ble-point­ed nee­dles. Plus, I only have one pair of nee­dles for each size, which means that I don't have enough nee­dles to knit in rounds.
No prob­lem, I will knit the pat­tern flat, then seam it togeth­er. It's not going to look as good but I'm OK with a bit of flaw.
So I first tried this pat­tern from Sarah Bear Crafts via Rav­el­ry. It looks like it has the tiny bit of slouch that I want­ed and seemed sim­ple enough.
I'm not very famil­iar with knit­ting, and so it was­n't until row 4 or 5 that I real­ized when one knits in rounds, there are no purl rows. But I was knit­ting back and front, so I tried to fig­ure out what to do on the purl rows with the rib­bing pat­tern. And I was­n't good enough in knit­ting to fig­ure that out, so after cast­ing on and rip­ping out 3 or 4 times I had to aban­don the project and miss out on a great hat :(
So then I found the Rikke hat pat­tern on Hap­py Knits, also via Rav­el­ry. Entire hat is made of garter stitch. I can han­dle garter stitch. It does­n't look very slouchy in the pic­ture, so I was real­ly sur­prised when I tried it on…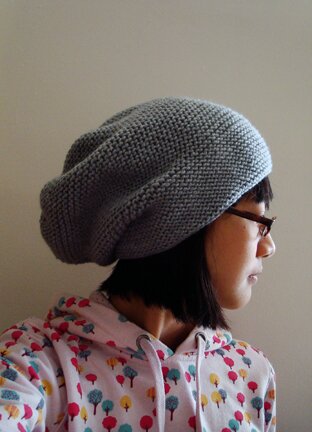 If I had knit­ted it in white, I would look like a Smurf. And that would­n't be half bad, would­n't it? But I just can't see myself wear­ing that to work. I don't think it was the pat­tern's fault. Per­haps I have a small­er than aver­age head. Per­haps it was the yarn sub­sti­tu­tion and my faulty cal­cu­la­tion. Even though I decreased the num­ber of stitch­es all around it was still too big.
So! I took it apart and tried again with a lighter yarn. I also made it 2.5 inch­es short­er than the pat­tern. And it worked out just the way I want­ed :D (Isn't it a great feel­ing when that hap­pens with knit­ting? I guess it's such a big deal for me because I'm not very good at check­ing gauge. And unlike cro­chet­ing, one can't take the stitch­es off the nee­dle and try it on along the way.)
Here it is from the side…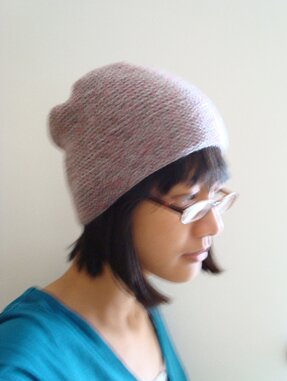 And here it is from the front :D
Yes, I'm just that hap­py about a new hat :P
(The truth is that I've tak­en way too many pic­tures of myself, try­ing to frame it prop­er­ly while keep­ing a straight face, and in the one before this for some rea­son I looked shocked and scared and mad alto­geth­er. I looked so ridicu­lous it was hilar­i­ous. So this is more about me laugh­ing at myself. Makes a pret­ty can­did shot though!)
And let me show you a close up of this yarn, with the dif­fer­ent colours in it. I believe it's DK or sport weight. It was giv­en to me with­out a label.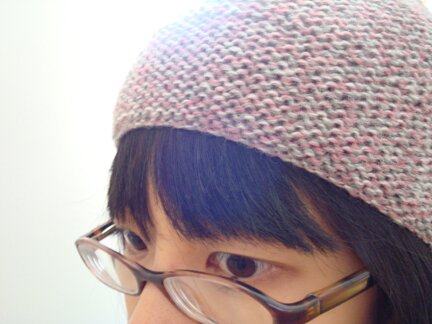 I wore it out today. It's very light and does­n't give me hat hair. It's per­fect for spring :D
Cheers!