So, when we were plan­ning our wed­ding 7 years ago I learned of this term, "going away out­fit". It's sup­posed to be the out­fit that the bride changes into when the cou­ple leaves the recep­tion to go on their hon­ey­moon (at least that's what I heard).
I nev­er had any dress change dur­ing my wed­ding, let alone a going away out­fit. But sum­mer trips are also great oppor­tu­ni­ties to make new clothes! Last year I made a new shirt for our trip to Chicago.
And so this year I thought I'd make a new shirt too. Brings new mean­ing to the idea of a "going away out­fit". The new shirt is made from a thrift­ed shirt from Black Mar­ket. There was this whole lot of them and they looked brand new. Over­stock that's been sit­ting in some base­ment for years, I guess? They all fea­tured exag­ger­at­ed pointy col­lar. I think it's a love­ly shirt, the pointy col­lar is quirky, my friend bought the same shirt and she looks super fab­u­lous in it. It just… did­n't look like some­thing I would wear. But I LOVE the print.
So I removed the col­lar, cut the sleeves short, took in the sides a bit, and hemmed the neck and sleeve edges. Bet­ter, isn't it?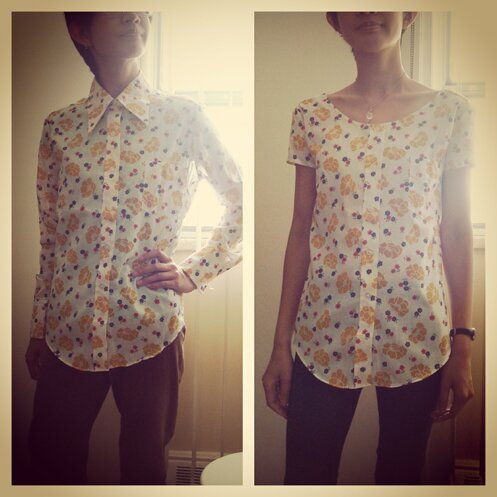 I'm even able to pre­serve the pock­et! And I love its length. Here's a clos­er look at the love­ly print.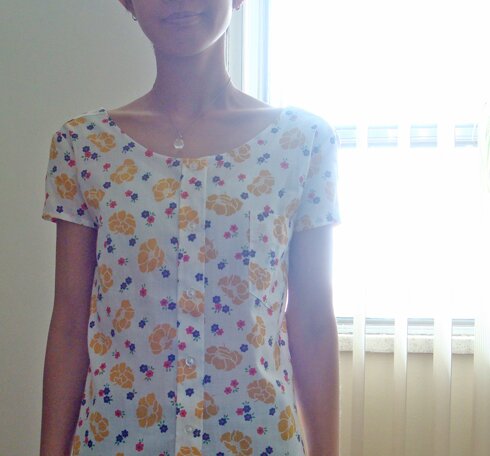 But next time I've real­ly got to mea­sure. I cut away too much fab­ric around the sleeves and it almost did­n't fit, had to reduce the seam allowance to 1/4″ (>_<) I've real­ly got to mea­sure from now on…
These shirts were 5 bucks each! Maybe I should get a cou­ple more with dif­fer­ent prints…
SO! Where are we going, you ask? Que­bec! Haven't been there since my fam­i­ly took a bus tour there when I was a kid. Can't wait to see it again with new eyes. Will be post­ing pic­tures when we're back, of course!
Wish­ing you a fab­u­lous week with fun and inspir­ing adven­tures, wher­ev­er you are :)