Came across a good quote that I wanted to display at my desk at work. Thought about handwriting it, or finding a good type face for it and printing it out, but then remembered that we've inherited Mike's grandmother's Underwood 315.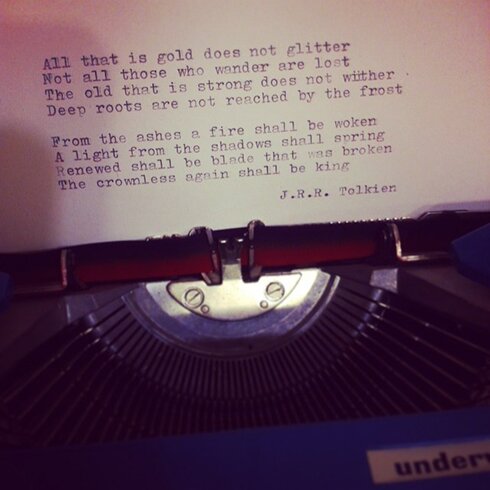 It took us a while to get the imprints looking right. At first we thought the ribbon was out of ink. After all, Mike remembered that the last time he saw it used was in the 80s. But then we tried to adjust a number of things, and eventually we were actually able to get a dark enough imprint.
I typed the quote 3 times over to end up with one that doesn't have typos — proof that I'm far too used to typing on the computer and being able to easily erase mistakes. The first time I ever typed was on a computer keyboard; this is actually the first time I've used the typewriter. And how did people use their pinkies on the typewriter? The keys require quite a force to make an imprint on the paper. I imagine getting callouses on the fingertips, much like playing the guitar. But I find it to be quite a rewarding experience! To practice and practice and finally get it right :)
And it reminds me so much of printmaking. Especially with the two-colour ribbon. One just wouldn't know exactly how the words will appear, there are always slight variations even if the letters are the same. Maybe I will try to make more things with it :D
Have a wonderful start to the week, everyone!