Our decor is pretty minimal this year but it doesn't mean that it's any less fun!
I was hoping to replace the paper flower wreath on our apartment door (which covers up a half-peeled/disintegrating Neighbourhood Watch sticker), and I've been wanting to make a pom pom wreath, but I know that I wouldn't have time to make all the pom poms. While browsing at Michaels I saw this giant, the most fluffy pipe cleaner, so I thought I'd try twisting it into a wreath!
At first I was just going to twist it into a simple, round wreath, with mushrooms made of wine corks that I've been saving for that purpose. But then I thought, what if the wreath has arms? What if it's a wreath-shaped creature? So the fluffy wreath with its mushroom friends were born :D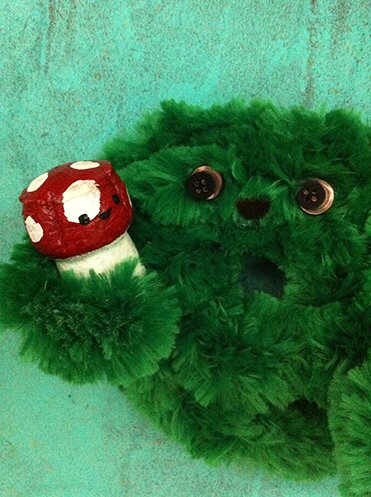 I'm only showing a close up of the wreath right now because these friends deserve their own post, so stay tuned! :D
(The wreath ended up on the wall inside the apartment because I couldn't bear to leave them on the outside of our door in the hallway)
The left over pipe cleaner turned into a tiny Christmas tree :D with a very excited Totoro.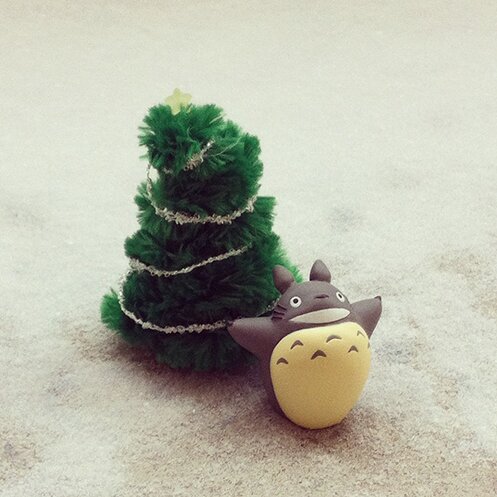 But we still needed something festive on our door. So I finally made the delightful plum pudding pom pom from Fleur Bernadine! There are a number of plum pudding pom pom tutorials out there, but I love that this one incorporates a button at the top.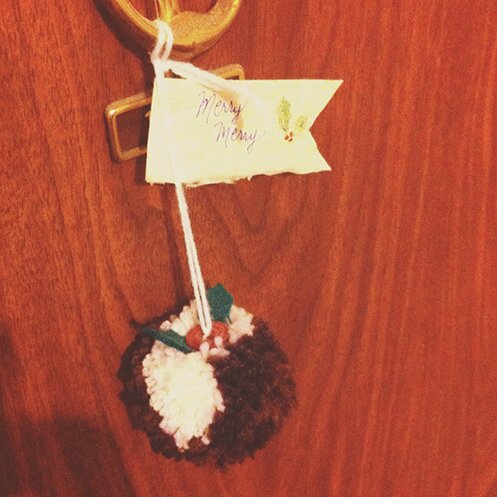 The fluffy plum pudding certainly brings some holiday cheers to the currently very grim-looking hallway, which is currently undergoing renovation (please excuse the poor lighting).
I don't have a pom pom maker so I made one with cardboard using this tutorial, which is very handy with templates for different sizes of pom poms. But it turns out to be quite challenging (perhaps because it was my first time trying to use a homemade pom pom maker and I had dull scissors). Maybe I'll invest in a pom pom maker. Just think about all the possibilities that pom poms can make! Pom pom animals, pom pom fruits, pom pom wreath…
Merry crafting! :D