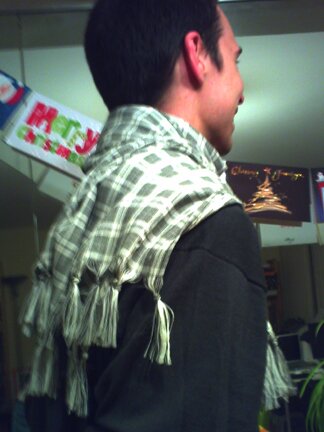 One of my favourite things about Christ­mas is gift-giv­ing. More so than gift-receiv­ing. I like col­lect­ing clues about what peo­ple like through­out the year and come up with things to make for them. And I would start mak­ing them as ear­ly as the summer.
(Though I just real­ized, as we came home from vis­it­ing fam­i­lies, that the gifts I made in August are miss­ing, and I can't remem­ber where I put them… I'm hop­ing they will turn up soon so I can give them away as Chi­nese New Year gifts.)
Any­hoo, this is one of the most exten­sive projects of the year. Not because it was com­pli­cat­ed, but because it was some­thing I'm not used to mak­ing and it took quite a while to finish.
Mike has been look­ing to buy an "indoor scarf" and so I thought I would make him one for Christ­mas. I found this light-weight plaid fab­ric in a small shop on Queen St. and fol­lowed this pat­tern for sewing a scarf.
The sewing part was rather easy, it was the fring­ing part that made me wor­ry I was­n't going to have it fin­ished until Mike's birth­day in the sum­mer. After 2 days of "remov­ing the width-threads from the end of the scarf," as per the instruc­tion, I've got hard­ly an inch of fringe on one side of the scarf, and I need­ed 4 inch­es on both sides for knotting.
There must be a quick­er way of doing this, I thought. Even­tu­al­ly I fig­ured that I could just cut the end of the scarf into one-inch sections…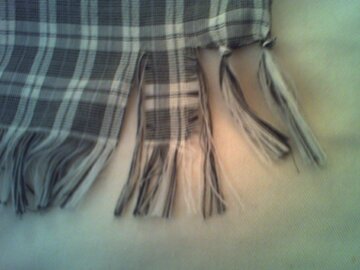 …Â and it would be eas­i­er to remove the hor­i­zon­tal threads…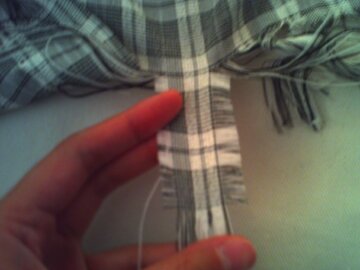 I lost one or two ver­ti­cal threads in between because of the cut­ting but the fring­ing went by so much quick­er! Instead of days and weeks of work it took only 5 hours altogether.
And here's Mike hap­pi­ly look­ing at his scarf :D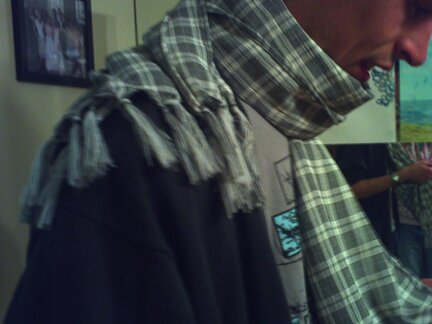 I left my cam­era at my par­ents' dur­ing the mak­ing and pre­sent­ing of this gift, so I took all the pic­tures with my Zumi, which actu­al­ly makes the pic­tures more inter­est­ing, I think.
And oh my! As I took the bus today I'm remind­ed by the trans­fer slip that today is the 363th day of the year! So have a hap­py Wednes­day every­one, as we move for­ward to 2011!