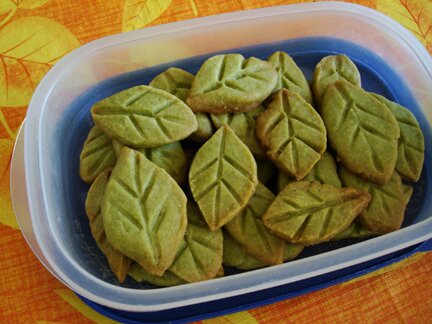 My mom request­ed some green tea leaf cook­ies for the week­end, so I thought it would be a good oppor­tu­ni­ty to try a dif­fer­ent recipe, because last time the tea leaves turned out a bit too puffy. So this time I used Martha's green tea short­bread recipe, and they looked fab­u­lous! :D Kept their shape through­out the baking.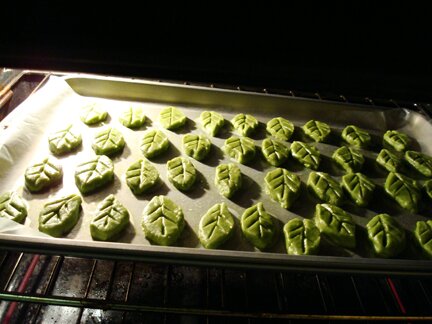 The cook­ies are very, very but­tery (so deli­cious…), but it also makes the dough a bit dif­fi­cult to han­dle. But the leaf-shapes turned out alright. I used reg­u­lar salt­ed but­ter because I had some left over from bak­ing last time, but next time I will buy unsalt­ed but­ter, because I think the salti­ness of the but­ter kind of took away from the sub­tle green tea flavour, and if the cook­ies weren't green one may not even know that they were green tea cook­ies. But they were still quite delicious.
And then we cel­e­brat­ed sev­er­al birth­days over the week­end — my dad's and my par­ents-in-law's :D I found this recipe that makes a dou­ble-lay­er cake, so I made 2 cakes out of it, one in a loaf pan and one in a round pan. The bat­ter was so green! And I thought it makes a nice pho­to as the yogurt was being mixed in…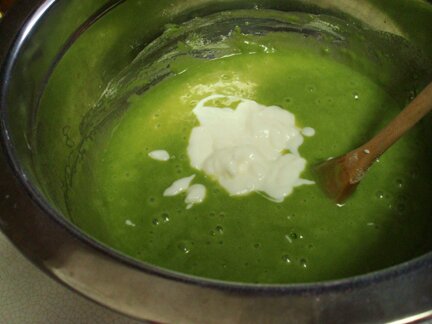 The green tea flavour is eas­i­er to detect in the cake than in the cook­ies. I was rather hap­py with it.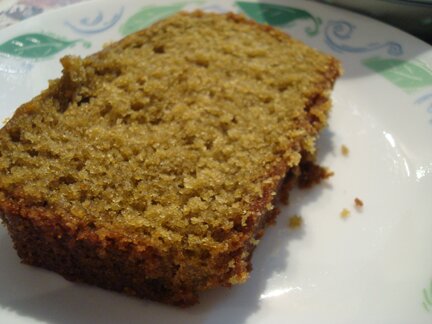 Hope your week­end is fabulous!