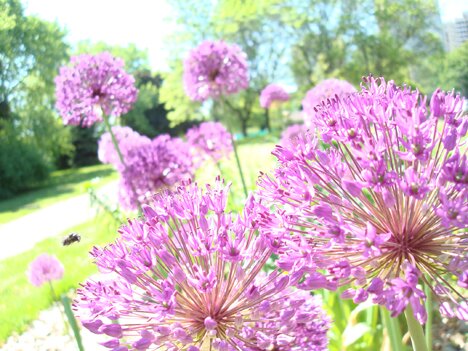 The weather is so unpredictable these days. Here I am posting these photos I took yesterday under a cloudless sky and beaming sun, while the rain pours outside my window with thunder and lightning.
(Oooh! And I captured an escaping fly in the frame! Didn't even noticed that :D)
We're supposed to go to our church picnic at High Park today, but it looks like we're just going to stay home.
And I'm listening to Her Morning Elegance as I write this (it's a beautiful video, check it out if you haven't seen it!), I thought one of the lines would make a fitting title for this post.
It took me a while to figure out that the tall, purple, globe-like flowers is Allium.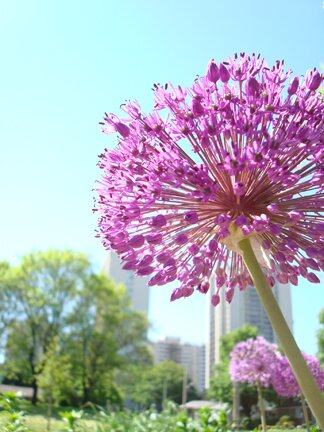 They are planted in the park near our apartment building. One of those buildings in the background is probably one we live in.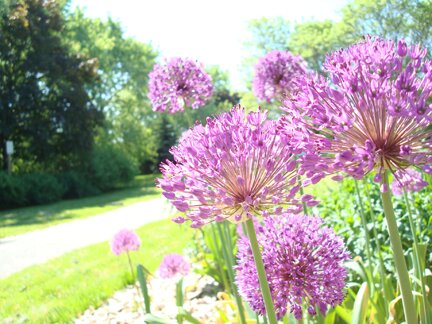 It's bee a very busy couple of weeks, which is kind of unusual for me, but not necessarily a bad thing. Not bad at all. We've gotton together with a couple of friends from out of town (way far away, like across provinces and even continents!). I've gotten a few small design jobs (hurray! Mike is proud), a contract project in progress and a few more contract jobs to plan for, and still editing my thesis for journal submission. (I've been working on various aspects of that thesis for almost two years now… sigh…)
Small fry compared to people who have kids and full-time jobs, I know. I just get easily overwhelmed, I guess. So I don't have kids. I wouldn't mind a full-time job, though. I just need to carve out some time to craft.
Speaking of which, there are a couple of craft projects on my to-post list and they're still not done… hopefully I'll get to work on them more this coming week, before it gets busy again in the final weeks of June…
But for the rest of this afternoon I'm going to drink tea and crochet and watch CSI marathon on TV.
Cheers!