Â
I quite like this idea, maybe for putting togeth­er a series of small prints, or a book in a box. From Martha Stew­art Liv­ing.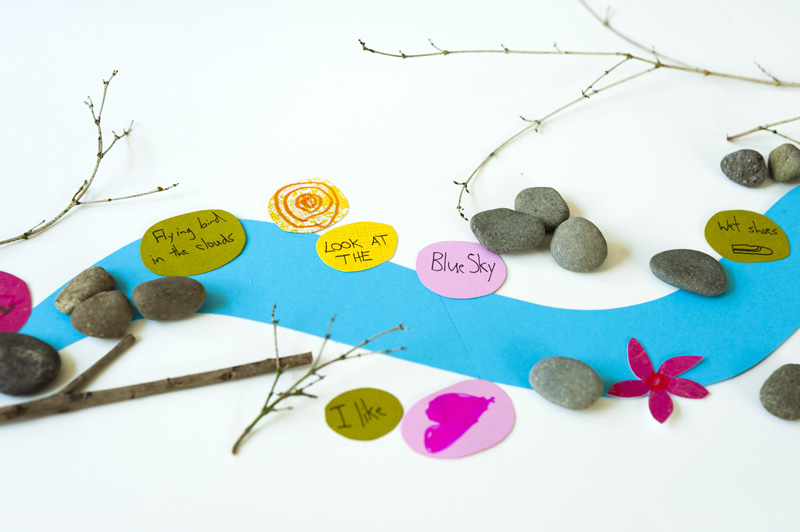 This reminds me of those fun mag­net­ic fridge poet­ry sets, except more poet­ic, with the imagery of a riv­er. From Made by Joel.
Â
Any idea? You, too, can eas­i­ly make a maze rug! Check out this post on Cur­bly!
Â
Dou­ble-sided fab­ric head­band! That's like, two head­bands in one to match dif­fer­ent out­fits! Fab­u­lous :D How-to on Hap­py Togeth­er.
Â
I love the look of this head­band too, like a crown of lau­rels. Knit­ting pat­tern from the awe­some Sweat­shop of Love.
Â
More head­bands! I do like head­bands, they go well with my bangs. And I'm seri­ous­ly con­sid­er­ing mak­ing one of these. Now I just have to find myself a nice colour t‑shirt. Very detailed instruc­tions on Make It and Love It.
Â
I've seen plen­ty of pil­low­case skirts and tops, but nev­er seen a full-length dress made of a bed sheet! The key, of course, is to make it so that it does­n't look like one is walk­ing around draped in a bed sheet. I've often con­tem­plat­ed mak­ing a pil­low­case top but wor­ry that every­one would be able to tell right away that I'm wear­ing a pil­low­case… any­way, I digress. But this dress is AMAZING! The pat­tern on the vin­tage sheet is gor­geous. Read more on the mak­ing of the dress on Run­ning with Scis­sors.
Â
More foam tray print­ing good­ness. I've attempt­ed this method before, it's so much fun I should do more of this. Sty­ro­foam tray sta­tion­ary tuto­r­i­al from Smooth­peb­ble.
Â
I've attempt­ed these before too! For a project in print­mak­ing class. I drew the design on trans­paren­cies with a hot glue gun :D was fun but the "stamps" were wonky and a bit annoy­ing to han­dle. These stamps from the tuto­r­i­al on Craft are made with clear sil­i­con caulk­ing on Plex­i­glass — I'm sure it's much stur­dier and eas­i­er to use!
Â
Very styl­ish bath mat! I love the sim­ple knit cable design. Tuto­r­i­al from A Com­mon Thread.
Â
Love­ly fab­ric lanterns, mold­ed on bal­loons and jar lids and stiff­ened with white glue. Bril­liant idea. From Make Grow Gath­er.
Â
Can't believe how easy it is to make scratch-off paint! Just metal­lic acrylic paint mixed with dish soap! Martha's tuto­r­i­al is for a wed­ding save-the-date card, but this could total­ly be a fun par­ty game or some­thing. Or greet­ing cards. Or just make scratch-off cards for fun!
Â
Also bril­liant are these mason jar sip­py cups — so much more styl­ish than the plas­tic ones. And yay to no spillage! (Prob­a­bly not for tod­dlers though, I think, as they are glass) Actu­al­ly, I would total­ly use one of those — yay to no bugs falling into my drinks at out­door bar­be­ques! How-to on A Bit of Sun­shine.
Â
I love how sim­ple this is — just pineap­ple, banana, coconut milk, and ice! Can't wait to get some coconut milk and try it :D Recipe on Make and Takes.
Â
I've men­tioned how much I love the idea of cup­cake in a jar — here's a red vel­vet ver­sion! Mmm cream cheese frost­ing… From Not Martha.
Â
Sim­ply awe­some way to orga­nize desk! Via How About Orange.
Â
Every­thing about this is so beau­ti­ful. I espe­cial­ly love the tiny switch. Book lamps were avail­able for pur­chase at this Etsy shop but now it's sold (not that I could afford it any­way. I can only admire them with my eyes). (via Inspire Me Now)
Â
Much more afford­able (and makes me equal­ly hap­py) is this pan­da mug set! :D Isn't he clever? (not that I will spend the mon­ey. I will be con­tent just hug­ging it with my eyes). From Mod Cloth (also via Inspire Me Now).
Hap­py Fri­day, every­one! :D
Â
Â