Now I can post this, because my sister has received it :D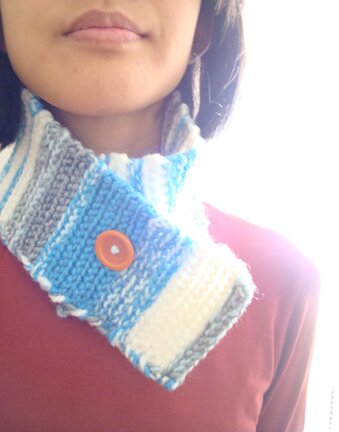 Sky neck warmer :D
Based on Leafcutter Design's sky scarf knitting project, I crocheted two rows every day based on the colour of the sky that day from end of August to mid October. I thought this would make a great Christmas present for my sister because she loves cloud-watching. I know that there isn't enough time to make a long enough stretch of fabric for a scarf, so I decided to make a neck warmer instead. I started on the day my sister left for Hong Kong to attend graduate school. It was a grey, rainy day :(
But it seems she's really adjusted to living in Hong Kong, made friends, done well in her first semester and enjoyed exploring different parts of the city. So I'm happy about that :D
I used six different shades of blue, grey, and white, crocheting each row with two strands of yarn held together. (The picture below was taken at the beginning rows before I incorporated the fluffy-cloud white and fall-blue-sky)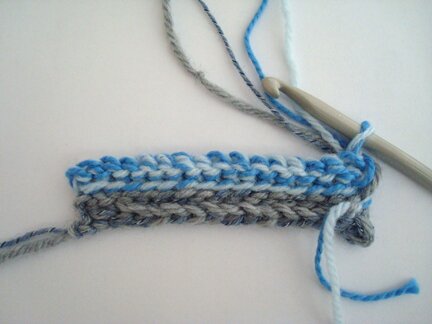 And if you're interested, I crocheted every row with slip stitch in back loop only, with a 6mm hook. In hindsight I'd probably use a larger hook because the neck warmer turned out a but stiff. I carried all the strands of yarn up in the beginning of each row, you can tell by looking at the right side of the scarf below. And I made a button hole when the neck warmer was nearly long enough.
It's a really enjoyable project in itself. Makes me take time to look at the sky and crochet a bit every day despite having lots of school work and other work. I might start another one soon.
Happy Monday, everyone!