… grows a peony!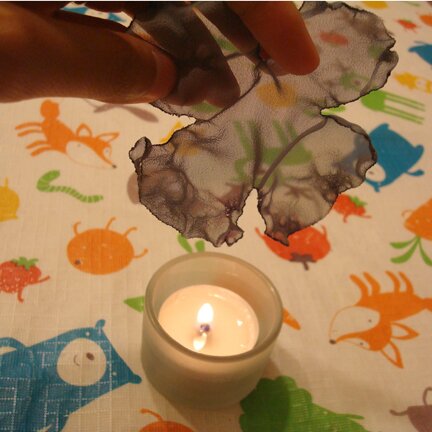 There are lots and lots of tutorials for these fabric flowers and I've long been fascinated by them, but I was just a bit intimidated by the fact that it involves using an open flame. Recently I've been working on sewing a belt to this dress (you will see the result later in the fall :D) but accidentally cut the fabric too short (this happens ALL the time with my sewing. When will I ever learn to measure properly?) so I needed a large-ish fabric flower to hide the gap between the ends of the belt. So! I finally conjured up the courage to make this.
I followed this peony tutorial on Creature Comforts. I must say, the small flame of a tea light is hotter than I thought. I was holding the fabric several inches above the flame and it still curled up rather quickly. The fabric also caught on fire a few times :S Just a really small flame, which I quickly blew out.
This is the first round of curling before the petals were cut. I took a photo of it because I thought it looked like the cap of a jelly fish :D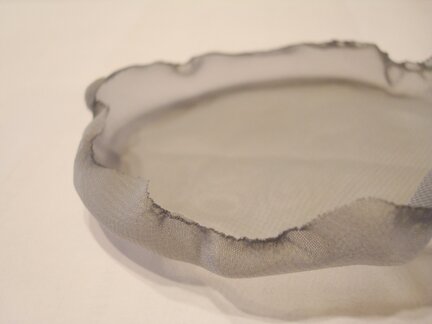 And this is the finished peony! :D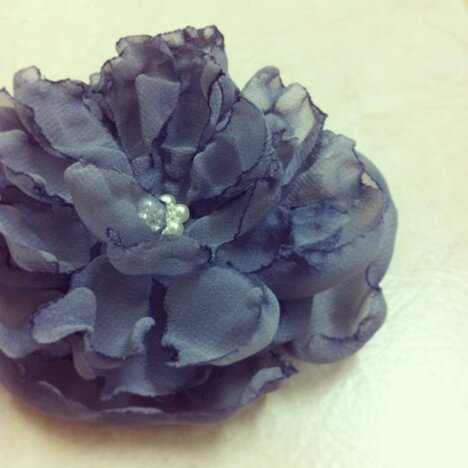 The petals aren't cut exactly the way the tutorial instructed, mainly because I forgot how they were cut and didn't bother to look it up again… but I think it looks alright! I sewed pearly beads in the centre.
This was a lot of fun! I think I will make more of these with other kinds of fabric! The chiffon I used was the same material I used for the dress and it's really light, so maybe that's why it caught on fire so easily…?
As for how it will look on the dress… it will be positioned on the centre back of the waist because of the belt, and the first comment that Mike made was, "wouldn't it look like a rabbit's tail?"
:S
I haven't tried it on. It is indeed a pretty fluffy flower. We will see…
Hope you're having a good week! :D