It's been a while since I last wrote, I'm feeling quite sad about it. But the reality is that the new school year comes with so much work that I barely have time to do anything else.
But today is Mid Autumn Festival. I thought I should take some time to celebrate. So with a hot cup of tea sitting on the table beside my notebook, I made a drawing.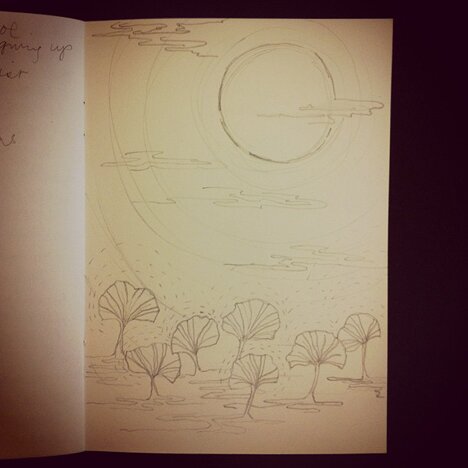 Because of class schedule I'm not able to go home for a family gathering today. But as I was drawing I thought about how part of the tradition of the Mid-Autumn Festival reminds us that (at least how I understand it) even if we can't physically be together with our loved ones, we know that on this day, when the moon is the fullest and brightest, we are all gazing at and appreciating the same moon as our loved ones over the mountains and across the seas.
And so as I was drawing I was thinking about my family and loved ones gazing at the same moon. And I thought about the bioluminescent mushrooms that we saw at an exhibit in Chicago. I don't think bioluminescent mushrooms usually need moonlight to glow, but in my drawing I was kind of imagining a relationship between the mushrooms and the moon, where the moon gives the mushrooms the light energy so that they, too, can glow and shine. And I'm reminded of this passage:
We love because He first loved us.
1 John 4:19
Wishing you a splendid, blessed fall season of harvest.