My interest in finger-knitting was sparked when I was contemplating what project to bring on my trip to the east coast. I didn't want my needles and project to be confiscated at the airport. A few knitters I asked, and even my good friend who is a former flight attendant, assured me that they have either brought knitting needles on the plane, or seen people knit on the plane. But still, my project was on 3.5mm straight metal needles… I didn't want to risk them being "misconstrued as weapons".
A while ago I also bought Knitting Without Needles by Anne Weil of the beautiful blog, Flax and Twine. I tried making this finger-knitted scarf in the book for a friend.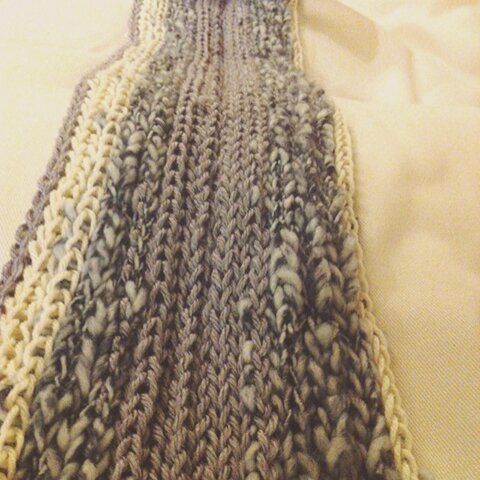 It uses a "join as you go" method that joins multiple knitted strips together to make a wider fabric. So then I thought I can do some finger-knitting on the trip, with some locally made yarn, and that would make some pretty special souvenirs. Taking handmade to the next level! :D
I used the "join as you go" method from the book and came up with these finger-knitted fingerless mitts :D
I made these while driving through Cape Breton Island. The wool is by East Anchor Yarns. I made them for my sister. I thought they'd come in handy (haha) for driving in cold weather. It would keep the hands warm enough before the car is fully heated up, and it leaves the fingers out to grip the steering wheel. They fit my sister well :D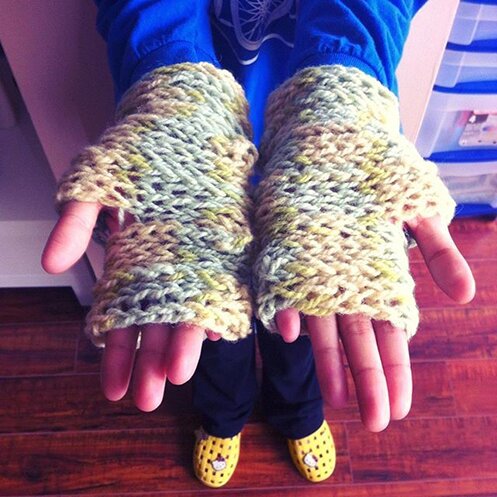 And this is the fingerless mitts in action! :D
Lately I made a couple of headbands / ear-warmers for the shop, which also uses a "join as you go" method, but slightly different, and creates sort of a ribbed fabric.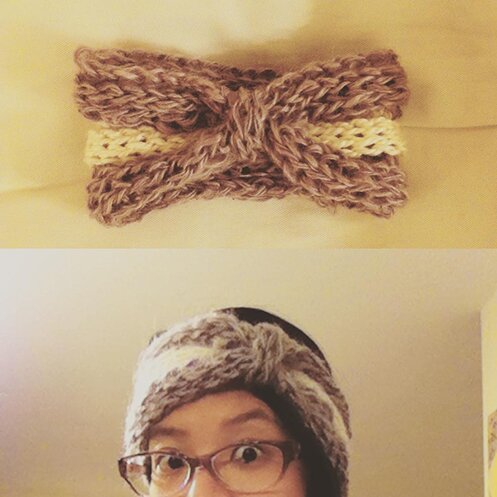 I based it on this tutorial for making a finger-knitted blanket. The instructor of the tutorial uses a different finger-knitting and casting-off method. So I just took the general idea and kind of made up some of my own steps to fit the finger-knitting method I know. This was actually a lot of fun to make, and very quick, so I'm hoping to write a tutorial for it :D
And with the same method, I made a baby blanket! :D (for a family member, I don't think she reads my blog :S) It's very thick and warm. I used 1.5 balls of Bernat Blanket.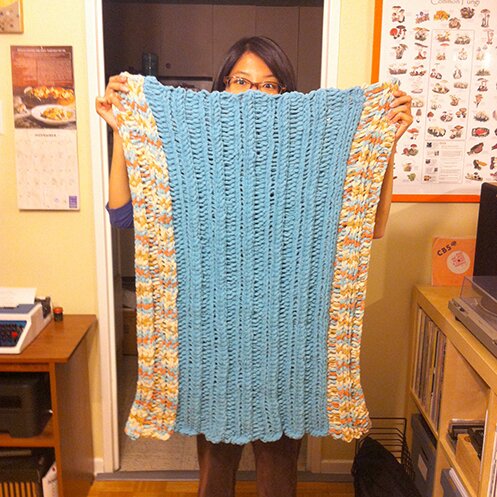 I like this method because the fabric doesn't curl relentlessly inward, like the resulting fabric from "join as you go" method from the book.
Using the book I've also made a couple of bowls. They're like soft nests. I'm hoping to use them at work to hold stones.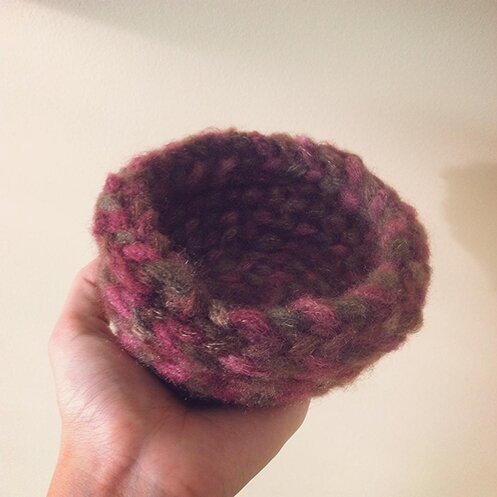 In some ways I actually like the very tactile process of finger-knitting more than knitting with needles or crocheting with hooks. Especially when making something for another person. There's something very heartfelt about literally making every single stitch by hand. I look forward to sharing more about the headband / ear-warmers! They're very thick and warm as well.
Wishing everyone a great start to the week!