So, the internet at our building is broken, so here I am at the local library enjoying free internet. Another reason to love the library :D
I've had a rather action-packed weekend, and one of the highlights was visiting the new Michaels craft store just 3 subway stops away from my house! :D And because they were having a grand-opening sale, I thought it would be a great opportunity to buy a 16mm crochet hook — for $3!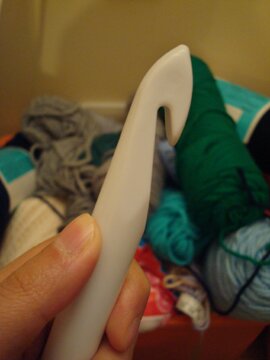 Aside from it being on sale, I also thought it would be good to buy it because I want to try making the felted bucket hat from my last post. And also learn to make broomstick lace, which requires the use of , well, a broomstick. But people also use large knitting needles. And I thought a large crochet hook would suffice.
I excitedly showed my friend who was visiting us for the weekend and her comment was, "it actually looks rather comical!" (or something along that line.)
Last night I tried crocheting with it. It takes a bit of getting use to, wielding such a thick crochet hook. I tried crocheting with 6 strands of yarn together.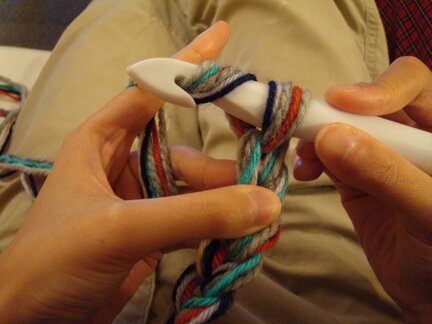 And it eventually turned into a neck warmer.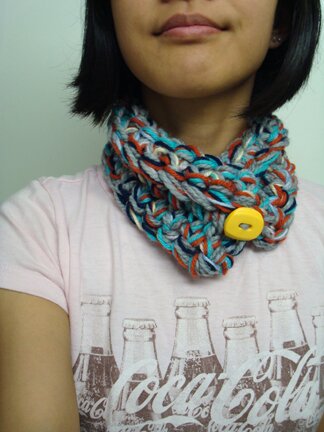 I'm rather pleased with it :D
It took about half an hour to make and didn't use a lot of yarn. If one has a 16mm crochet hook and wants to try making this, here's what I did:
Materials:
5–6 different balls of yarn. I used 2 balls of chunky, 3 balls of worsted, and 1 ball of DK.
A 16mm crochet hook.
A large button.
A tapestry needle.
Row 1: I made a chain with all 6 strands of yarn held together until the chain is long enough to wrap around my neck loosely, then I made 4 more chains.
Row 2: In back loop only, sc in 2nd ch from hook, sc in each ch across, ch 1, turn.
Row 3–4: In back loop only, sc in each st across. Fasten off. Weave in ends.
Sew on button on one end. The gaps between stitches act as button holes, so one can adjust how much the two ends overlap.
It would be interesting to see it made wider and with different colour and texture combination too!
Well, I hope the internet at home gets fixed soon. Or the library will be seeing a lot of me this week…
Happy Tuesday everyone! :D