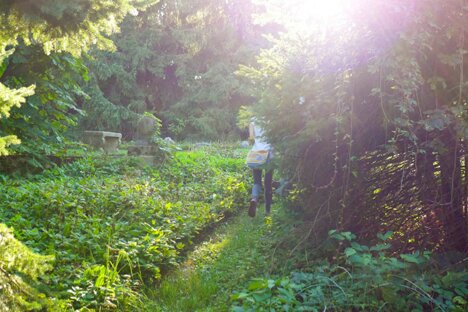 And goodbye summer.
Strange. Looking at this photo (from Mike's camera on our recent trip) I have this feeling that my old self is carrying all the lazy, fun days of summer and running away from me :S
Can't help but feel a bit sad about the later sunrise and earlier sunset and decreasing daylight. And everybody's in a rush again. Schedules get filled up. Less time to craft.
But hey, whatever I can squeeze in, every small project counts!
Ta-da! :D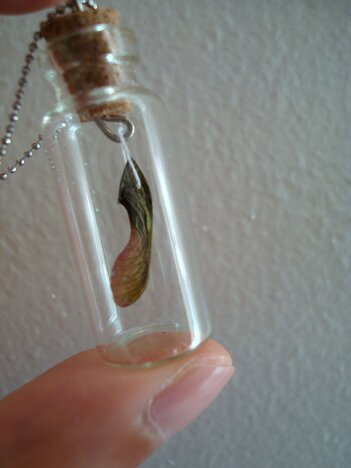 Found out (by accident) that the local dollar store sells glitter in tiny glass bottles!! Comes in a pack of 6. I used the one with white glitter in it. Emptied the bottle but a few glitters still stuck to the glass (you can kind of see it in the photo), which I think looks rather sweet. Followed this tutorial to make a pendant. Tried a variety of beads and feathers to hang inside the bottle but didn't end up with anything I liked, until I remembered that I have a collection of tiny maple keys in the phone book! I knew when I picked them up from the pavement that they will be perfect for a project one day! :D
I applied a thin layer of PVA glue to both sides of the maple key. Probably better to use acrylic medium for that, but I don't have any at the moment.
It's hung onto the wire loop with sewing thread. I love the slight pink edge on it.
Made my day :D
I have five other bottles to play with. Still thinking about making the tiny terrarium with moss. Mike reminded me that the art supplies store by the art college probably sells them for students who make architectural models. Will have to check that out.
And look! My book order just arrived! :D
Bought it with the last of the Christmas gift card money :D I'm a huge fan of Jessica Polka's fascinating crochet sculptures. I don't buy crochet patterns very often, but I did buy her mustache pattern to make a Christmas present one year — they were so much fun to make and well received :D
Many projects in this book are knitted, so I'm going to have to figure them out somehow (I have very limited skills in knitting). But the crochet angler fish is beyond awesome! (The pattern is actually free on Lion Brand Yarn, if you register on the site)
Maybe I'll start with the barnacles…
Have a wonderful start to the week, everyone!