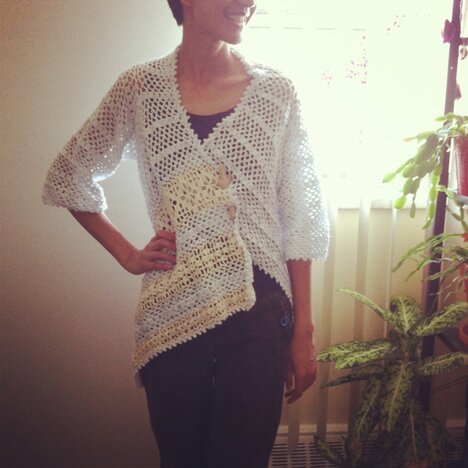 Remember I was crocheting along with the awesome Amy and the wonderful people at Knitorious via Skype? The cardigan is finished and I finally got around to taking a photo of it!
We used a lace cardigan pattern from the new Vogue Crochet. I don't have a sweater pin, but I have a small piece of driftwood lying around so I used it to hold the front together. I think it actually goes well with it :D
I'm not sure why but the front piece with the beige lace panels seems a lot bigger than the other front piece. So it looks more like a wrap than a cardigan on me, but I think it looks alright. It's a nice piece to wear to summer nighttime events!
The crochet along was such a fun experience! It's nice to crochet and sit and chat with other people who are also passionate about yarn and hooks and such. Much more fun than crocheting in front of the TV! Thank you so much Amy for inviting me :D
Have a wonderful rest of the week, everyone!