The Great Toron­to Yarn Hop is com­ing up in exact­ly a week, on July 14! :D
All of us vol­un­teers are get­ting super excit­ed and busy orga­niz­ing for a fun day knit­ting/cro­chet­ing/­yarn-craft­ing in pub­lic with oth­er yarn enthu­si­asts. It's a great event for peo­ple to get to know each oth­er, make a state­ment about the impor­tance of craft and cre­ativ­i­ty by craft­ing in pub­lic, and sup­port inde­pen­dent yarn-craft businesses.
So how does it work, you ask? Yarn-hop­pers buy tick­ets and get orga­nized into teams that take dif­fer­ent pub­lic tran­sit routes through­out the city to vis­it dif­fer­ent inde­pen­dent yarn shops. At the end of the day we recon­vene at a resto-pub for food, drinks and raf­fles. Pro­ceeds from tick­ets and raf­fles go to Sis­ter­ing, a 24/7 wom­en's sup­port and drop-in cen­tre that offers much need­ed ser­vices like pri­ma­ry health­care, sup­port groups, coun­selling and meal pro­gram to women who are expe­ri­enc­ing homelessness/precarious hous­ing, social mar­gin­al­iza­tion and oth­er chal­leng­ing circumstances.
Sis­ter­ing has a spe­cial place in my heart because that was where I trained as a social work­er. The par­tic­i­pants, vol­un­teers and staff were the most valu­able, knowl­edge­able teach­ers and I would­n't know what I know now and be where I am today with­out them.
There are still tick­ets left on a few of the routes, you can find out more details and buy tick­ets here!
If you can't phys­i­cal­ly come to the Yarn Hop, you can still join us! I wrote a cro­chet cup cozy pat­tern as part of the gifts for the Yarn Hop par­tic­i­pants, called Catur­day (because, you know, the Yarn Hop is on a Sat­ur­day). You can donate to Sis­ter­ing through this Yarn Hop link, and I will send you the pattern!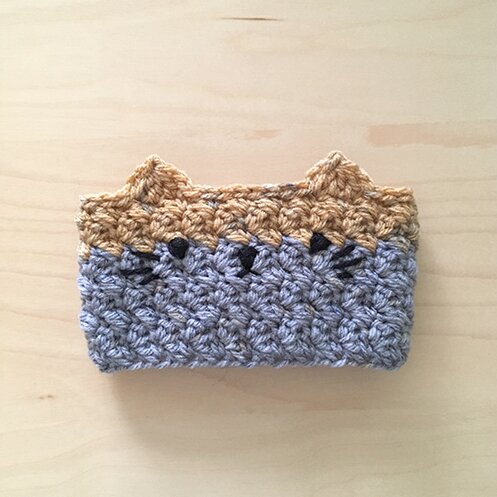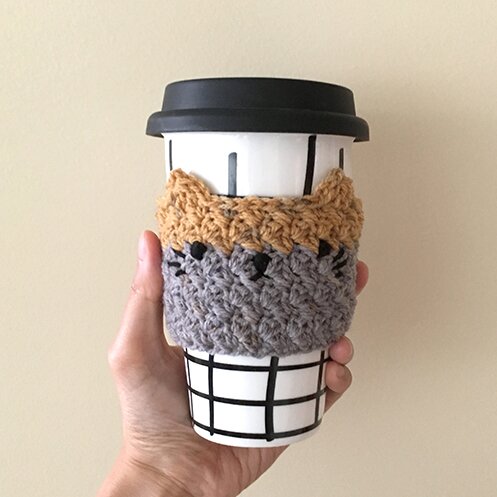 You can donate any amount, and you don't have to let me know how much you donat­ed or send me any proof, I trust that we all want to make a dif­fer­ence in some­one's life when we have the oppor­tu­ni­ty to. Sim­ply send me an email at genuinemudpie@gmail.com let­ting me know that you have donat­ed, and I will send you a pdf file of the pat­tern in reply :)
The cup cozy uses a small amount of DK yarn and 4 mm hook. It has a dense, tex­tured fab­ric that will keep your fin­gers safe from hot bev­er­ages. If you're not into cats, sim­ply omit the last row and the embroi­dery, and you'll have a sim­ple yet not-so-plain cup cozy to show off a beau­ti­ful yarn. Great for using up scraps!
Want to know more about how your dona­tions will make a dif­fer­ence? Vis­it Sis­ter­ing's web­site for infor­ma­tion and inspir­ing sto­ries from the most resilient women.
In the mean­while, I was also busy loom knit­ting a mas­cot for the team that Mike and I are co-lead­ing — Team Alpaca! Look how cuu­uute… (if I do say so myself, haha)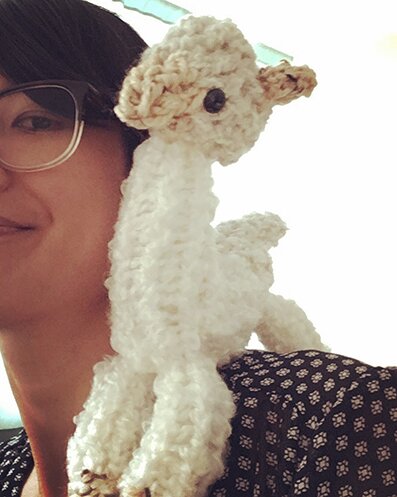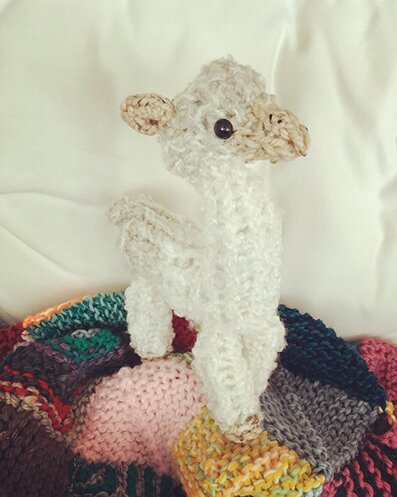 I've named him Cousin Alpaca, because I have a plush lla­ma, who is per­haps like a cousin to alpaca…? Any­way, I thought Cousin Alpaca is a good name :D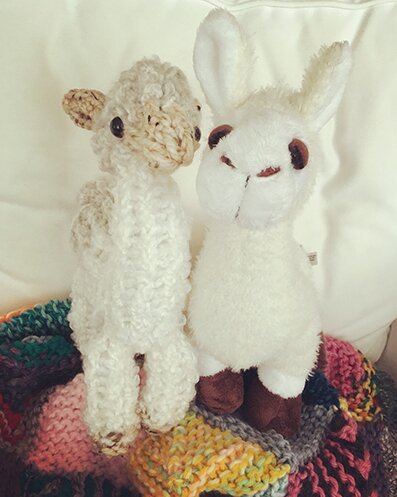 If you loom knit and want to make your own alpaca, the pat­tern is by the Loom Muse and can be found here.
If you're in or near Toron­to, come hang out with us and Cousin Alpaca next Sat­ur­day! :D Hope your week­end is full of crafty goodness!