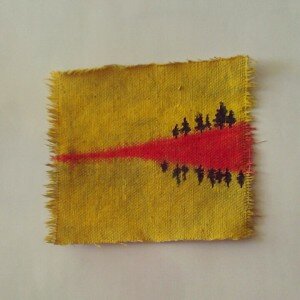 Day 25, portal.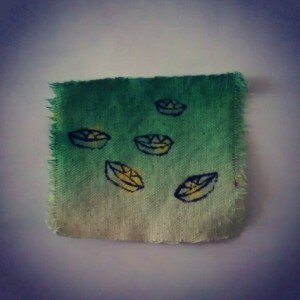 Day 26, hope floats.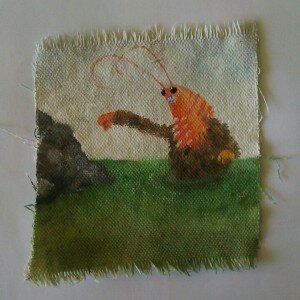 Day 27, legend of the shrimpanzee — half shrimp, half chimp, all sea monster! "rawr, get out of my lagoon!" *bats at rocks* Inspired by these awesome paintings.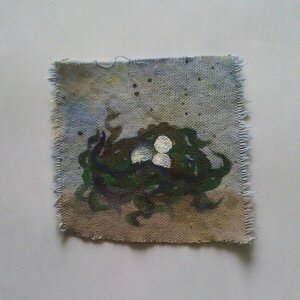 Day 28, seaweed nest and pearls of wisdom.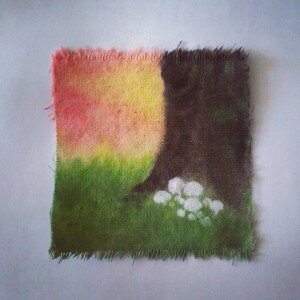 Day 29, shrooms. Was writing a guest post that day and I mentioned mushrooms at the foot of a tree.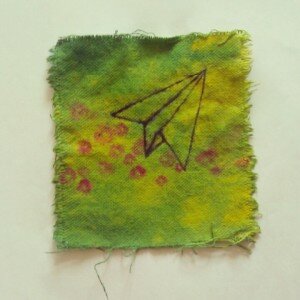 Day 30, over a field of poppies. I painted this at my parents', as I was spending the weekend there. I brought my most used brushes and used the paints from my sister's old paint-by-number kit.
Hurray! Project complete! :D
Here's how they look altogether. I've been hanging one up everyday on a string, like a bunting. (Please excuse the cluttered background. Our apartment comes with a mirror-covered wall and we put all sorts of posters on it.) You can click on the photo to see a larger image.

Kind of hard to believe that I actually stuck with it, painted a square a day for 30 days. It was a lot of fun. Often I just painted whatever came to mind but sometimes it offered such a great opportunity to work through the thoughts and feelings that were bothering me.
Also, I didn't mentioned that all of the paintings, except the 30th one, were done with dollar store paint! Not the greatest quality, but does a good job actually.
I'm going to have to take better pictures of them. The Instagram ones are fun but some of the colours and details don't show up very well. And then I'm going to have a first ever genuine mudpie giveaway! :D To thank everyone for travelling with me on this journey of rediscovering the joy of painting. Still have to figure out the logistics of it, but will post details soon!
I'll definitely do this again, maybe a square a week or something. But for now I'm going to finish the pattern I've been working on (eeep!) and a mystery project! With mystery posts! Stay tuned! :D
Wishing you a fun-filled day!
Previous square-a-day posts:
First post
Update 1
Update 2
Update 3